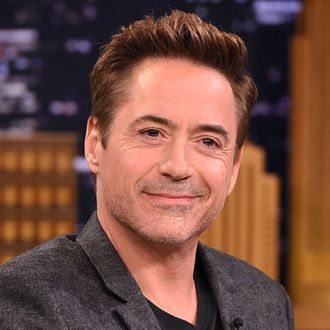 Robert Drowning-in-cash Jr.
Photo: Theo Wargo/NBC
Tony Stark has an advanced degree in electrical engineering from MIT, billions to his name, and a side career as a crime fighter you may have heard of, but did he ever get that GED? Robert Downey Jr. is heading back to high school in Spider-Man: Homecoming, starring Tom Holland in his solo Marvel film debut. Holland and Downey Jr. team up in Captain America: Civil War, which introduces the new Spidey, and it seems their bond will extend further than the time spent beating Chris Evans to a pulp. Downey Jr. joins a cast that includes Marisa Tomei as Aunt May, with Zendaya, Tony Revolori (The Grand Budapest Hotel), and Laura Harrier all in unspecified roles. Downey Jr., of course, will be Iron Man, the one in the metal suit.