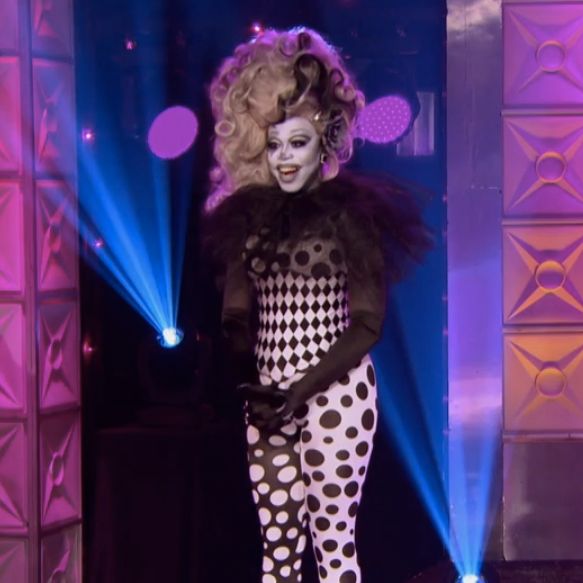 Bob the Drag Queen, Derrick Barry.
Photo: Logo
There is a crazy mystery I want answered, and I have a feeling that the solution will lead to Scooby-Doo and the gang ripping the mask off of a monster and finding Alaska Thunderfuck 5000 underneath, saying "Hiiiiiiiiiiiii!" and waving her little hand with eight-inch, press-on nails. The question is: Why do all of the queens seem to have an Alaska T-shirt? Naomi Smalls wears one in this episode and Derrick Barry was wearing one a few episodes back, but Alaska was crossed out and it said Nebraska instead. Now, don't hold it against Alaska that Derrick Barry loves her, but is she like the Garry Shandling of drag? That artist whom everyone doing the art holds in high regard, but just hasn't broken through into the mainstream? It could be! Maybe that or Alaska is just fierce.
This week's mini-challenge has nothing to do with anything, except Ru called out ten hot guys to stand in their underwear on television and be ogled by us at home. This is the kind of show I could get behind. Or in front of. Or both! Actually, I would have to get behind. The queens had to decide if the boys were tops or bottoms and, of course, they were all bottoms except the one hunky Asian guy, and you know he's just lying because there was no room left on the bottom bunk. Anyone who has ever been to a roller disco in West Hollywood could have guessed the outcome of that game.
The big challenge of the week: All of the queens have to make a campaign video about their theoretical run for president and smear their opponents. Bob and shouting-match rival Derrick Barry are going after each other, as are Thorgy and Chi Chi and #BFF #LYLAS couple Naomi Smalls and Kim Chi. That last collaboration was the one that really concerned me; those two are more low energy than Ben Carson and Jeb Bush after a cup of chamomile tea, a warm bath, and two episodes of the Great British Bake Off.
There isn't much exciting about the filming of the videos — in no small part because they are lining Bob up to win the whole thing. They need to give her the crown, put her on the judging panel, and let the rest of the queens duke it out for second place. At least that would be interesting to watch.
Thorgy is set up for failure immediately, coming up with far too many ideas than she could ever pack into her political ad. There is also a whole thing about not filming a shot of Chi Chi getting drunk, which is integral to her commercial. As soon as Michelle Visage asked if she wanted to do it, she should have said yes, even if she didn't want to. Just ask all those boys on the bottom bunk. It's better to get more than you need instead of not having enough to work with.
The sob stories this week belong to both Kim Chi and Bob, who was thrown in jail in full drag while fighting for the right to marry like a rich white lady. Good for Bob. Kim Chi deserved all of her sad face time thanks to Derrick Barry asking one of the most ignorant questions I have ever seen on TV: "Kim, are you from North or South Korea?" Kim had to be like, "Um, no one leaves North Korea except for Dennis Rodman and he has a bomb implanted in his brain so if he doesn't return every six months, his head will explode and all of his face piercings will fly out into the air like shrapnel." Other than that, Kim Chi has never performed in Korea because they're not so down with drag performances. Um, have Koreans ever even seen K-pop?
On the runway, the lewks are supposed to be inspired by a black-and-white movie siren, but really, they're just a callback to a lewk Detox wore to the season-five finale, when Alaska and Roxxxy Andrews lost the crown to Jinkx Monsoon. That is surely the season with the worst-spelled names in all of Drag Race, but is it also the best season? Is there some revisionist history going on with RuPaul? Does she wish that she had given more due to Detox and Alaska than she did? Right now, I have more conspiracy theories racing around in my head than at the study lounge of a state school when everyone runs out of Adderall.
Here is what everyone is wearing:
Bob the Drag Queen: If the Joker were having a flashback about his ugly younger sister and it was in black and white.
Derrick Barry: Britney Spears going trick-or-treating, even though she didn't have her kids for Halloween.
Naomi Smalls: If Raven were a vampire. (Sorry, Naomi, all the cool kids are doing season five this year.)
Kim Chi: The jack in a deck of cards where Erté drew all the faces.
Thorgy: Zombie Audrey Hepburn from Charade trying to wear one of RuPaul's signature hats.
Chi Chi: The receptionist in Beetlejuice after she just fumigated for a bed-bug infestation.
I was much more impressed with the videos than I was with any of the lewks. Bob killed it, of course, because he is funny and charming and totally knows how to deliver a joke. I will give Derrick Barry props for giving her all while eating a baby for Bob's video. That is the best non-lip-sync performance she has given this whole season. However, her video is not good. She is not funny or extreme enough and just seems awkward. Bob really steals the show in that video.
The one I was really surprised by was … Naomi Smalls. Her supermodel-president idea is a good one, but she needs to turn up everything about her personality for television. She's like a house in winter where the thermostat is stuck at 68 degrees — it's almost right, but just not quite there. Kim Chi's video is actually pretty cute and funny, but she is just not a performer. If she had given that same script to most of the other queens, their deliveries would have totally nailed it. Can you be the next drag superstar just for having the best lewks and the most originality? Probably not, which is too bad for Kim Chi.
Thorgy's video, I thought, was much better than Derrick's, though they were right, it needed more smearing and a bit more footage. And Chi Chi — oh, my dearest Chi Chi. She looks like she was dressed up as a bargain-basement Hillary Clinton wearing a pants suit that she bought in the dressy section at Marshalls. If there is one thing you never want to look like on Drag Race, it is a Maxxsinista.
If I were the judge, I would have put Derrick Barry and Chi Chi in the bottom two. Those two masters of lip sync should just battle it out. As it is, Thorgy and Chi Chi have an epic battle. I can't remember a season — even season five! — with better lip syncs than this year. They work the runway so hard to "I'm Telling You I'm Not Going" that Chi Chi breaks her damn dress and beads go skittering all over the floor like Lindsay Lohan's pills when she hits a bump in the car.
Sadly, Thorgy is the one going home, but she did get out lip-synced by Chi Chi. I'm sad to see her go. There is no way that Derrick Barry of all people is a better queen than Thorgy, who brought it week after week. The long national nightmare that is Derrick Barry continues. I was hoping that RuPaul would save them both like she did that time when Alyssa Edwards faced off against Roxxxy Andrews, but alas, it didn't happen. That's the one thing from season five that didn't come back tonight.