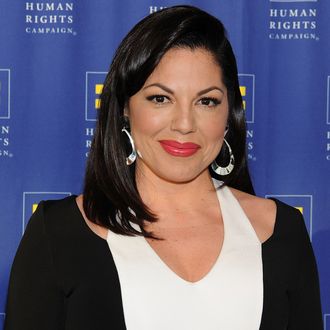 Tweeter of cryptic codes.
Photo: Angela Weiss/Getty Images
Sara Ramirez, or Callie Torres as most of you Grey's-heads know her, may or may not be leaving Grey's Anatomy now that they've wrapped season 13. Speculation that she may be saying farewell to the staff at Seattle Grace comes after Ramirez tweeted, "That's a wrap for Doctor #CallieTorres #Season13 #GreysAnatomy #ThankYou all for an enriching & unforgettable #Rollercoaster ride!" followed by a heart emoji, a lady in a red dress dancing emoji, a very ill smiley face emoji, a rainbow emoji, a roller-coaster emoji, and a purple heart emoji.
But what does it all mean?!?!?! Ramirez's contract is up, and according to Deadline, she coincidentally "posted a similar tweet at the wrap of season 1o, the last time her Grey's deal was up for renewal" and then ended up signing on for another two years. Guess we'll just have to wait and see! #Rollercoaster rides!