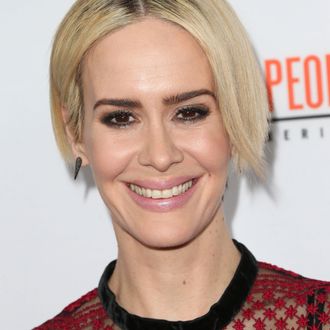 Sarah Paulson.
Photo: Frederick M. Brown/Getty Images
Behind every great rebel, there's a great literary agent who, hm … catches them, maybe? Look, this Rebel in the Rye title doesn't really work for a biopic of J.D. Salinger, because you can't just replace any one word in a famous literary title and arrive at something witty (unless you're Moshe Kasher). But in any case, Sarah Paulson has been cast as Salinger's longtime agent Dorothy Olding, who would certainly be able to brainstorm at least five other options for this movie title. Paulson joins noted babe Nicholas Hoult (who is playing Salinger), noted dreamboat Victor Garber (who plays his father), and noted "Kevin" Kevin Spacey (Whit Burnett).
According to the New York Times, Olding once destroyed some 500 personal letters between her and Salinger. After all, some rebels just really need their privacy.