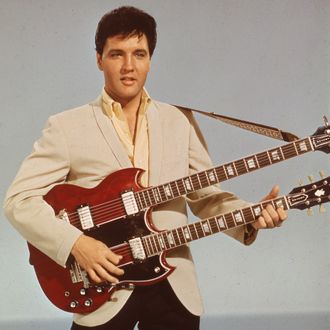 Elvis, 1935 - ???
Photo: Hulton Archive/2005 Getty Images
In defiance of the typical Hollywood development formula, the creators of the Sharknado franchise (which is now adding a fourth film!) came up with the wackiest idea possible and then added sharks. Now, they're at it again — except without the sharks. Sharknado production company the Asylum is teaming up with Sharknado 3 guest star, shark enthusiast, and head of the AXS TV network Mark Cuban to produce Elvis Lives! Per Deadline, the film asks, "What if Elvis never really left the building?" A plot summary further clarifies that Elvis is still alive in the film, and that he simply suffers crippling agoraphobia:
Plagued by drug addiction and a failing voice, the King is desperate to make things right with himself, his deceased brother and God. His attempts to get back on track are thwarted, however, after he helps the cops bring down a powerful crime syndicate — putting his family in danger and sending him on a journey that will change his life forever.
Cuban added to Deadline, "We intend to do for the life of Elvis Presley what Sharknado did for flying sharks," seemingly unaware of Elvis & Nixon, which intends to what Sharknado did to sharks and Michael Shannon's wig. We eagerly await Elvis Lives Again! 3lvis Liv3s! and the inevitable Elvis Versus the Sharknado.