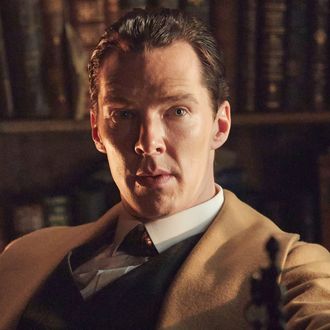 Photo: Robert Viglasky/Hartswood Films and BBC Wales for BBC One
Filming for the fourth season of Sherlock is underway, and for the first time, a female director will direct an episode for broadcast. Variety reports that Rachel Talalay will be directing the first of the three feature-length episodes of the season. Talalay has had a 25-year career as a film and television director and producer, including movies like Tank Girl and Freddy's Dead: The Final Nightmare and TV episodes including Ally McBeal, Boston Public, and more recently Doctor Who, The Flash, and Legends of Tomorrow.
This revelation arrives at a time with greater scrutiny in Hollywood on who is behind the camera, where white men make up the lion's share of directorial credits. In the DGA diversity report of the 2014–2015 television season, women directed just 16 percent of the episodes (and that was actually an improvement from 14 percent the year prior). Even as first-time directors, women get disproportionately fewer opportunities, making up just 18 percent of first-time directors.
In a curious bit of trivia, however, Talalay isn't technically the first female director to work on Sherlock. The first 60-minute unaired pilot of Sherlock was directed by long-time British TV director Coky Giedroyc. The BBC had decided to scrap the episode in favor of the feature-length format we're familiar with, asking for three feature-length episodes as opposed to six hour-long ones. When they shot what we currently know as the pilot, "A Study in Pink," they hired a male director, Paul McGuigan for the job. (He has directed the most episodes of Sherlock at four; all other directors of the show have only done one episode apiece.) Co-creators Steven Moffat and Mark Gatiss have said that they are proud of that first episode though, which is why it's available on DVD. (Or on the Internet with just a little sleuthing.) However, why the show switched out directors is the bigger mystery.