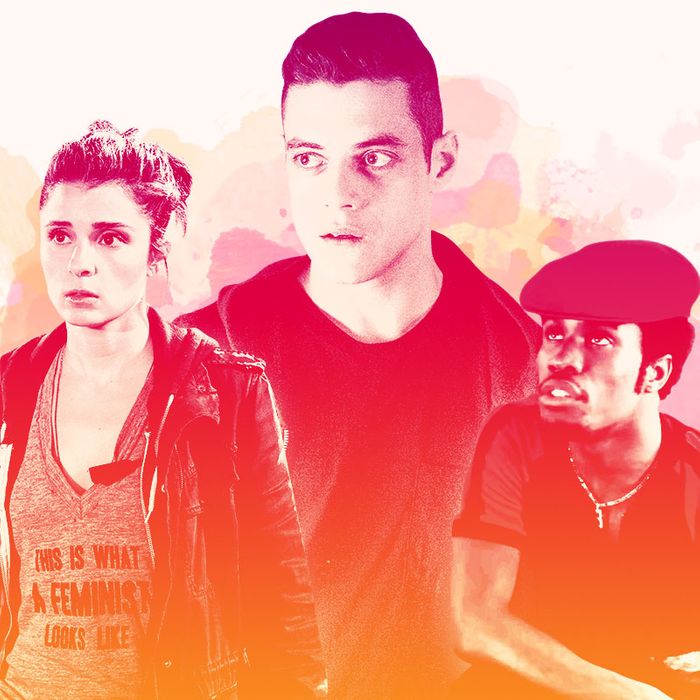 Photo-Illustration: Kelly Chiello and Photos by Lifetime, USA, Netflix
Remember the days when the summer television schedule was dominated by reruns, lowbrow reality programs, and even more reruns? Today's summer television landscape is both exciting and diverse, and it's already giving the fall–spring lineup a serious run for its money. Below, we've outlined highlights from the summer slate, as well as a list of when all shows will be returning — we'll continue to update this post in the coming weeks as more programming information becomes available.
Game of Thrones, April 24, HBO
What else can we possibly say about the sixth season of Game of Thrones that hasn't already been extensively written about? (Two words: Jon Snow.) In the event you need a refresher, though, we've created an essential guide for all of the characters, betrayals, alliances, schemes, and more.
Veep, April 24, HBO
Season five of the political satire picks up the morning after the highly dramatic presidential election, which ended in a tie between current president Selina Meyer (the delightfully foul-mouthed Julia Louis-Dreyfus) and her senator opponent. Look forward to VP candidate Tom James (Hugh Laurie) causing a bit of trouble, as well as John Slattery in a recurring role. Remember: continuity with change!
Preacher, May 22, AMC
Seth Rogen and Evan Goldberg helped adapt this cult comic-book series for television; it depicts a ruthless small-town Texas priest (Dominic Cooper) who, after being inhabited by an unknown entity that gives him supernatural powers, begins his quest to literally find God. His badass ex-girlfriend and an Irish vampire accompany him on what should be one hell of a spiritual journey.
Feed the Beast, June 5, AMC
Fresh from the success of The People v. O.J. Simpson, David Schwimmer is fronting this new crime drama, which follows two best friends who take one last shot at opening a restaurant together in the Bronx. Oh, and they also may have connections to the mob, which could prove difficult while trying to establish themselves in the culinary world. Jim Sturgess also stars.
UnREAL, June 6, Lifetime
The first season of UnREAL proved to be a critical and ratings success, with its brutally honest portrayal of the behind-the-scenes world of a reality dating show. The new season will feature a black bachelor (something the real Bachelor has never done) named Darius, who comes to the mansion to rehab his image after a tumultuous life as a quarterback. Drama and bitchiness will ensue, naturally.
Orange Is the New Black, June 17, Netflix
Welcome back to Litchfield! This season has everything — new bunk beds, a major corporate takeover, a still-alive Alex, and even a Martha Stewart-esque figure.
Greenleaf, June 21, OWN
As if we needed another reason to have more Oprah in our lives. Greenleaf — which Oprah executive produces and co-stars in — chronicles the scandalous and wealthy Greenleaf family, who run a megachurch in Memphis, and the countless secrets and lies that surround them.
Mr. Robot, July 13, USA
Mr. Robot received widespread acclaim when it made its network debut last summer, and it's easy to see its gritty appeal. Elliot (Rami Malek), a security engineer and secret cyber-vigilante hacker gets recruited by a mysterious anarchist named Mr. Robot (Christian Slater) to join a group of underground "hacktivists." The second season deals with the aftermath of the group's hack on E Corp — the FBI are called in to investigate, of course.
Vice Principals, July 17, HBO
Danny McBride and Walton Goggins star as two rival vice principals — one for discipline, the other for curriculum — at a local high school, who are simultaneously vying for the coveted principal spot. From pushing over grandmas and fistfighting in the teacher's lounge, they're being really mature about it.
The Get Down, August 12, Netflix
From the mind of Baz Luhrmann comes the musical-drama series The Get Down, which follows a rag-tag group of South Bronx youngsters in 1970s New York as they become immersed in the downtown music scene. The birth of hip-hop has never looked so vivacious and funky, especially through the eyes of our youthful protagonists. (We're already anticipating the soundtrack.)
The full summer 2016 lineup:
Sunday, April 24
8 p.m. Rebellion, Sundance
9 p.m. Game of Thrones, HBO
10 p.m. Silicon Valley, HBO
10:30 p.m. Veep, HBO
Monday, April 25
8 p.m. Mike & Molly, CBS
8 p.m. Reign, CW
10 p.m. Monica the Medium, Freeform
10 p.m. Turn: Washington's Spies, AMC
Tuesday, April 26
8 p.m. Chopped Junior, Food
9 p.m. Top Gear (US), History
Wednesday, April 27
8 p.m. Flying Monsters With David Attenborough, Smithsonian
Friday, April 29
12 a.m. Special Correspondents, Netflix
Saturday, April 30
8 p.m. 2016 Rock and Roll Hall of Fame Induction Ceremony, HBO
Sunday, May 1
9 p.m. Keeping Up With the Kardashians, E!
10 p.m. Penny Dreadful, Showtime
10 p.m. #RichKids of Beverly Hills, E!
Monday, May 2
9 p.m. Houdini & Doyle, Fox
9:30 p.m. The Odd Couple, CBS
Tuesday, May 3
10 p.m. Person of Interest, CBS
Wednesday, May 4
8 p.m. Micro Monsters with David Attenborough, Smithsonian
9 p.m. Maron, IFC
Thursday, May 5
12 a.m. Flowers, Seeso
12 a.m. Marseille, Netflix
Friday, May 6
12 a.m. Grace and Frankie, Netflix
Sunday, May 8
8 p.m. Sister Wives, TLC
9 p.m. Wallander, PBS
Tuesday, May 10
9 p.m. Botched, E!
9 p.m. Little People, Big World, TLC
Wednesday, May 11
12 a.m. Chelsea, Netflix
Sunday, May 15
9 p.m. Undercover Boss, CBS
Tuesday, May 17
9 p.m. Coupled, Fox
Wednesday, May 18
10 p.m. Royal Pains, USA
Thursday, May 19
12 a.m. Thingstarter, Seeso
Friday, May 20
12 a.m. Lady Dynamite, Netflix
8 p.m. Masters of Illusion, CW
Saturday, May 21
8 p.m. All the Way, HBO
Sunday, May 22
8 p.m. 2016 Billboard Music Awards, ABC
10 p.m. Preacher, AMC
Monday, May 23
8 p.m. The Bachelorette, ABC
9 p.m. Whose Line Is It Anyway?, CW
Tuesday, May 24
8 p.m. Hotel Hell, Fox
Wednesday, May 25
9 p.m. Wayward Pines, Fox
Thursday, May 26
8 p.m. 500 Questions, ABC
9 p.m. Red Nose Day, NBC
Friday, May 27
12 a.m. Bloodline, Netflix
12 a.m. Chef's Table, Netflix
12 a.m. The Do-Over, Netflix
Monday, May 30
8 p.m. So You Think You Can Dance, Fox
9 p.m. The Dresser, Starz
9 p.m. Roots, A&E, Lifetime, and and History
10 p.m. Scream, MTV
10 p.m. Mistresses, ABC
Tuesday, May 31
8 p.m. America's Got Talent, NBC
10 p.m. Maya and Marty in Manhattan, NBC
Wednesday, June 1
8 p.m. American Ninja Warrior, NBC
8 p.m. MasterChef, Fox
8 p.m. Young & Hungry, Freeform
8:30 p.m. Baby Daddy, Freeform
10 p.m. Cleverman, Sundance
10 p.m. The Night Shift, NBC
Thursday, June 2
12 a.m. Hidden America With Jonah Ray, Seeso
9 p.m. Beauty and the Beast, CW
Friday, June 3
10 p.m. Outcast, Cinemax
11 p.m. Comedy Bang! Bang!, IFC
Sunday, June 5
10 p.m. Feed the Beast, AMC
Monday, June 6
9 p.m. Devious Maids, Lifetime
9 p.m. Rizzoli & Isles, TNT
10 p.m. UnREAL, Lifetime
Tuesday, June 7
12 a.m. Casual, Hulu
10 p.m. Animal Kingdom, TNT
Saturday, June 11
9 p.m. O.J.: Made in America, ABC
Sunday, June 12
8 p.m. 70th Annual Tony Awards, CBS
9 p.m. The Last Ship, TNT
9 p.m. Still the King, CMT
Monday, June 13
9 p.m. Guilt, Freeform
10 p.m. BrainDead, CBS
10 p.m. Major Crimes, TNT
Tuesday, June 14
8 p.m. To Tell the Truth, ABC
9 p.m. Uncle Buck, ABC
10 p.m. Famously Single, E!
10 p.m. Wrecked, TBS
Wednesday, June 15
12 a.m. Comedians in Cars Getting Coffee, Crackle
Thursday, June 16
9 p.m. Aquarius, NBC
9 p.m. Home Free, Fox
Friday, June 17
12 a.m Orange Is the New Black, Netflix
Saturday, June 18
8 p.m. Mother, May I Sleep With Danger?, Lifetime
Sunday, June 19
10 p.m. Murder in the First, TNT
10 p.m. The Jim Gaffigan Show, TV Land
11 p.m. EJ and the City, E!
Monday, June 20
8 p.m. The Fosters, Freeform
10 p.m. Odd Mom Out, Bravo
Tuesday, June 21
8 p.m. Pretty Little Liars, Freeform
10 p.m. Greenleaf, OWN
10 p.m. Queen of the South, USA
Wednesday, June 22
8 p.m. Big Brother, CBS
10 p.m. American Gothic, CBS
Thursday, June 23
8 p.m. BattleBots, ABC
10 p.m. Thirteen, BBC America
Friday, June 24
12 a.m. The Fundamentals of Caring, Netflix
Sunday, June 26
8 p.m. Celebrity Family Feud, ABC
9 p.m. The $100,000 Pyramid, ABC
9 p.m. Ray Donovan, Showtime
10 p.m. Roadies, Showtime
10 p.m. WAGS, E!
10:30 p.m. Impastor, TV Land
Tuesday, June 28
9 p.m. Dead of Summer, Freeform
9 p.m. Zoo, CBS
Thursday, June 30
10 p.m. Sex&Drugs&Rock&Roll, FX
Friday, July 1
12 a.m. Marco Polo, Netflix
12 a.m. Jim Jefferies: Freedumb, Netflix
Wednesday, July 6
10 p.m. Tyrant, FX
Sunday, July 10
9 p.m. The Night Of, HBO
Monday, July 11
8 p.m. Penn & Teller: Fool Us, CW
Tuesday, July 12
12 a.m. Difficult People, Hulu
Wednesday, July 13
8 p.m. The 2016 ESPYs, ABC
10 p.m. Mr. Robot, USA
Friday, July 15
12 a.m. East Los High, Hulu
12 a.m. Tony Robbins: I Am Not Your Guru, Netflix
12 a.m. Stranger Things, Netflix
Sunday, July 17
10 p.m. Ballers, HBO
10:30 p.m. Vice Principals, HBO
Thursday, July 21
8 p.m. Syfy Presents Live From Comic-Con, Syfy
Friday, July 29
12 a.m. Home: Adventures With Tip & Oh, Netflix
Sunday, July 31
8 p.m. Sharknado: The 4th Awakens, Syfy
Tuesday, August 2
8 p.m. Bachelor in Paradise, ABC
9 p.m. American Experience: Boys of '36, PBS
Wednesday, August 3
8 p.m. CMA Music Festival, ABC
Friday, August 5
8 p.m. 2016 Rio Olympic Games Opening Ceremony, NBC
Sunday, August 7
10 p.m. Hollywood Medium with Tyler Henry, E!
Tuesday, August 9
9 p.m. Botched By Nature, E!
Friday, August 12
12 a.m. The Get Down, Netflix
Monday, August 22
10 p.m. Cheer Squad, Freeform
Friday, August 26
12 a.m. Jeff Foxworthy and Larry the Cable Guy: We've Been Thinking…, Netflix