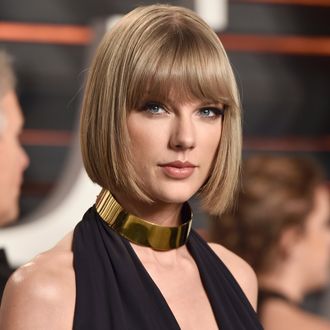 You do that.
Photo: Pascal Le Segretain/Getty Images
When you're in the spotlight every waking hour of your life (and, creepily, probably a few asleep ones), daily minutiae suddenly become unicornlike events. For you or me, fixing ourselves a drink after a 9–5 feels like second nature; for Taylor Swift, it's about as rare as winning a Grammy is to us. And so, now that the 1989-palooza has run its course, Swift is ready to start adulting like the rest of us simpletons. In her new Vogue cover story, Tay says it's finally time to give the world a break from her: "I just decided that after the past year, with all of the unbelievable things that happened … I was going to live my life a little bit without the pressure on myself to create something. I would really like to take a little time to learn things. I have lots of short-term goals." Those goals apparently include becoming a "well-rounded person who can make a good drink," knowing CPR well enough to "save somebody if they're drowning," being able to change a tire, and, oh, you know, maybe starting a fashion line — nothing too crazy.
But if you're already having Taylor withdrawal, don't get used to it. According to Tay, her Basic Human trial is probably already destined for failure: "The thing is, with me, I could very well come up with three things in the next two weeks and then jump back into the studio, and all of a sudden the next record is started. That's an option, too." Meanwhile, her BFF Lorde sounds pretty certain Taylor won't last a week: "Tay is a big fan of taking time off until about month two — and then she gets this look in her eyes, and I know all the Dateline and frozen yogurt and mooching around is about to go out the window." Well finally, something relatable.