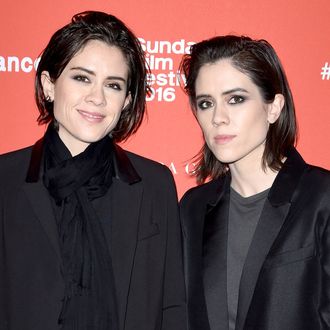 Oh we missed these two.
Photo: Nicholas Hunt/Getty Images
Are there two greater pop songwriters walking this Earth than Tegan & Sara Quin? Not many. And oh baby, they're finally back with more synth-pop perfection as just a duo, after nearly scoring Oscar gold alongside The Lonely Island for the Lego Movie. When we last left the Quin twins, they were begging for a lover to come a little bit closer, in all ways. And dammit, they're still getting friend zoned! Tegan & Sara have unveiled "Boyfriend," the first single from their upcoming eighth album, Love You to Death, and once again we find one of them getting strung along by probably the only person left on the planet afraid to fall madly in love with the Quins.
Allow Sara to sum up her latest relationship woes: "I was getting into [a relationship] with a girl who had never dated a girl before. She had a guy that she was sort of seeing, and we used to joke around that she was treating me like her boyfriend, and I was trying to get her to tie it down. I wanted her to make it official with me," she told Beats 1. "We've all been in that situation where we really like someone and we want to make it official, and they're not ready." Oh, have we ever been there. If you like your pop with a splash of '80s and need an Emotion fix, prepare to enter a deeply committed, non-platonic relationship with "Boyfriend" forever.