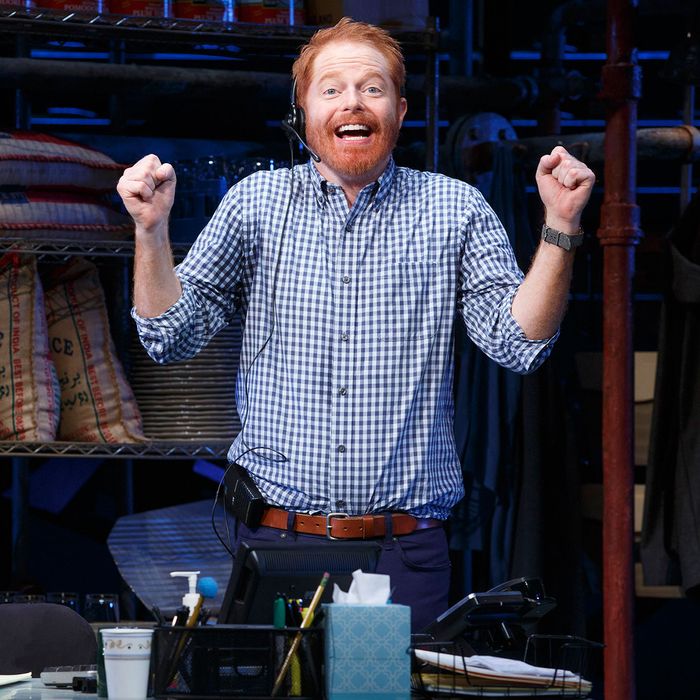 Jesse Tyler Ferguson, in Fully Committed.
Photo: Joan Marcus
I don't know if it qualifies as part of Broadway's ongoing diversity initiative, but in Fully Committed, the one-man comedy opening tonight at the Lyceum, that Ginger-American Jesse Tyler Ferguson plays, by my count, an astonishing 34 roles, together constituting a rainbow of assholes. Initially he's just Sam Callahan, a struggling actor sullenly working a pre-Christmas shift taking reservations at a superhot Manhattan restaurant. But as the outside lines, the in-house intercoms, and his own cellphone start ringing, Ferguson takes on the vocal and gestural lives of all the callers: would-be guests, terrified assistants; his agent, friends, frenemies, and family; the arrogant chef, the tantrum-y maître d', and various others, all exploding with ASAP demands. Needless to say, this being a restaurant, none of the demands is a true emergency, no matter how much the callers bully and scream — unless accommodating Gwyneth Paltrow with an all-vegan tasting menu for 15, with flattering light bulbs and no women servers, counts as an emergency.
When Fully Committed premiered at the Vineyard in 1999, eventually moving to the Cherry Lane for a 675-performance run, the vegan princess wasn't a fictionalized Paltrow but a fictionalized Naomi Campbell. Now as then, though, the star's dirty work is done by an assistant named Bryce, a full throwback to screaming gay stereotypes of yore. Indeed, one of the meta-charms of Fully Committed is to see how such things have changed in 17 years, and how they haven't. Becky Mode, who developed the characters with Mark Setlock, the play's original star, has revised her script to reflect up-to-the-minute trends in the restaurant and celebrity business — and in the theater. She has dropped the more obvious ethnic punch lines — a shady Arab and a shy Japanese wife — though she's retained a few Jewish harridans, a sacré bleu! Frenchman, a hick, a Mafioso, and a South Asian. Zagat and Gourmet are out; Chopped and Bon Appétit are in. Henry Kravis has ceded his table to Alan Greenspan; Philip Johnson, to Malcolm Gladwell. Diane Sawyer, naturally, remains unchanged. But if the typical dinner bill has increased from $200 to $350 a head, what you get for it seems a lot less appetizing: 1990's "global fusion" entree of "jícama-smoked Scottish wood squab poached in a ginger broth and wrapped in wilted spinach" is 2016's "crispy deer lichen atop a slowly deflating scent-filled pillow, dusted with edible dirt." 
Absurdities like edible dirt (and a "liquid chicken–filled orb") make clear enough which way the play is heading. We are in a sillier world and yet at the same time a darker one. Derek McLane's set locates Sam not merely in the restaurant's basement but in a chthonic nightmare world of lost souls and sewage pipes. When Ferguson arrives there at the start of the show, his attitude is so grim you almost wonder who has the more difficult job, him or Sam, and whether, in either case, this will really be a comedy. But Ferguson is not a television star (of Modern Family) for nothing. He gradually builds the performance — about 80 minutes without intermission — from a base of detailed realism, only letting the laughs accumulate as Sam's troubles do. We gradually learn of his stalled acting career, his recently widowed father, and other disappointments that have led him to this low place. Mode has also made Sam explicitly gay now, giving him the fresh wound of a new ex. All of this is rendered delicately in Ferguson's very smart and honorable performance.
Still, it's an inversion of the Fully Committed of 1999. Even the title, which refers primarily to the restaurant's euphemism for "all booked," now suggests a more psychological reading. (Sam is not committed fully to anything.) Wasn't it enough to skewer the entitlement disorder of those whose enormous wealth somehow left them feeling mistreated and disadvantaged? Wasn't it enough to note without comment the sad way the disorder creeps down the social ladder to those who can't afford it? (It's a lovely twist that Sam gets just as belligerent on the phone making a reservation as his awful patrons do making theirs.) Asking a play that is basically a clever stunt to support the weight of this more complex interpretation is asking for trouble, which here takes the form of a strange pall. As a result, Fully Committed never quite reaches the pitch of mania you may be hoping for, as if it were on beta-blockers. Generally I applaud the smarting up instead of dumbing down of Broadway fare, and certainly Ferguson and the director, Jason Moore, have done it with finesse and excellent taste. And yet the result seems a bit like a dish only a 2016 chef would try serving: Neither Fish nor Fowl, Swaddled in Fun Sauce, Slowly Deflating.
Fully Committed is at the Lyceum Theatre through July 24.