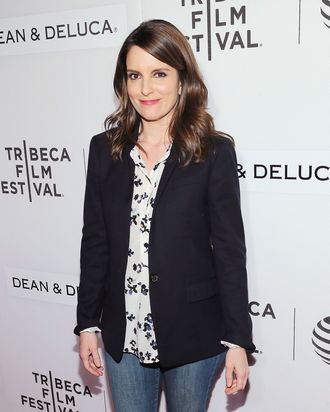 Not Marcia Clark.
Photo: Jemal Countess/Getty Images
Before The People v. O.J. Simpson, there was another show that allowed viewers to ship Marcia Clark and Christopher Darden: Unbreakable Kimmy Schmidt. At the end of season one, Marcia Clark (played by Fey herself) and Christopher Darden are lawyers in the trial of Reverend Richard Wayne Gary Wayne, and they of course mention that they were in a relationship. "Thank God I went first on that one," Fey said during her talk at the Tribeca Film Festival Tuesday night. "Could you imagine if I was rolling out that terrible Marcia Clark [after Sarah Paulson's performance]?"
According to Fey, the writers "coerced" her into playing Clark: "We literally just couldn't book anybody, so I ended up doing it. Sarah Paulson was already booked on the other one, I guess." Fey is such a huge fan of the show that she registered to vote in the acting category at the Emmys. "For the first time in ten years, I went ahead and called the Television Academy and changed my [category] so I could vote in the acting category, because you have to pick which thing you're in, and I was always in as a writer," said Fey. "I did it just so I could vote for Sterling K. Brown and Sarah Paulson." If for some reason Sterling K. Brown and Sarah Paulson don't get Emmys, at least they have Tina Fey's undying admiration.