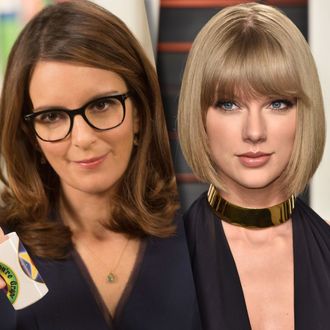 Bossypants vs. Barbie.
Photo: Netflix, Getty Images
Fellow binge-watchers, come sit with us underneath the shade tree. If you've reached the ninth episode — and arguably one of the best — of the second season of Unbreakable Kimmy Schmidt, then you might have caught some shade thrown at one mega pop star, Taylor Swift. During the episode, Titus (Tituss Burgess) refuses to allow Kimmy (Ellie Kemper) to use the shower because he is giving his collection of Barbies a perm. Kimmy goes to work as an Uber driver unshowered, where she picks up psychiatrist Andrea Bayden (played by none other than Tina Fey), who gives her drunk advice to put herself before others. Kimmy gets home and tells Titus she's not going to take it anymore, and will take a shower anyway, Barbies be damned. "How could you do this to my Barbies?" Titus wails. "You know there's a special place in hell for women who don't help other women."

Heh: Did Tina Fey just call Taylor Swift a Barbie doll? For some context, you'll remember that the quote, while first associated with former Secretary of State Madeline Albright, spread quickly into the pop-cultural ether once Taylor Swift invoked it during an interview with Vanity Fair three years ago. (Hilary Duff's Younger character even attributes the line to Swift in the pilot of the series.) Swift was using it in response to a joke that Tina Fey and Amy Poehler made at the Golden Globes earlier in 2013, when they warned Swift to stay away from Michael J. Fox's son.
Shortly after, Poehler responded with another joke: "Aw, I feel bad if she was upset. I am a feminist and she is a young and talented girl. That being said, I do agree I am going to hell. But for other reasons. Mostly boring tax stuff." Whereas Fey just stated the obvious: "It was just a joke, and I think it was actually a very benign joke." Of course, this just means that Fey was waiting for the right moment to respond with a line spoken by Titus Andromedon about his Barbies' hairstyles. For what it's worth Taylor, it's still pretty benign.