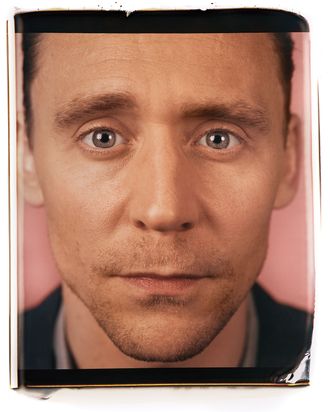 Meeting Tom Hiddleston is almost as good as YouTubing him.
Photo: Bobby Doherty/New York Magazine
Tom Hiddleston may never be able to experience hotels the same way again. To study for the role of Jonathan Pine, a soldier turned hotelier turned spy, in the BBC mini-series of John le Carré's The Night Manager (now appearing Stateside on AMC), he went deep undercover in the luxury-service trade, and now he can't unlearn what he knows. "All the staff have a profile on me that they can access," he says, looking around the restaurant at New York's Crosby Street Hotel, where we're having lunch. No one in uniform has shown any sign of recognizing the debonair Brit across the table from me as the super-villain Loki from the Thor movies, or from the many, many fan-made YouTube mash-ups of his stellar dance moves, but Hiddleston insists it's an illusion and not contingent on fame. "They have my room number; they probably have a photograph somewhere," he says, leaning in conspiratorially. "The guy standing over there probably knows I have two sisters and I live in London. They probably know how many times I've stayed here before, what my favorite drink is. This is a ­theater, and we are being stage-managed. Truly."
Hiddleston actually got to do some of that stage-managing himself while working an overnight shift at the Rosewood London hotel during prep for the series. "Under the cover of night, I was invisible, and then at breakfast time, people were like, 'Hang on, are you that actor?' " he says. "I would say, 'I couldn't possibly comment.' "
Perhaps there's a reason Hiddleston excels at playing ciphers; for such a handsome face, his is somewhat anonymous. His big break came in 2011's Thor, after much British TV and stage work, looking nothing like himself in severe black hair. It took me half of Jim Jarmusch's 2013 Only Lovers Left Alive to place Hiddleston, in a wig and pallid makeup, as a depressed rock-star vampire living in Detroit. Back then, before his recent spate of meaty movie roles, he was best known as one of the internet's many imaginary boyfriends; I discovered him while looking up his good buddy Benedict Cumberbatch and finding a mass of articles, videos, and gifs celebrating their adorable friendship, including a BuzzFeed quiz to determine which one was my soul mate (Cumberbatch; sorry, Tom) and a super-reel of them dancing on various occasions that has gotten over a million views, at least 50 of which are mine.
Meeting Hiddleston is almost as good as YouTubing him. He's an imposing six-foot-two ("Farther to fall") and is unfailingly kind to our waiter, begging off his efforts to freshen our table: "Honestly, don't dirty any more plates. Keep these plates dirty, and I'll be fine." It's not hard to fathom how he's acquired a rabid fan base, members of which call themselves the Hiddlestoners and cut together clips of him sexily speaking foreign languages, particularly French; doing impressions of other actors, like Chris Evans and Alan Rickman; and, of course, performing his expert hip gyrations, which are so enthusiastic that on one Korean talk show he knocked over every chair in his vicinity.
Lately, though, Hiddleston has taken a very conscious step back from engaging with his fans on social media in favor of tackling more roles: He recently sang and played guitar as Hank Williams in the biopic I Saw the Light and can soon be seen as a nihilistic dog-eating psychiatrist in a gonzo adaptation of J. G. Ballard's dystopian novel High-Rise. And The Night Manager was such a huge hit in the U.K., and Hiddleston so convincing as a spy, that he had to ask the press to stop speculating that he might be the next James Bond. Of course, he did fuel those rumors by repeatedly talking about what a huge fan he is of Bond movies. "I'm a huge fan of expensive Champagne, and nobody's written about that," he says. "I think one should be able to say one is a fan of something without it meaning that you're throwing your hat in the ring to play that role. "
Hiddleston tends to wax philosophical about his work and dodge most lines of questioning about himself. (Of his rumored relationship with Elizabeth Olsen, he says only that "some things have to remain sacred. You could write that I'm single. There's no ring on this finger.") Just before we get up to leave, he suggests he's drawn to characters who, in facing a profound challenge, reveal who they really are. "You see their true colors," he says. "That's what I'm interested in, because I think it's very easy to glide through life pretending to be someone else." Like an actor? Hiddleston laughs. "Alan Rickman said, 'If you want to know who I am, it's all in the work,' " he says. "I love that. I think I'm all the characters I've ever played, and I am none of them at the same time." He pauses, looks down at the table, and plays with his teaspoon. "Sorry. Massive pretension alert! Red zone on the pretension! I should just dance on talk shows. It's much more interesting, isn't it?"
*This article appears in the April 18, 2016 issue of New York Magazine.