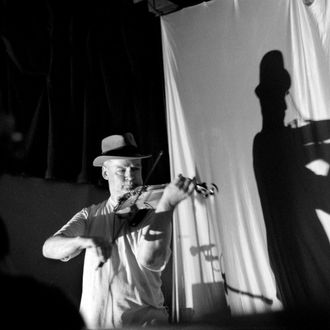 Photo: The Washington Post
Tony Conrad, a seminal artist whose work in drone and minimalistic music influenced the Velvet Underground, and whose experimental film The Flicker helped to engender new approaches to structural filmmaking, has died at 76. Conrad graduated from Harvard in 1962 and moved to New York, where he joined a musical outfit called Theatre of Eternal Music (later renamed the Dream Syndicate), which also featured John Cale. Conrad reportedly introduced Cale and Lou Reed to a book called The Velvet Underground, Michael Leigh's study of "sexual deviance," which gave the duo the name of their iconic art-rock band. (You could say Conrad was in a proto-proto-punk band.) The Dream Syndicate pioneered drone music, then called "dream music," as well as really long song titles. For years band members have argued over who was the true leader of the group; La Monte Young has said he was the main musical author, but Conrad maintained that Angus MacLise, John Cale, and himself were co-authors. In a Guardian profile from last month, Conrad said:
"We made the first drone music… No! I would say the first non-bagpipe western drone music. But because people hadn't heard this sort of thing, it was sceptically regarded. Some people thought we were crazy, some people thought we were high on drugs." So were you? "Yeah! Of course we were high on drugs! But honestly, drug experiences are very private, and cultural experiences are very social. I think the social is better. Go take some drugs, but not too much."
He then left the group to pursue filmmaking, such as The Flicker, which contains only five frames that when played at varying speeds create a phantasmagoric, stroboscopic effect. The film runs about 30 minutes and is accompanied for the first few minutes by the ragtime tune "Raggedy Anne," played on a gramophone so it sounds decrepit, degraded; most of the film is pervaded only by reverb-steeped pitches played on a synthesizer and the click-clack of the projector oscillating. The short played at the fourth New York Film Festival, where it garnered an enthusiastic response from the city's experiential film scene.
Conrad was a faculty member at SUNY Buffalo since 1976, teaching in the Department of Media Study. He had performed with Krautrock band Faust as recently as April 1 at the Big Ears festival in Knoxville, Tennessee. "When I have this feeling that I'm working in some territory I can't clearly identify, I feel enormously encouraged," he said. "Because it means I've found my way to something important that's not been recognised."