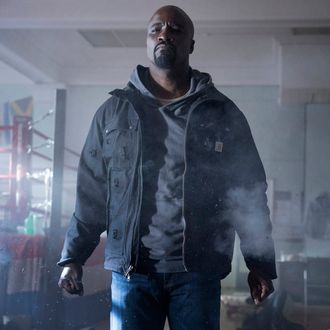 Luke Cage, hip-hop muse.
Photo: Myles Aronowitz/Netflix
Fans of A Tribe Called Quest who are looking for some good news in the still-painful aftermath of the death of member Phife Dawg can take solace in knowing we're about to get new music from fellow Tribe traveler Ali Shaheed Muhammad. And it's coming in a surprising form: the score for the upcoming Marvel/Netflix superhero collaboration Marvel's Luke Cage. Executive producer Cheo Hodari Coker let slip in an interview with Entertainment Weekly that Muhammad and composer–producer Adrian Younge will be doing the show's music together.
"It's very sophisticated. I mean, it's got a '90s hip-hop vibe, but it's really forward-thinking," Coker said. "We have Adrian Younge and Ali Shaheed Muhammad doing the scoring for us." Younge isn't a household name, but you may well have heard some of his work: Jay Z sampled him in some tracks on Magna Carta … Holy Grail, and he and Ghostface Killah did the 2015 album Twelve Reasons to Die II together. Given that a Nas track featured prominently in the first Luke Cage teaser, the show is shaping up to have a pretty solid hip-hop pedigree.