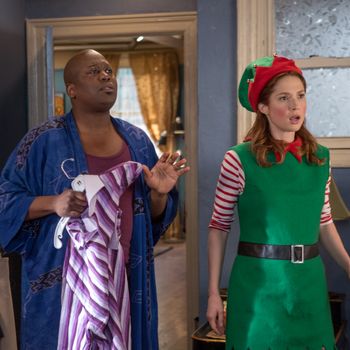 Jane Krakowski as Jacqueline, Tituss Burgess as Titus, Ellie Kemper as Kimmy.
Photo: Eric Liebowitz/Netflix
It's been a long year since we left Kimmy Schmidt victorious on the steps of a Durnsville, Indiana, courthouse, in which time Tituss Burgess got his own pinot-noir label, Ellie Kemper was somehow not banned from SoulCycle, and Tina Fey proved herself oddly prescient about America's desire to ship Marcia Clark and Chris Darden. And though Unbreakable Kimmy Schmidt wrapped up its first season by dropping a lot of plot points for season two (Jacqueline's return to North Dakota, Dong's green-card marriage, the return of Titus's long-lost ex-wife), "Kimmy Goes Roller Skating!" kicks off with a Christmastime flash-forward that only adds more questions to the table. Why is Kimmy belching? Who is Murasaki? What painting did "the Jews" steal from Jacqueline? And why is Mimi Knassis passed out on the couch?
We'll presumably get all of the answers as the season progresses, since this episode immediately rewinds to three months earlier, with Kimmy and Titus back in New York and dealing with the fallout of the trial. Though Kimmy managed to put the Reverend Wayne behind bars, Titus's problems are just beginning. Back in 1998, when he was still using the name Ronald Wilkerson, he married his girlfriend Vonda (Pernell Walker), despite already knowing he was gay. Then, before they even got around to their first dance, he ditched her at the reception. (Vonda: "And you know our choreography was on point!" Titus: "Hmm … you dropped me every time.")
Unbreakable Kimmy Schmidt is, to a large extent, a show about people on the run from their pasts. With Kimmy's history largely dealt with — there's only one brief mention of her bunker days in this episode — it makes sense that the focus would now turn more thoroughly to Titus and Jacqueline. "Mississippi was my bunker," Titus tells Kimmy, and not just because of homophobia. He felt obligated to Vonda, to the five aunts who raised him (and had a collective heart attack when he skipped town), and to a career in the mulch-selling business. To escape Ronald Wilkerson, he had to become Titus Andromedon. He's now being forced to reconcile the two identities, even if it means Kimmy has to call up all of Titus's former lives to get his sweet inner self to listen.
Going back to the past isn't working particularly well for Jacqueline (f.k.a. Jackie Lynn), either. Having cast off the blue-eyed chains of life as a New York socialite, she has both literally and figuratively lost her ability to see what's happening around her. While Jacqueline may have had to fake her way into high society, she's pretended for so long that she no longer fits in with her Sioux family. During her stint at home, she replaces a ceremonial peace pipe with a vape ("Katherine Heigl uses one!"), blows up a couple of silos, and is gullibly convinced that the Electric Slide is a ceremonial dance to the Corn God. By the end of the episode, she's accidentally trapped herself in an unintentional sweat lodge — and the ensuing revelations will presumably lead Jacqueline to return to her old, bad self, as nature and coherent plotlines intended.
Titus, meanwhile, has more work to do. As Kimmy finds out, all Vonda really wants is an apology, but the crux of Titus's persona is that he's unapologetic. ("There are three things that Titus Andromedon does not do: apologies, drag, and calculus.") The same goes for his past lives, which include a strapping Scotsman and the mysterious Murasaki, who's apparently some sort of Japanese geisha — and in any case, definitely doesn't do Christmas. So Kimmy, having already lost her job with Jacqueline and her relationship with Dong, is understandably terrified that Titus will bail on her just like he has everyone else.
Though Titus appears to be running from his problems, he is, in fact, running towards them: He meets Vonda on the Amtrak platform to make amends. (In a classic bit of Fey-Carlock humor, a conductor tells Kimmy that the railroad always runs late "so that people can find each other in a romantical fashion … Amtrak is for lovers." Its slogan is the ultimate end-of-a-romantic-comedy cliché: "I'd like that.") What Titus and Vonda would like, as it turns out, is to finally enact their wedding dance on the platform, soundtracked to Paula Abdul's "Forever Your Girl." D'awwww.
Kimmy is also looking for someone on that romantic Amtrak platform: Dong. (Instead, she approaches an Asian man of a similar build, who calls her a racist.) Though his green-card marriage to Sonya means they now have no chance as a couple — lest Dong risk his legal status — it's clear they are still into each other, leaving Kimmy to struggle with the moral relativism of acting on her feelings. As Lillian puts it: "Where you're from in the Midwest, people say, 'I'll never cheat on my wife,' or 'I'm not gay, I'm a wrestling coach!' And then one day, boof, the wheels come off, they do it all in one weekend, and they drop dead. Here we say, 'Eh, so I kissed a priest in a leather bar. Who am I hurting?'" So Kimmy decides to take the leap and kiss Dong anyway, and though he's attracted to her, he resists. "The only thing that's important to me is not getting deported," he explains.
Working out the Kimmy and Dong stuff immediately is an interesting choice. After all, the show could have opted for a slow build-up of tension; while I doubt Kimmy will forget Dong anytime soon, he's still trapped in that marriage for two years ("then I'll be a real American, and get divorced!"). Kimmy may be fantasizing that her other dates are Dong, but she'll almost certainly open up to other romantic possibilities as the season continues. But considering that part of the Christmas flash-forward involves Dong's green-card wife Sonya calling Kimmy a ho, they probably won't stay apart for too long.
There is one character whose romantic life works out: Lillian, who gets to reunite with her childhood crush … Robert Durst. ("Literally, he tried to crush me.") He's played, of course, by Fred Armisen, who can add this bizarre, shuffling take on the alleged serial murderer to his enormous pantheon of great bits of weird-ass character work. Not many shows would make the call to wrap up a season premiere with a Jerk-meets-Jinx ukulele duet in a roller rink, but in Kimmy Schmidt's weird world, that's par for the course. Pretty damn hilarious, too.
Other Notes:
Likely in response to criticisms that the character of Dong was racist, Ki Hong Lee has been allowed to ease way up on his character's heavy accent and broken English. (The show says he's improved by watching the Kardashians, and he does do a highly credible vocal-fry imitation, though it probably didn't need to be repeated three times.)
On the other hand, if you found Jane Krakowski's performance as a Native American to be tone-deaf in season one, you won't find much improvement here.
With that said, UKS still brings it when it comes to mocking racism in society: Jacqueline's sweat-lodge vision includes the Washington Redskins logo, which yells, "Why am I still a thing?!"
Titus is into dudes, but Vonda is into skinny white guys, which is why their SNL makeouts were interrupted by Darrell Hammond announcing Tim Meadows (him), David Spade (her), and Hootie and the Blowfish (both of them).
Kimmy and Lillian manage to find their respective dates at a shop named "Grim Dollar Store." (Lillian heads straight for the intimates section.)
Kimmy, trying to relate Titus's ham-and-clam pizza to her own moral struggles: "That's wrong. Those toppings are wrong." Titus: "I will probably agree with you in 20 minutes."
The running joke about everyone knowing way more about the Kardashians than they realize is a bit overused, but it's certainly true to life: I've never watched the Kardashian shows, but I knew every reference made in this episode. (My favorite one is when Kimmy calls Kanye West "a rapper who hates college.")
Titus's very complicated burn when he finds out Vonda's divorce case is being thrown out because Ronald Wilkerson is legally dead: "You had better call Jennifer Love Hewitt and Phil Rizzuto, because you owe a ghost money!"