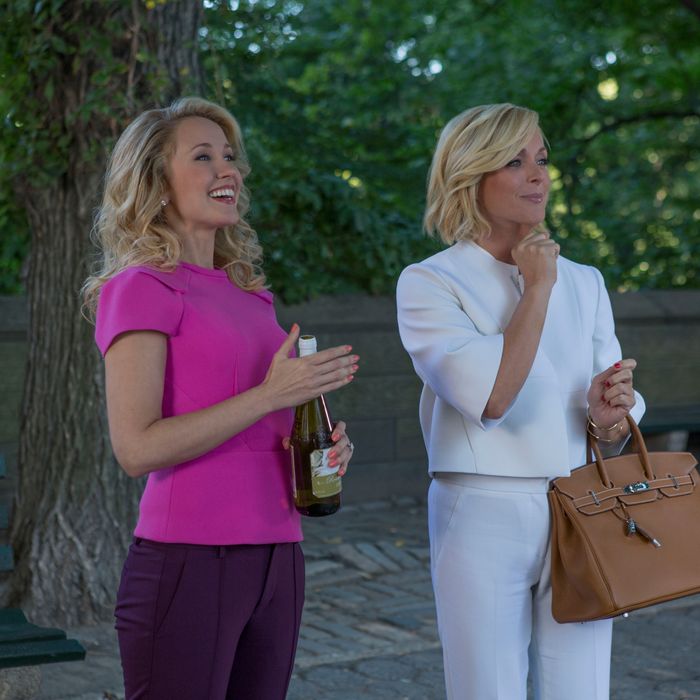 Anna Camp as Deirdre, Jane Krakowski as Jacqueline.
Photo: Eric Liebowitz/Netflix
It's pretty clear that the UKS writing staff got its hands on Primates of Park Avenue, Wednesday Martin's pop-anthropology memoir about the female tribes of the Upper East Side, and used it as a formative influence for Deirdre Robespierre (Anna Camp), Jacqueline's new frenemy who may or may not be out to destroy her reputation.
Back from North Dakota, Jacqueline's been left with a mere $12 million from her divorce — relative chump change in a land of $10,000-per-plate lunches and Aspen ski trips. The freshly single Ms. White ("That's our Sioux family name. It was given to us in the 1920s by a sarcastic census taker") has also steeled herself around a new goal: Since she can't succeed as a farmer, she's going to use the one asset she has — working the ladies-who-lunch scene — to become a fund-raising force for Native Americans. "The Dutch bought Manhattan for $24 worth of beads. Today, it's worth a trillion," she tells Kimmy, who offers to help her get the rest by making a run to Michael's.
The only thing standing in Jacqueline's path is Deirdre, alpha female in a Park Avenue clique dedicated to the religion of "Pilates Stella McCartney vegan ankle boot bánh mì detox," and drowning itself in booze before parent pickup at St. Clotilde's School for Fancy Boys. That's likely because, as Deirdre confesses, "I have a degree in political science from Princeton, and all that wasted mental energy has to go somewhere" besides staying razor-thin, carrying the "right" Birkin bag (the one made from the skins of celebrity internet cats is so last season), and one-upping the other moms in playdate planning. (Jacqueline: "I went to a playdate once where the kids got to run the Greek economy.") It wouldn't be surprising if Deirdre, a woman who can effortlessly reference the Peloponnesian War yet spends her days ordering stationery for the dog, is even subject to one of those "wife bonuses" that Martin controversially mentioned in her book.
Unfortunately, the character is a tough nut to crack. Deirdre is seemingly nice at first glance, yet has a deep mean-girl streak, and Camp doesn't seem to have the comedic chops to walk the line between the two. When Jacqueline tells Deirdre, "I don't know if you're trying to help me or destroy me!" and she responds, "I honestly don't know!" the line should pack a certain element of menace, but Camp comes off more like a sheepish nice girl who's being forced by circumstance to behave badly. At 33, she's also 14 years younger than Jane Krakowski, which makes the characters having kids who are the same age a bit tough to swallow. It's still early to judge, of course, but the show may have been better off booking an older actress with a harder edge. Playing at Jane Krakowski's level would be tough for even the most seasoned comic actress.
In any case, Jacqueline seems to have appropriately made her play to stay in high society. She organizes a Ninja Turtle playdate in a sewer, then hijacks someone else's chauffeured Bentley before blowing nearly all of her divorce settlement on a Mondrian painting to save face. How she'll manage to keep up appearances with a pauperish $500,000 should make for good comic fodder.
Back at the other end of the class spectrum, Titus is also parting ways with his valuables — namely his array of outrageous outfits. ("Much like Icarus, a friend of mine who once put too much stuff in his closet, I put too much stuff in my closet.") Though he's loath to part with his Mickey Mouse gloves and suspenders and his shants — pant-length shorts, in case you're wondering — Lillian encourages him to donate a bagful of castoffs to the Salvation Coast Guard shop, where he assumes they'll be "plucked out of this hellhole like so many little orphans Annie." Lillian agrees: "The other stuff here, it's ugly, no one wants it. Like the other orphans who eventually aged out of the system." Unfortunately, when Titus goes back to check on the clothes, he discovers that a homeless man prefers the trash bag they came in, and the shants are being snapped up by a troupe of millennial sketch comedians doing a bit about women who work at Jennifer Convertibles. So, he snatches up the clothes and throws them in the trash.
They quickly make their way into the hands of Mikey (Mike Carlsen), the adorable construction worker with a Noo Yawk accent, who also happens to be gay. Fans of the show might remember Mikey from last season, when he catcalled Kimmy, only to realize that he was gay and overcompensating. (He then asked out Titus, who told him to try again in a decade.) Turns out Mikey has fond memories of coming out to Titus, and confesses that he's still struggling to do so with his hypermasculine co-workers. (In what might be the episode's single best gag, he confesses that he had to play it straight by "airbrushing a hot chick on the back of my truck," flipping up the back to reveal a portrait of Tilda Swinton.) The chemistry between Mikey and Titus is super cute, and this definitely won't be the last we'll see of him — I'm pretty sure he's the one in that Santa suit in the Christmas flash-forward.
Finally, this episode marks the return of Jacqueline's stepdaughter, Xanthippe, who continues to bitterly resent Kimmy for contriving to pack her off to Connecticut after Jacqueline and Julian's divorce. ("Do you know what my life is like now? I'm on a field-hockey team. Field hockey. I scored twice against Country Day, and it's all your fault!") While Xan is a total brat, the show has always been good at making her a three-dimensional teen with an equally vulnerable side, and it's easy to see why she's heartbroken about the loss of the family apartment: It's the only constant in her tumultuous life of new moms and new schools. So Kimmy engages in a bit of aversion therapy, pointing out room-by-room exactly how she defiled the Voorhees home, from making out with Xan's tutor in the pantry to playing "wall of infinite Kimmys" in the hall mirror, before concluding with a hearty puke on the terrace where Xan had her first kiss. The tactic works so well that even sullen Xan is a little appreciative.
My main complaint about this episode is that while Kimmy appears all over, she mainly serves in a supporting role. Aside from a hilarious opening speech in which she tries to secure a job at a Christmas store, she just doesn't occupy the spotlight enough. That's almost certainly a temporary issue, but considering that Ellie Kemper often doesn't get the credit she deserves for the show (Jane Krakowski, Tituss Burgess, Tina Fey, and Jon Hamm all got Emmy nods for season one, but Kemper didn't), I hope there are some meatier Kimmy-centric plotlines in store.
Other Notes:
Kimmy is still adjusting to New York life. When she sees two Hasidic Jewish men, she thinks they are "Santas coming from a funeral," then says, "I'm sorry for your loss, Santas."
Another bit of New York humor: Titus and Lillian pass a construction site with the sign "Coming Soon: 9 Banks."
Titus's expressions of despair in this episode, of which there are many, are all amazing. "This is why I never open myself up to the world. I just get rejected like a crinkly dollar bill in a vending machine! Good-bye, cruel world! I wish Bruce Willis had let that asteroid hit you!"
UKS continues to be on point when it comes to mocking the idle rich. Buckley, for example, goes to Little League without equipment "because he's an owner. He just watches the game from his luxury tree."
Jacqueline on what rich men do with their money: "They support art museums, wiener-disease research, and super-pacs that drive poor people to the circus on Election Day." Kimmy: "And you get free peanuts!"
We get a nice little bunker flashback when Kimmy explains that being top dog in the bunker meant punching the alpha girl in the face. Donna Maria screams, "I will make you all my bitches!" in Spanish after socking Kimmy, only to get punched by a sheepish, cheerful Gretchen.
And finally, two bits of only-in–Tina Fey–world weirdness: "I really like that new building that Rem Koolhaas and Michael Stipe designed." "The Rem Koolhaas R.E.M. Coolhouse?"
Kimmy, after singing the Teenage Mutant Ninja Turtles theme to herself: "Whoever wrote that song must be a billionaire!" A poster then informs her that Two and a Half Men and Big Bang Theory creator "Chuck Lorre wrote that song" (which is true). Don't know if he's a billionaire, but he definitely rakes it in. Could this be a bit of revenge for Lorre's crude reference to Fey's "relatively ample bosom" in one of his innumerable title cards?