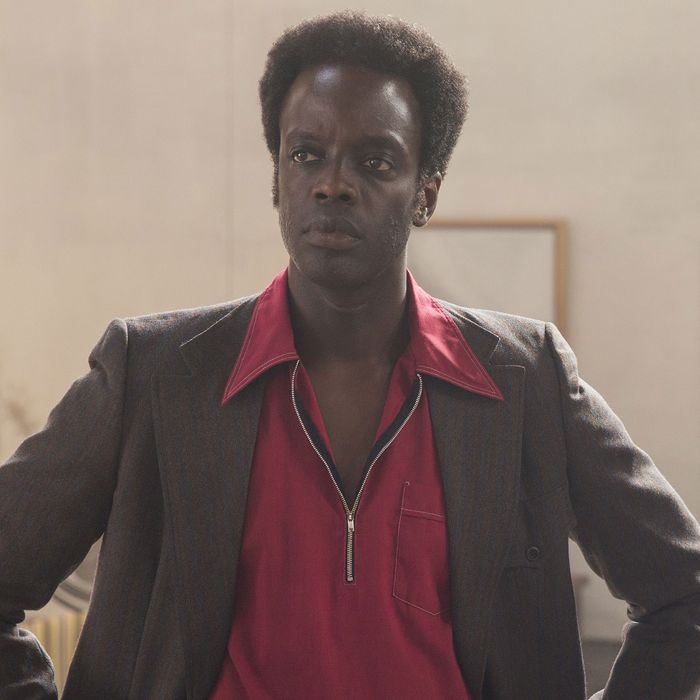 Vinyl
Rock and Roll Queen
Ato Essandoh as Lester.
In August 1975, Bruce Springsteen released his third LP, Born to Run. It was a record he sweated over for a year, knowing that it could be his last chance to become more than just a hot touring attraction with minor regional radio success. The album was a smash. Critics loved it. FM radio programmers plugged multiple Born to Run songs into heavy rotation. Time and Newsweek both ran cover stories the same week about the Springsteen phenomenon. Anyone who cared about "rock 'n' roll future" (as writer Jon Landau once called Springsteen, shortly before becoming his manager) had an opinion about this short, skinny, hairy Jersey boy who combined pulpy street sagas, bar-band oomph, and Brill Building pop hooks.
In November 1975, proto-punk poet Patti Smith released her debut album, Horses, after years of building a fan base in New York for her ragged, energetic performances, which turned crude garage-rock into bold, artistic statements on youth culture. Smith and Springsteen were fellow travelers, who gigged around the Northeast at roughly the same time in many of the same clubs and who, years later, would collaborate on Smith's biggest hit, "Because the Night." But in 1975, they seemed to offer very different takes on their shared rock passion. Springsteen was turning old Roy Orbison and Mitch Ryder singles into grandiose, arena-filling epics; Smith was smashing Wilson Pickett and Them 45s into jagged shards to wield as weapons.
In "Rock and Roll Queen," Richie Finestra finds himself faced with a philosophical and aesthetic choice for American Century: Will they be a Bruce Springsteen kind of label or a home to Patti Smiths? That's not a metaphor. At one point in the episode, Richie literally listens to Smith's arty cover of "Hey Joe" and rates her as "worth a look." Later, Julie comes to him and suggests they take a run at poaching Springsteen from Columbia, saying, "he's like an approachable Dylan." Julie also admits that when it comes to Richie's newfound love of sloppy rock like the New York Dolls and the Nasty Bits, "I'm not sure what I'm supposed to be looking for."
This is the dilemma that Vinyl's been fumbling toward since the pilot. What does it take to bring back the beating, bloody heart of rock and roll — and how do you make money off of it? Both Springsteen and Smith are great artists. But even in 1973, when Bruce wasn't yet "The Boss," signing him would be the safe move. It'd be something that guys like Julie could understand.
Once again, Vinyl is all the better for focusing on the business side of Richie's life. This episode is a step down from last week's "E.A.B.," though. It's more blatantly a piece-mover, setting the stage for next week's season finale: Zak finds out that Richie was the one who lost American Century's bailout money in Vegas; Richie finds out that Devon has a lover, and responds not by destroying anything (aside from one luckless bat, flapping around the Chelsea) but by coming clean to her about Buck Rogers's murder; and Richie chooses to cooperate with the FBI, taking an immunity deal in exchange for gathering intel on American Century's new mafia overseers.
That's all necessary plot advancement, but it's made more interesting for where it may lead next week than for how it's played out onscreen in "Rock and Roll Queen." With a couple of exceptions, that is. It was pretty satisfying to see Zak finally beat the crap out of Richie. It's also nice to see a Vinyl episode that finally focuses on female characters without making them arbitrarily awful.
Of course, it's not exactly a step forward for Jamie to go from being the opportunistic, drug-dealing boy toy of one Nasty Bit to shacking up with two of them simultaneously — but at least she seems to enjoy being hedonistic for once. Plus, her ménage à trois with Kip and Alex bookends a scene at the start of "Rock and Roll Queen" where her aunt kicks her out, on her mom's orders. The camera very purposefully keeps catching shots of Jamie's scraped-up shoulder, a remnant injury from when her aunt pushed her down her front stoop. It's a reminder that she's a branded outcast.
Devon, meanwhile, is going through an odd crisis of confidence, as she worries if everything's been coming too easy to her. While Ingrid's living out her mommy fantasies by taking care of the Finestra kids, Devon's canoodling with her handsome young photographer friend, Billy McVicar, who helps her realize that she's sitting on a potential treasure trove with all those undeveloped snapshots of rock stars partying at her house. Devon's not sure if she should be doing so well, though. "I deserve my fun," she insists to Ingrid before asking, "Do I?" This brings back up an idea dropped earlier in the season: the notion that when men like Richie go on a journey of renewal, it's socially acceptable, but women like Devon can't even have an afternoon to themselves without tons of logistical juggling and guilt.
That conversation between Devon and Ingrid is also a rare case in Vinyl of two women talking to each other without being mean. And the same could almost — almost — be said about Andrea this week, who yells at Jamie for her "I'm with the band" bed-hopping, and snaps at Cece for getting pregnant with Hannibal's baby, although her anger seems to come from genuine sisterly concern. When she snarls at Jamie that women rarely get to be "A&R men" because they can't give honest criticism to someone they're screwing, she's upset because Jamie's damaging the chances of all women at American Century. And that matters. Right now, Andrea's working harder than anyone to make the label viable, whether she's working behind the scenes to get Hannibal back or she's hearing of the special discount that Richie used to get from the label's go-to photographer and saying, "It showed."
With one episode to go, it's starting to feel like everyone in Vinyl is finally getting invested in the vision that Richie laid out in episode two. And not just the characters, but also the writers. Even in the scene where Clark and Jorge take the soon-to-be-dropped Indigo's new record to an after-hours club, the whole "art versus commerce" question hangs over their every move. At the staff meeting, the consensus about Indigo's audience is that "those people don't buy albums." But "those people" clearly responded to the music, which is what Richie ultimately means to do — and what this show ultimately has to be about if it's going to be special.
"Screaming your heart out into the mic ain't cheap anymore," Richie laments in one scene. But he puts his money in the right place, American Century and its new Alibi imprint could put out a Born to Run or a Horses, two albums that people still admire and analyze today. No pressure. It's just a legacy.
It's Only Rock and Roll (But I Like It):
When Devon mentions that Richie broke her heart, he smiles a little, like he's pleased to know she cared enough to be hurt. I don't know if it's the writers, the director, or Bobby Cannavale who is responsible for that moment, but it's a nice character touch.
If there's such a thing as "photosplaining," I think that's what Billy McVicar does when he tells Devon that she's framing her pictures of him all wrong.
Not as many good candidates for Vinyl's line of the week, but I did laugh at the NYPD's wisecrack when Richie's lawyer complains that his sickly client had been incarcerated: "Give him two aspirin and call me when he's a not a junkie."
We hadn't really seen much of Maury, aside from a few flashbacks and scenes meant to set up his place in Richie's life. But judging by his casually racist comment about Cece, he's a prize jerk.
That said, Maury's idea to release a compilation of 1950s rock and pop hits isn't terrible. This was a super-nostalgic era, what with Nuggets, Sha Na Na, American Graffiti, Grease, and the like. Typical of Vinyl, it's hard to tell whether the show thinks we should be enthused or appalled by Maury's project. I'm going to keep ignoring the show's ambivalence and let you know what I know: In 1973, a '50s comp would have sold like gangbusters (so to speak), and if done right, it would've been a critical favorite. After all, the appreciation for Springsteen and Smith's retro riffs didn't come from nowhere.
As you've likely heard, showrunner Terence Winter has parted ways with HBO. I'll have more to say about this next week, after we've all seen the finale. I do think it's an odd move to make the announcement this week. It's almost like HBO is telling us not to bother with the end of the season, since it's all going to change soon. Seven days from now, we'll probably have a better sense of why this happened.
Soundtrack to this review:
The Kinks, The Kink Kronikles
Robert Palmer, Sneakin' Sally Through the Alley
Pink Floyd, Meddle
Captain Beefheart and His Magic Band, Safe As Milk
The Nitty Gritty Dirt Band, Will the Circle Be Unbroken