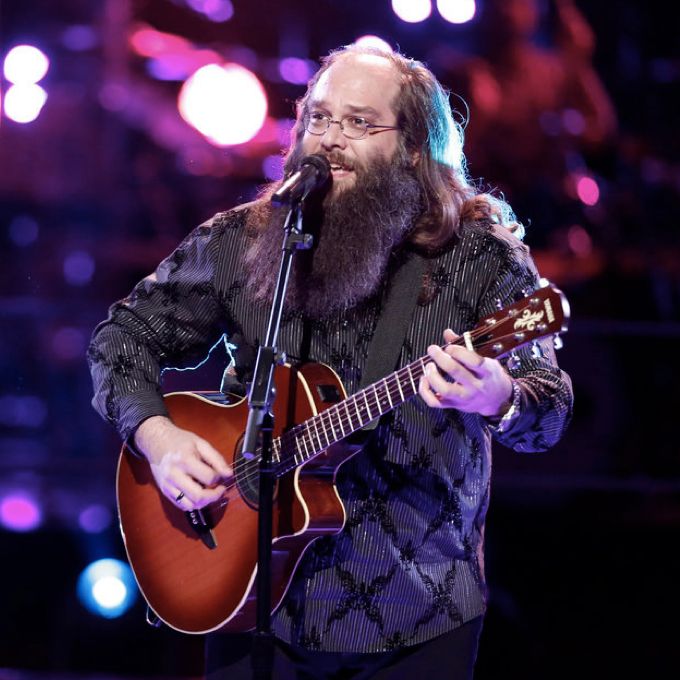 Laith Al-Saadi.
Photo: Tyler Golden/NBC
And the vocalizing continues! Everything keeps happening exactly as expected, and somehow, it is all still thoroughly delightful. As I always say, the only thing better than surprises is the marked absence of them.
Tonight's first face-off is between ebullient worship leader Brian Nhira, and Nate Butler, who recently graduated from high school. Brian "oozes charisma," notes Adam, but Nate's "got a beautiful tone." For his knockout, Brian will be oozing his charisma all over "Grenade," because, like Bruno Mars, Brian Nhira is very vulnerable. "You have this explosiveness to you," Adam muses. You might even say he is like a grenade. Nate, on the other hand, channels his inner Al Green with a beautifully toned rendition of "Let's Stay Together," which is also the message he is hoping to deliver to Coach Adam. Perhaps Nate is channeling his inner Al just a touch too well? As Miley wisely cautions, "You can't let the legends do the work for you." Who is Nate Butler, recent high-school graduate?
A man who is about to lose The Voice, it turns out. His performance is soulful, his tone is pure, and his pelvic gyrations make me slightly uncomfortable, but Nate is no match for the unbridled joy that is Brian Nhira and his unending parade of festive shirts. The winner is Brian, because Adam cannot live without him. If I am ever going to be worship-led, I hope it is by Brian Nhira.
Blake pairs smiling Canadian Brittany Kennell with vintage-sounding Boot Barn employee Mary Sarah, because they are both country singers who are also women. Have you ever been to Boot Barn? I have not, but, as far as I can tell, it is pretty much the Nissan Murano of shoe stores. Anyway, Mary is singing "You Ain't Woman Enough (to Take My Man)" by Loretta Lynn, because it represents her as an artist. Canadian Brittany is doing "You're Still the One" by Shania Twain, because of Canada. Blake is worried that Brittany's hyperactive vibrato will overpower the whole shebang, but I think probably that's just a cross-cultural misunderstanding.
As expected, Mary Sarah is fantastic, but in a kicky, retro way, with lots of sassy growling, just like Miley asked. What I am trying to say is that I definitely ain't woman enough (to take her man). Neither, unfortunately, is Brittany Kennell, who gives a performance that is very heartfelt and deeply boring. Blake spends a long time pretending to deliberate, but obviously the winner is Mary Sarah, because "every time she gets onstage, something special happens." It's true, is the thing.
It is now time for Christina and Miley to practice whipping their ponytails in circles. It goes without saying, but they're both very good at it, probably from all the practicing. Since they're busy, Carson Daly takes it upon himself to introduce Christina's next vocal gladiators, Brooklyn's own Bryan Bautista, and Trey O'Dell, who studies business at the University of Arkansas. "Bryan and Trey both have natural R&B singing talent," Christina explains. Joke's on Christina, though, because neither one of them is going to sing anything R&B. Bryan does a reggae version of "Sorry," by the Biebs, because he is actually "not a soul singer but a contemporary artist that's soulful." Fellow non-soul artist Trey is going with OneRepublic's "I Lived," a choice that Christina concedes is marginally not terrible. In rehearsal, everyone spends a lot of time discussing his mic stand. Personally, I thought his mic stand was great.
It is hard for me to adequately express my love of Bryan, but the song is emotionally resonant, the way he sings it. I accept his apology. Then Trey sings a bunch of stuff about living, and to his credit, he often hits many of the notes. His mic stand is everything I hoped it would be. There is no contest: The winner is Bryan, and Trey graciously returns to Arkansas.
Pharrell is pitting Abby Celso against Caity Peters, because they are "two very different singers" who "both have things they need to work on," which is the kind of logic for which we know and love him. In her knockout, Abby Celso will be singing "Rich Girl," by Hall & Oates, suggesting that one thing Abby needs to work on is "song choice." Honestly, Caity seems to have everything under control, but I guess she's working on her high notes? She's decided on Sam Smith's "Leave Your Lover," and it is delicate, yet soulful. You don't get a four-chair swivel for nothing.
Onstage, Abby bulldozes her performance with a vigor previously observed only in drunk bachelorettes at karaoke night. Everyone agrees she dominates the stage, but her performance is missing "textures" and also "volumes." You know who is not missing any textures or volumes? Caity Peters, who moves not physically but spiritually. "Do you go with Storm, or do you go with Wonder Woman?" Pharrell wonders. That is a rhetorical question, because obviously you go with Caity Peters. I hope someone steals Abby and tells her to sing something else, but Blake is the only one with a steal left, and he remains silent.
Next up, growling blues powerhouse Laith Al-Saadi is battling singing British nanny Jessica Crosbie. In keeping with the philosophy first popularized by Pharrell Williams, Adam has paired them together because they, too, are "very different." Jessica is doing "Wake Me Up" by Avicii. She is nice. It is nice. I don't care. "Jessica's going to have to give us something that makes her stand out," says Miley, who is dressed as a Georgia O'Keeffe painting. Standing out is no problem for Laith. He stands out wherever he goes. Tonight, he is stepping out of his bluesy box by singing Peter Gabriel's "In Your Eyes," which he wanted to sing low but Adam (correctly) told him to sing high. I confess, I was momentarily worried about this development, but, of course, it is fine.
While he is typically great, Laith is less great than usual here, probably due to the lack of bluesy growling. "You gave the song somewhere between 75 and 85 percent," Pharrell tells him. "Eighty-five percent is awesome, but this is The Voice, and people are, like, competitive here." For her part, Jessica sings beautifully, and I still don't care. Adam suggests both song choices were questionable, but ultimately chooses Laith "based on something I can't really ignore." What I cannot ignore is why Pharrell is being so mean to Laith Al-Saadi.
The takeaway from the unseen battle between Caroline Burns and Katherine Ho is that Caroline wins, and poor Katherine completes her run on The Voice never having sung on national television. What do you think she was like? I hope she was nice.
For the final round, Joe Maye is going head-to-head with Kata Hay, because their names rhyme. I completely forgot about Kata Hay, but I am so happy to see her! And her dad! Joe Maye is singing "Earned It (50 Shades of Grey)" by the Weeknd. He says he will be a "sexy panther" and "a lion." Kata Hay, who is more of a seductive leopard or a brassy tiger, is doing Reba McEntire's "Why Haven't I Heard From You," because it is country, but also because she wants to know.
In the immortal words of Blake Shelton, this one is "a knockout round for sure." Joe Maye is a lion and a panther at all the right times, and the part when he drops to his knees is indeed passionate. Meanwhile, Kata is the only competitor so far who can sell her choreography. She is fun. She is fiery. She is the winner of this knockout.
But then! Blake swoops in and steals Joe Maye, because he claims to need an R&B artist, and also because he has one slot left on his team and there are no more people. Everyone's a winner!
And there you have it, folks. What a night it was! I, for one, am exhausted. You could even say I am knocked out. Who has the strongest team, do you think? Why didn't Katherine Ho get to be on The Voice? What, in your estimation, is Carson Daly's contribution to this show?