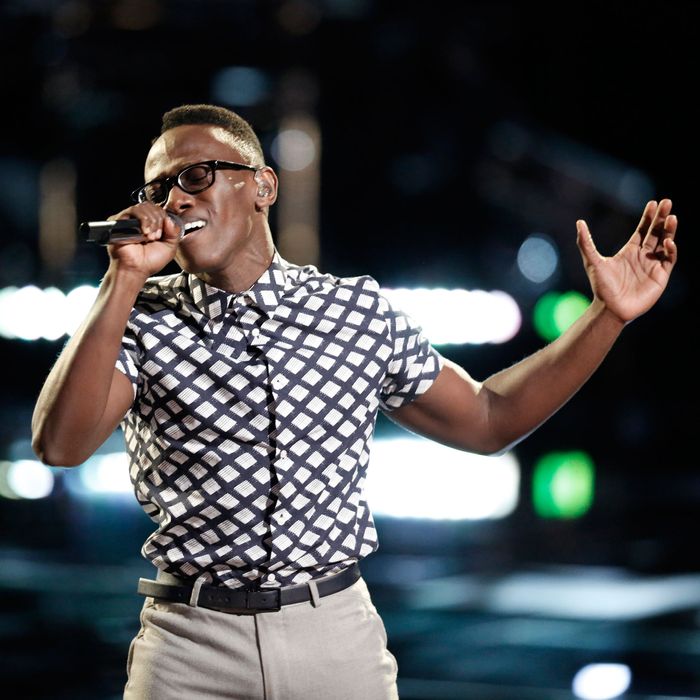 Brian Nhira.
Photo: Tyler Golden/NBC
And the live shows continue! Tonight is Team Pharrell and Team Adam, and honestly, it's a rough one. Everyone keeps picking very ambitious songs and then being unable to actually sing them.
Daniel Passino was sacrificed to Alisan Porter in the Knockouts, but like an opera-singing phoenix, he has risen from the ashes and rejoined the show as Pharrell's comeback kid. "Faced with what you were faced with — I thought it brought out the best in you," Pharrell tells him. (What he was faced with was Alisan Porter.) He will be singing "When I Was Your Man," by Bruno Mars, because it is about loss, a feeling Daniel Passino knows well from the time he was eliminated on The Voice.  "You get what this competition is about," Pharrell raves. Not to brag, but I think I also get what this competition is about? I would not say that Daniel Passino and I share an aesthetic, but his performance is indeed tender and vulnerable. He wears a blazer for the whole thing. I miss his signature two-tone shirts.
For her "timeless performance," young buckeye Emily Keener is doing Paul Simon's "Still Crazy After All These Years," accompanying herself on piano. And to think that just last night, I was complaining that there were not enough pianos on this show! That is the thing about Emily Keener: She always comes through for you. "She's just so emotionally intelligent beyond her Earth years," muses Pharrell, who generally looks to other planets for his timekeeping. She is lovely and haunting, as usual. To show their appreciation, the audience sways at random. Pharrell thinks you should vote for her, because she is "a unicorn." And to think she is only 17 in Earth years!
Laith Al-Saadi gets by with a little help from his friends, so he will be singing "With A Little Help From My Friends" (the Joe Cocker version). Laith seems really nice. I bet he is a good friend. True to form, his rendition is gritty and rocky and deeply soulful and I'm still not sure where he fits into the landscape of The Voice, but I am thrilled that he is here. "If you're at home, and you love classic rock the way that we love classic rock," enthuses Pharrell, now high on the democratic process, "then you gotta vote for him!"
Ever since her blind, Moushumi has been "inspiring people from around the world," but Pharrell senses that she is holding something back, such as her feelings. "There needs to be some emotional dynamic," he tells her. Also, vocal dynamics. Dynamics in general, I would say, are a struggle for our Moushumi. The judges all say reasonably nice things about her pleasantly airy performance of "Love Yourself" by the Biebs, but I am completely distracted by Christina's bedazzled leather half-gloves. I do not understand them at all, but I bet they are very good for committing crimes.
Another thing I do not understand at all is Lacy Mandigo, but there is no time to dwell on the mysteries of the universe. She will be growling through "Love Is a Battlefield" by Pat Benatar. At least that's one thing we can agree on. This song seems weirdly low for her, and the result is that she is doing a Cher impression the whole time. As expected, Blake loves it anyway, because she is a "cute little girl" with a monster inside. Christina says she looks nice in her blue dress. "Everyone vote for Lacy!" cheers Pharrell, indiscriminately. I hope someday I love anything as much as Pharrell loves voting.
Owen Danoff feels like "something really clicked after knockouts," and now he is still a baby bird, but like, a really confident one. Also, he got a haircut. "Up until now, I've only been doing older music," explains Owen, so he is making his contemporary debut with "Hero" by Family of the Year. I am a sucker for Owen Danoff, baby birds, and this song. Blake says it is rare to connect with a cover like that. Pharrell says it was "a magical moment." Adam says that a great singer is a person who can make a song their own, and that no one on The Voice does that better than my favorite chickadee, Owen Danoff.
Teen soul machine Shalyah Fearing is doing "Listen" by Beyoncé. Shalyah is so fun to watch; she gets better every time. Listen, I do not think Shalyah's performance is technically flawless, but it doesn't even matter, because she is unequivocally spectacular and everyone leaps to their feet. Carson Daly has never seen so much enthusiasm; certainly, he has never felt it. "Every single one of us in this room felt like you were telling us the truth," intones Adam, profoundly. Vigorously embracing his civic duty, Pharrell once again encourages everyone to vote.
It is now time for Adam to reveal his "comeback artist," recent high-school graduate Nate Butler. Why not? Nate is singing "Sara Smile" by Hall & Oates, which Adam says will showcase his smooth voice and stellar tone. I wish I could get excited about this whole number, but I cannot. Apparently Nate's performance is chock full of "subtleties," and also "nuances." A little too subtle and nuanced, if you ask me. Whatever, it was fine.
Caity Peters decides to show "a different part of herself," so she's singing Adele's "I'll Be Waiting." I am going to level with you: I do not like this different part of Caity Peters. In keeping with the general theme of tonight's episode, she is not at her best here, and it feels like she's struggling at times, or doing karaoke. Good risk-taking, though. Christina loves her dress. Pharrell says something about how we never know when we are in prisons of our own making until we set ourselves free. I will leave you to ponder that.
All Caroline Burns's friends want to know is if Adam Levine smells nice. A good question, and one she does not answer. Anyway, she's doing "All I Want" by Kodaline. Honestly, I hadn't been all that interested in Caroline Burns until now, but this is very pleasant. I enjoyed listening to it; I would listen to it again, even. Pharrell says it was a "total different level," and Adam suggests that the next thing she does "is truly going to be kind of explosive." Do you think it will be on The Voice, though?
You know what is an impossible song? "Alive" by Sia. But for some reason, Brian Nhira has decided to do it anyway. I admire his gumption and question his strategy. In performance, he is very energetic, and is perhaps the only person to cover this song while wearing khaki pants. The beginning is quite nice. The rest of it really makes you appreciate Sia. "That was crazy!" reflects Christina, correctly. "You will never in your life — ever — have to sing a song harder than that," promises Adam. Brian Nhira is still breathing, though, and that is all that matters.
Hannah Huston is doing "Ain't No Way" by Aretha Franklin, which Pharrell says is a good choice because "it matches the feeling people walk away with when they hear her sing it." In rehearsal, she brings Pharrell to tears, and it's all very moving. "I just love you so much," she whispers to him, meaningfully. Everything is going so well! The only complicating detail is that Hannah cannot really sing this song. And that's okay! We don't all have to sing all the songs in all the keys! To be clear, I still think Hannah is fantastic, and I greatly look forward to her singing something else next time. For a change of pace, Pharrell suggests voting.
And there you have it! Pharrell really hopes you voted. Who is going home, do you think? What are your feelings on half-gloves?