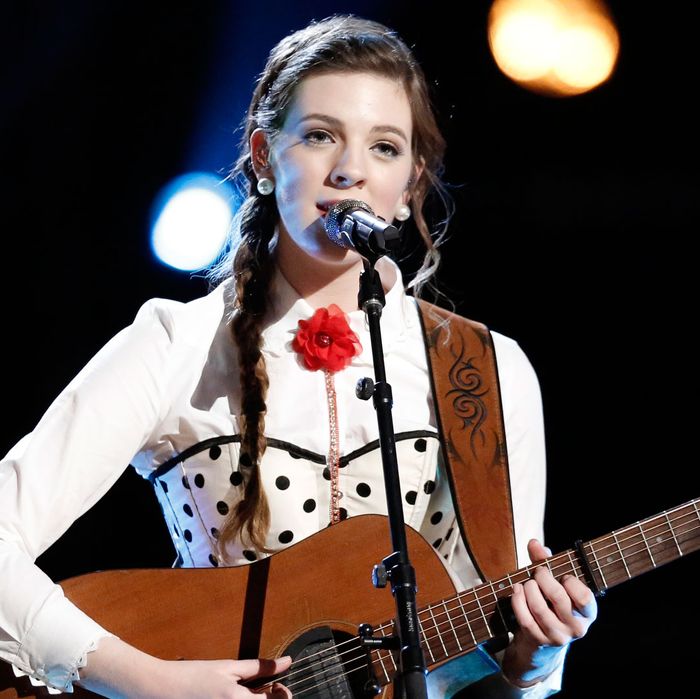 Fare thee well, Emily Keener.
Photo: Tyler Golden/NBC
It is all happening, folks! I am so nervous I can barely contain myself. I hope you have your Twitter account fired up! A fun game is to imagine which of your relatives, if you were on The Voice, would learn to use Twitter for you. I have thought about it a lot, and I'm pretty sure that in my case the answer is none.
To ease the tension and also promote her new album, former Voice coach and special friend of the show Gwen Stefani offers up a performance of her new single, "Misery." As far as I can tell, the conceit of this song is that Gwen Stefani is a lady who is miserable, so she appropriates various native cultures and then feels better (?). Obviously, Blake is very proud of her. To Gwen Stefani's credit, it is a very catchy little number, minus all the problems, and Carson Daly declares that we are all very excited for her.
Before we can move on to some actual results, though, it is time for the Q&A none of us have been waiting for. Have you ever been to a good Q&A? Tonight, Carson Daly stiffly asks various performers what it has been like to be on The Voice, and they all say in different ways that it was great and Pharrell is great and everyone is very grateful for everything.
Finally, some news! In Carson Daly's very hands are the names of two artists who will be advancing to the Top 11, and they are Adam Wakefield and Alisan Porter! There is nothing even a little bit surprising about this, given that they have been the two front-runners this whole time and also were both Top 10 on iTunes, but I feel great about this. Also, it is worth noting that Christina is wearing a hot-pink-fur thing, which I'm pretty sure is the companion piece to the dark-blue-fur thing she wore last week. Get one in every color, that's what I say.
The next two artists to win the hearts and minds of the American people are — dum dum dum dum, dum dum (dum dum dum) — Bryan Bautista! And — dum dum dum — Daniel Passino! What a relief! I am so happy for Bryan I don't even care that I still think his "Kiss From a Rose" was kind of bad. And Daniel Passino also gets to continue to exist! The only person more surprised about this than me is Daniel Passino.
Carson Daly understands we all need a second to catch our breath after that one, so he generously takes a moment to check in with season-seven finalist Matt McAndrew, who has the mane of 1,000 stallions. You've probably been wondering what he's been up to, so he will tell you: He is hosting a hot new audio serious about The Voice. The twist is that it is only available on Amazon Echo, so you can't even listen to it in your Nissan Murano.
For their team performance, Blake & Friends sing "I Love a Rainy Night." I do, too! Blake kisses Adam on the beard and Mary Sarah wiggles a lot, so it's all pretty much business as usual, but I am going to go out on a limb and say that I like it. Pharrell and his PLANT hat seem to be having a grand old time.
More results! After more interminable questions and answers, Carson Daly announces that America saved Shalyah Fearing, Paxton Ingram, and Laith Al-Saadi. I know what you're thinking: Paxton Ingram? I am as shocked as you are. I do not think he's a particularly notable singer, if we're being honest, but whatta guy!
With two of its three team members now safe, Team Adam takes the stage. They sing "If You Want Me to Stay" by Sly & the Family Stone. The defining characteristic of this performance is that it is way too low for all of them.
Now it is time for the moment of truth: There are five performers remaining, three of them are about to be saved, and the remaining two will be sentenced to a sing-off. "I can't do this!" mutters Hannah, wearing the national costume of Nebraska. But she can do this, it turns out, because America loves her. Or at least, America likes her enough to save her eventually. "Ahhhhhhhhhhh!" observes Hannah. America also saves Nick Hagelin for reasons I cannot tell you, and Boot Barn darling Mary Sarah. Remember Mary Sarah's blind audition? That was fun. I wonder if she will ever do something fun again.
This means that Owen Danoff and Emily Keener are forced to compete for the "instant save," which is where they both sing new songs and then America has five minutes to completely disregard those performances and vote for the person they voted for the first time. Oh, I am distraught! Did people not see Emily Keener's "Lilac Wine" last night? And it was ranking really high in iTunes, too! It is almost like maybe iTunes does not represent America.
Emily's last-chance song is "Blue Eyes Crying in the Rain." It is mournful and pure, and though it is not raining, my blue eyes cry. In response, Owen Danoff sings "Lego House" and it is totally, 100 percent fine. I enjoyed it. Honestly, neither of them deserves to be in this position, and yet, here we all are. Ah, democracy in action!
You can see the votes tabulating during the commercial break, and things are not going well for my favorite woodland sprite, Emily Keener. Pharrell pleads with America on her behalf, but it is too late: Owen wins Twitter, and Emily, too tender for this cruel world, is going home. I feel betrayed by America. I really thought we had a good thing going. Whatever, Emily Keener doesn't need us anyway.
And then there were 11. Why does America hate indie-folk music so much, do you think? Is it all the guitars?