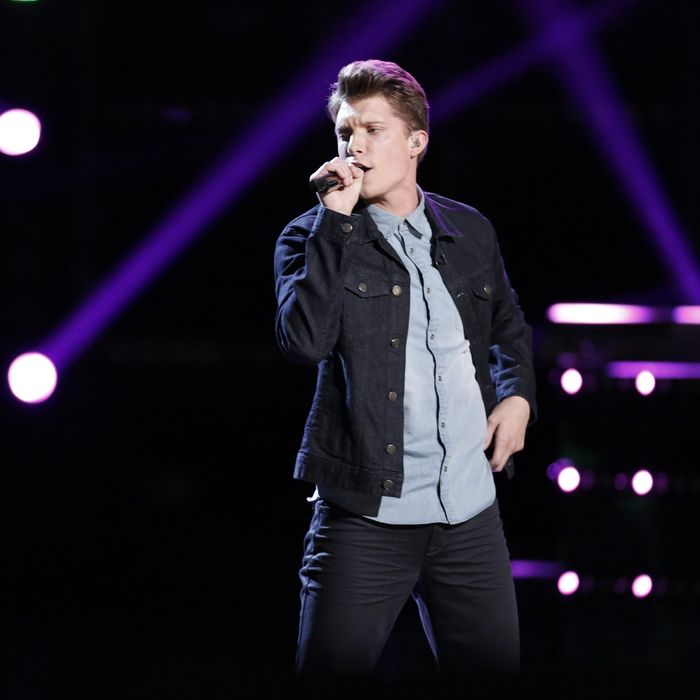 Daniel Passino.
Photo: Tyler Golden/NBC
I love these elimination episodes! Nothing really happens and yet they take a whole hour anyway. It is like a depressing metaphor for life.
Rising country star Thomas Rhett gets the party started with a zingy performance of his hot new single "T-Shirt," which tells the story of how once this girl wore his T-shirt (ooh ooh so hot). The audience goes wild; they wave their T-shirts in the air. I like it also, but the twist is that I am wearing a sweatshirt. It is also ooh ooh so hot, but more in, like, a temperature way.
Are you ready to find out some winners? Me too! Carson Daly wants to chat for a bit first, though. Do you think Carson Daly has enough people to talk to in the rest of his life? I worry. The good news is that after Pharrell plugged Laith's various albums last night, one of Laith's albums shot to No. 1 on the iTunes blues chart, and his other two albums are both Top 10 on the rock chart. "You're our own Beyoncé," observes Carson, stoically.
Some news! The first two artists advancing to the top 10 are … Mary Sarah! And … America's favorite dancing dad, Nick Hagelin! I would not say I am particularly excited about either of these choices, but we all knew they were going to happen, so it is best to get them over with now. "Johnny and June" was an inspired song choice, and Blake is right that Nick Hagelin looks sort of like Matt Damon, especially if you are not actually looking at Matt Damon.
After another chat with our pal Carson, it is time to reveal some more winners. I have started to really enjoy watching everyone parade onto the stage, and then off of the stage, and then back onto the stage again. It is soothing somehow, like the waves, or the shifting sands of time. America voted to save — wait for it — wait for it— Laith Al-Saadi! America also saved — keep waiting for it — Alisan Porter! Duh. They are both spectacular. Alisan Porter isn't even pretending to be surprised anymore, and I commend her for it.
The remains of Team Pharrell join him on stage for a baffling group rendition of Lenny Kravitz's "Let Love Rule." One of the great mysteries of Pharrell is why he picked this song, because it has no melody and also he cannot sing it. They all seem to be having a grand old time, though, and is that not what really matters? Whatever, it is over now. Remember, love rules.
Mercifully, it is now time for more results. The first name called is Hannah Huston! Her mother and I are thrilled. I really hope she brings her mom to meet Pharrell soon; it is part of my grand plan to get Hannah and Pharrell a spinoff reality show together. The plot is that they just stare meaningfully into each other's eyes. Also saved: Paxton Ingram! America can't get enough of this guy! Does America love him or Nick Hagelin more, do you think? That is the real question.
Then Team Christina takes the stage for a performance of "Live and Let Die." I would love to explain the concept of this vocal extravaganza to you, but I think it will be more satisfying if you figure it out for yourself. I will give you a hint: It involves acrobats, smoke, fire, balloons, a string ensemble, parasols, strobe lights, and a projection of a cat. Obviously, Christina sings most of it, and it is glorious. My favorite thing about Christina Aguilera is her gift for understatement.
Oh, friends, things are getting tense: There are three more saves, but there are five more artists. And America chose … Shalyah Fearing! Adam Wakefield! And … Bryan Bautista! Frankly, I feel great about all of these. It is true Bryan has been letting me down lately, but I like to tell myself that this is just the natural ebb and flow of our relationship.
As a result, Daniel Passino and Owen Danoff are now forced to sing to the death. Didn't Owen have to do this last week, you might be wondering? Why yes, indeed he did. Adding insult to injury, the costume department decided tonight to dress him like the world's most sensitive Mafioso. I am going to level with you: I did not care for Owen's fire or his rain, but still, I am sad for him, on principle. On the bright side, I feel certain he will be fine.
For his last chance dance, Daniel Passino does an artfully slimy interpretation of Nick Jonas's "Jealous." He can sing, that is the thing about Daniel Passino. "I think this guy blocked out all of his emotions and just went for his ambitions," observes Pharrell. It's really true, though! You cannot criticize Daniel's focus, only his aesthetic choices.
Alas, the same cannot be said of my pinstriped chickadee Owen Danoff, who seems understandably stressed out by the occasion. I am sympathetic; I am stressed out by most occasions. He sings "Burning House" by Cam and misses some of the notes and several of the lyrics. In Owen's defense, I ask you: Do you know the lyrics to "Burning House" by Cam? Blake tells him not to beat himself up because "some artists find their way different ways," and Adam assures him he is a genuine blast of refreshing truth. Oh, I think we can all see where this is going.
Adam makes one more plea for America to save Owen, but Twitter hath spoken: Folk music is dead. Owen is going home. It is painful, but based on these performances I would call it fair. The saddest part is that now no one will do an acoustic cover of a pop song, which is all I ever wanted from this season. Honestly, it is all I ever want.
And there it is! How is everyone holding up in light of such loss? Is democracy an effective mode of governance? Is Laith the Beyoncé of our time?