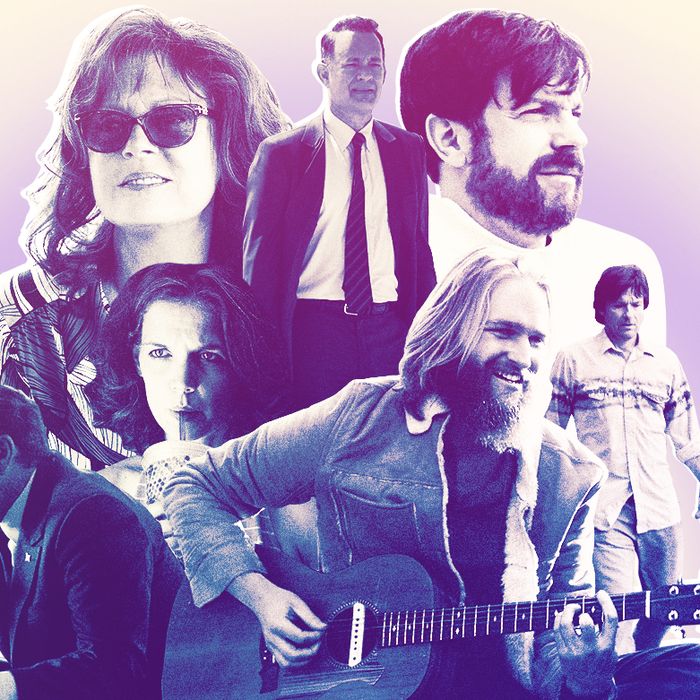 Photo-Illustration: Vulture
The 2016 Tribeca Film Festival kicked off late yesterday with an opening night screening of First Monday in May, and now the moviegoing floodgates are open: There are more than 100 festival films available to see over the next week and a half, but only so much time in your schedule to make room for them.
That's where Vulture's Tribeca Film Festival Movie Commitment Calculator comes in: Much like our previous commitment calculators, our Tribeca calculator is useful for totaling the hours you could spend in darkened theaters. What kind of dent in your schedule will you be dealing with if you make time for Tom Hanks in A Hologram for the King, Viola Davis in Custody, or the sweet Folk Hero & Funny Guy? Click on the movies below for more information, then push the plus sign to add it to your schedule.

Select everything you're interested in seeing:
Documentaries
+

Abortion: Stories Women Tell

More info

Documentary

,

2016,

93 minutes

Tracy Droz Tragos

In 1973, the US Supreme court decision Roe v. Wade gave every woman the right to have an abortion. Since 2011, over half the states in the nation have significantly restricted access to abortions. In 2016, abortion remains one of the most divisive issues in America, especially in Missouri, where each year sees more restrictions. Award winning director and Missouri native Tracy Droz Tragos sheds new light on the contentious issue, with a focus not on the debate, but rather on the women themselves: those struggling with unplanned pregnancies, the providers who show up at clinics to give medical care, as well as the activists on the sidewalks hoping to sway decisions and lives.

Abortion: Stories Women Tell portrays an intimate window into the lives of these women through their personal stories, which come to life brilliantly through the gentle and respectful approach by the filmmaker and her team. Some are heartbreaking and tender, some are bleak and frightening, while others simply inform us of the strength and capacity of young women to overcome and persevere through often-tragic circumstances.

— Deborah Rudolph

Documentary

,

2016,

102 minutes

Ellen Martinez, Steph Ching

Close to 80,000 Syrian refugees live in the Zaatari Refugee Camp in Jordan, the second-largest such camp in the world. Fifty-eight percent of its inhabitants are children. After Spring immerses us in the rhythms of the camp, the role of the aid workers, and the daily lives of two families as they contemplate an uncertain future. All aspects of refugee camp life are explored, including medical assistance, the self-sustaining economy of its urban center, and even pizza making. But it all arcs on bringing purpose and education to the children uprooted from their homes, often termed the 'lost generation.' Executive produced by Jon Stewart, this is a fascinating journey through the camp's physical and human landscapes.

— Cara Cusumano

Documentary

,

2016,

79 minutes

Jenny Gage

Filmed over the course of three years, All this Panic follows Ginger and Dusty, sisters growing up in New York City, along with their friends and classmates as they navigate high school politics and growing up in front of the lens. The teens are disarmingly eloquent and surprisingly candid; they let us in to witness the most confusing, painful, and exciting time of their lives. As the scope of their worlds expands beyond the city's boundaries and their family homes, their paths diverge.

With their background in fine art photography, this wife and husband filmmaking team (director Jenny Gage and director of photography Tom Betterton) brings their beautiful and sensitive aesthetic to this project, capturing intimate moments of self-discovery as well as the strength and durability of friendships. Their dedication to this project and openness of their subjects work well to bring the most bittersweet period of youth to life.

— Jule Rozite

Documentary, Music

,

2016,

80 minutes

Salima Koroma

Hip-hop music originated as the voice of Black America, bubbling up through the cracks in the concrete of urban life. Since its inception, the music and the culture surrounding it have been spread far and wide, often touching the lives of those who may have been considered outsiders to the once insular community. Salima Koroma's Bad Rap takes us inside the lives of one such group of so-called outsiders—Asian-American rappers. The film follows the lives and careers of four artists trying to break into a world that often treats them with disdain or indifference. From the tongue-in-cheek lyrics of Awkwafina to the no-nonsense battle rap of legendary West Coast MC Dumbfoundead, Koroma's documentary checks all of the boxes, looking at the role of Asian Americans in the entertainment industry with a keen observational eye. Sharing dynamic live performance footage and revealing interviews, the artists profiled will make even the most skeptical critics into believers. Crafted with humor and insight, the film paints a memorable portrait of artistic passion in the face of an unsung struggle.

— Loren Hammonds

Documentary

,

2016,

79 minutes

Ian Roderick Gray, Dylan Harvey

The equally mysterious and notorious artist Banksy dominates tales from the world of street art, but in The Banksy Job, the spotlight shines on another character—the gritty, charismatic, and larger-than-life, AK47—an ex-porn star and acid rave promoter turned self-anointed 'art terrorist.' Declaring himself the villain to Banksy's hero, AK47 sets out to swipe a well known piece of Banksy's public art, in broad daylight, in Central London, no less. The ensuing heist thriller is told to us by AK47 himself, and a highly entertaining art-world caper begins. Blurring the lines between what is fiction and what is fact, Ian Roderick Gray and Dylan Harvey's debut film is a rollicking ride, a frenetic and adrenaline-fueled crime caper that catapults its audience from the London art scene to its underground, making for a feature film experience (almost) as wild, unbelievable, and insane as its protagonist.

— Deborah Rudolph

+

Betting on Zero

More info

Documentary

,

2016,

98 minutes

Ted Braun

Allegations of corporate criminality and Wall Street vendettas swirl throughout this riveting financial docu-thriller. Controversial hedge fund titan Bill Ackman is on a crusade to expose global nutritional giant Herbalife as the largest pyramid scheme in history. He argues the company targets working class Latino communities with a 'business opportunity' that is nothing more than a scheme. Meanwhile, Herbalife execs defend their product as a genuine opportunity, and accuse Ackman of being an unadorned market manipulator out to bankrupt them in order to make a killing off his billion dollar short position against the company. Amidst the heated rhetoric on both sides, who has the moral standing?

Ted Braun's (Darfur Now) documentary presents a high-stakes chess game between the corporation and the individual that moves between the ethically fluid world of high finance to the personal grounds where the battle plays out with startling immediacy. Probing themes of fraud and greed, Betting on Zero is an engrossing deep dive into the moral complexities raised when astronomical sums of money—and no less than the American Dream itself—are on the line.

— Cara Cusumano

Documentary

,

2016,

74 minutes

Andreas Johnsen

Although scientists and agribusiness have started touting edible insects as the future of sustainable food, the notion of eating bugs hasn't exactly gained much popularity among the general public. Head Chef Ben Reade and Lead Researcher Josh Evans from the Nordic Food Lab in Denmark are looking to change that. With a focus on food diversity and deliciousness, they set out on a globe-trotting mission to take on the politics of the palate, sampling grubs in the Australian outback, pillaging giant wasp nests in Japan and attending food expos where entrepreneurs pitch their flavorless farmed crickets. Along the way, they put their own haute cuisine spin on local insect delicacies, whipping up dishes like cricket and grasshopper ravioli, maggot cheese gelato and bee larva ceviche.

Equal parts culinary documentary, political conversation starter and travelogue, filmmaker Andreas Johnsen's absorbing documentary sets out to unearth the role bugs will play in the future of agriculture and to break down the cultural barriers keeping insects off our plates.

— Ian Hollander

Documentary

,

2016,

90 minutes

Timothy Marrinan, Richard Dewey

For forty-five years Chris Burden maintained a quest to challenge perceived boundaries of modern art in an always awe-inspiring manner. He guaranteed his place in art history beginning in 1971, while still a student in Southern California, with a period of often dangerous, at times stomach churning performances. He had himself shot, locked up in a 2x2x3 locker for five days, electrocuted, crucified on the back of a VW bug. Burden reinvented himself as the creator of truly mesmerizing installations and sculptures, from a suspended gigantic flywheel that seemingly spins on its own (and scarily picks up speed) to an assemblage of antique street lights rewired for solar energy and are illuminated outside Los Angeles County Museum of Art. Timothy Marrinan and Richard Dewey look at Burden's works and private life with an innovative mix of still-potent videos of his 70s performances, personal videos and audio recordings, friends, fellows students and colleagues, critics' comments (including that of a young Roger Ebert) and latter day footage at his Topanga Canyon studio, all peppered with his thoughts and musings through the years. Burden meticulously explores a complex, ever-evolving individual who became one of the most admired artists of his generation.

— Brian Gordon

+

By Sydney Lumet

More info

Documentary

,

2016,

110 minutes

Nancy Buirski

Film legend Sidney Lumet (1924-2011) tells his own story in a never-before-seen interview shot in 2008. With candor, humor and grace, Lumet reveals what matters to him as an artist and as a human being. The documentary features clips from Lumet's films – 44 films made in 50 years – including Serpico, Dog Day Afternoon, 12 Angry Men, Network and Before the Devil Knows You're Dead. Peabody and Emmy Award-winning filmmaker Nancy Buirski (Afternoon of a Faun, The Loving Story) combines these elements to create a portrait of one of the most accomplished, influential and socially conscious directors in the history of cinema. By Sydney Lumet reveals the spiritual and ethical lessons at the core of his work. First and foremost a storyteller, Lumet's strongly moral tales capture the dilemmas and concerns of a society struggling with essentials: how does one behave to others and to oneself?

+

The Charro of Toluquilla

More info

Comedy, Documentary

,

2016,

90 minutes

Jose Villalobos Romero

Jaime García appears to be the quintessential macho Mariachi. With a life full of women, alcohol and music, his evenings are spent as a charming, talented troubadour at local watering holes and his days on the ranch, blissfully caring for his beloved horses. But despite his wild tales and bawdy persona, a sense of weariness slowly surfaces in the mundane in-between moments of Jaime's everyday existence. Beneath the persuasive, magnetic confidence lies a man who struggles to maintain a relationship with his frequently estranged young daughter and her stringent, religious mother and most imperatively, to live a healthy life as an HIV-positive man. In Jose Villalobos' remarkable debut film, he profiles Jaime over the course of five years. Through vivid tableaux and stylized perspectives of the two very different sides of Jaime's existence, Villalobos paints a beautifully unique and emotional portrait of a man divided.

— Liza Domnitz

Documentary

,

2016,

91 minutes

Fed up with being pushed around, a group of gay and trans teens of color form a gang and fight back on the brutal streets of Washington D.C. They call their gang 'Check it' and this group of one-time victims of bullying, rape and abuse have turned the tables on anyone trying to hurt them. The group formed to provide its members safety in numbers and let people know that if they jump a queer kid in D.C., they may get beaten into a coma. This raw and intimate portrait follows three childhood friends as they struggle to survive and claw their way out of gang life through an unlikely avenue: fashion. Co-directors Toby Oppenheimer and Dana Flor create a moving story of empowerment and a provocative exploration of class, marginalization and gang violence in the United States.

— Dan Hunt

+

Command and Control

More info

Documentary

,

2016,

92 minutes

Robert Kenner

September 18, 1980, 6:25 p.m., Titan II base in Damascus, Arkansas. On this fateful night an explosion kills an Air Force member and transforms the lives of everyone on the base. Honing in on a single case of so-called "human error", Command and Control juxtaposes precision on a minute scale against the gargantuan risks inherent in the United States' aggressive nuclear proliferation policy during the Cold War. This high-stakes documentary thriller draws connections between Titan, the Bravo test at Bikini Atoll, and a B-52 crash above Goldsboro, North Carolina in 1961 to show, as First Lieutenant Allan Childers notes in one scene, "When you're working on a weapon of mass destruction, you're counting on everything to work perfect all the time — and things just don't work perfect all the time."

— Genna Terranova

+

Contemporary Color

More info

Documentary, Music

,

2016,

96 minutes

Bill Ross, Turner Ross

In the summer of 2015, legendary musician David Byrne staged an event at Brooklyn's Barclays Center to celebrate the art of Color Guard: synchronized dance routines involving flags, rifles, and sabers. Recruiting performers that include the likes of Saint Vincent, Nelly Furtado, Ad-Rock, and Ira Glass to collaborate on original pieces with 10 color guard teams from across the US and Canada, Contemporary Color is a beautifully filmed snapshot of a one-of-a-kind live event.

Having completed an Americana trilogy of observational documentaries (Western, Tchoupitoulas, 45365), filmmakers Bill and Turner Ross direct their attention to this large scale concert performance. The Ross brothers do not simply document this night of collective performances, but conduct an immersive and visually captivating experience that captures the energy, rhythm, and artistry of the night itself.

— Tilson Allen-Merry

Documentary

,

2016,

70 minutes

Craig Atkinson

Do Not Resist is an urgent and powerful exploration of the rapid militarization of the police in the United States. Opening on startling on-the-scene footage in Ferguson, Missouri, the film then broadens its scope to present scenes from across the country—a conference presentation where the value of high-end weapons technologies is presented to potential police buyers, a community that has just received its very own military-grade tank, and a SWAT team arriving at a home to execute a warrant. The cumulative effect of these vignettes paints a startling picture of the direction our local law enforcement is headed.

Craig Atkinson filmed his directorial debut over two years and in 11 states. Through keen and thoughtful observances, Atkinson deftly presents the characters and stories that comprise this pressing issue. The result reveals a rare and surprising look into the increasingly disturbing realities of American police culture.

— Deborah Rudolph

+

Don't Look Down

More info

Documentary

,

2016,

94 minutes

Daniel Gordon

Don't Look Down is the untold story behind Sir Richard Branson's daring attempts to cross the Atlantic and Pacific in the mid 80s and early 90s in the world's largest hot air balloon. Daniel Gordon captures the intensity and passion of the team that was involved in this ambitious project, as well as the first-hand account from Branson himself. Branson remembers details of his journey with remarkable sharpness and clarity. It's as if the perilous adventure he embarks upon, with engineer, and Balloonist, Per Lindstrand, just occurred.

Gordon impeccably reconstructs the story through interviews with the key players, as well as never-before-seen archival footage that was captured at the time. Don't Look Down is a tense, compelling watch; Branson doesn't hold back, as he reveals what was going through his mind when he was confronted with the belief that he had just five or ten minutes left to live.

— Marina Hanna

+

Enlighten Us: The Rise and Fall of James Arthur Ray

More info

Documentary

,

2016,

93 minutes

Jenny Carchman

"Are you with me?" These are telling words spoken by James Arthur Ray to filmmaker Jenny Carchman as the tale of this once-star motivational speaker begins to unfold. His meteoric rise and fall, as well as his return to the industry following his negligent homicide conviction in the deaths of three clients at a sweat lodge ceremony is more than just a story of one individual. It's a story of hope, dreams, trust, betrayal and the quest for 'enlightenment.'

The self-help industry is worth $11 billion dollars a year. It's an industry that captivates those seeking happiness, release from suffering and those longing for a path and a leader to follow. James Arthur Ray for many who followed him was that leader to guide his flock. But as the story unfolds, as told by Ray himself and also by his followers, we learn that that path was fraught with danger and perhaps even greater suffering.

Through honest and candid interviews, interwoven with court footage and news archive, Enlighten Us asks the important questions, "What are we looking for" and "Who has the answers" and perhaps even the simple question "Why?".

— Deborah Rudolph

+

Everybody Knows...Elizabeth Murray

More info

Documentary

,

2016,

60 minutes

Kristi Zea

This tribute to the dynamic artist Elizabeth Murray, an intrinsic figure in New York's contemporary art landscape from the 1970s until the early 2000s, highlights her struggle to balance personal and family ambition with artistic drive in a male-dominated art world. It also addresses her later battle with cancer, at the peak of her career.

+

First Monday in May

More info

Documentary

,

2016,

91 minutes

Andrew Rossi

Follow the creation of The Metropolitan Museum of Art's "China: Through the Looking Glass," exhibition, by curator Andrew Bolton. With unprecedented access, director Andrew Rossi captures the collision of high fashion and celebrity at the Met Gala, and dives into the debate about whether fashion should be viewed as art.

+

For the Love of Spock

More info

Documentary, Science Fiction

,

2016,

105 minutes

Adam Nimoy

For the Love of Spock is a documentary film about the life of Star Trek's Mr. Spock as well as that of Leonard Nimoy, the actor who played Mr. Spock for almost fifty years, written and directed by his son, Adam Nimoy.

+

14 minutes From Earth

More info

Documentary

,

2016,

86 minutes

Jerry Kolber, Adam "Tex" Davis, Trey Nelson, Erich Sturm

At the break of dawn on October 24, 2014, 57-year old Google Executive Alan Eustace slowly rises into the air dangling below a helium balloon. This ascent is the culmination of three years of planning under an utmost secret mission which started as a scribble on a paper napkin. Eustace realized that as a private citizen you cannot merely walk into a store and buy a spacesuit. He determined that he would have to call upon the brightest minds in the country to pioneer a new technological invention in order to make his dream come true.

What follows is a riveting story of indefatigable vision as told to us by Eustace's friends, coworkers and family interspersed with slick graphics and candid footage. Despite each nerve-wracking test, it is the camaraderie and humor which brings all participants and viewers through to the ultimate test - "Will the equipment hold up under the extreme circumstances of the outer stratosphere?"

Through achievements and disappointments alike, Eustace's enthusiasm never wavers and his excitement remains palpable and contagious. He never forgets the team that supports him, lifting him to higher heights of the stratosphere than ever reached before.

— Jule Rozite

Documentary

,

2016,

100 minutes

Brendan Mertens

Join us for a special sneak preview screening of Brendan Mertens' documentary exploring the many faces of Ghostbusters fandom and celebrating 30 years of one of cinema's most iconic franchises.Featuring interviews with Dan Aykroyd, Ivan Reitman, Sigourney Weaver, and Paul Feig.

Documentary

,

2016,

95 minutes

Stefan Sagmeister, Ben Nabors, Hillman Curtis

New York designer Stefan Sagmeister lives in the city of his dreams, and creates work for the likes of the Rolling Stones and Jay-Z. Business is good, creative juices are flowing, and yet he suspects there must be more to life. Sagmeister takes on the daunting project of changing his personality by trying to figure out the causes of happiness. On the advice of a trusted psychologist Sagmeister experiments with three different approaches: meditation, therapy, and drugs. The Happy Film follows his pursuit, and all that he encounters along the way: joy, ecstasy, heartbreak, change, love, and death. Sagmeister accents his quest with a whimsical panoply of graphics, charts, and proverbs that illustrate his curious and adventurous spirit. The Happy Film is not guaranteed to make you happier, but Sagmeister's journey will surely move you to reexamine your own pursuit of happiness.

— Brian Gordon

Documentary

,

2016,

78 minutes

Amanda Micheli

Infertility is just the beginning of a long road in the quest to have a child for the couples at the center of haveababy, Amanda Micheli's documentary profile of patients of a Las Vegas fertility clinic. Each year, the clinic hosts a YouTube-based competition called "I Believe," which gives one lucky couple a shot at an in vitro fertilization treatment they could not otherwise afford. Hundreds of couples apply, yet there can be only one winner. Even after the competition ends, Micheli's sensitive lens continues to follow the ups and downs of the various competitors—depicting the enormous physical and emotional toll of this journey, and for some, the inspirational rewards on the other side.

— Genna Terranova

+

Houston, We Have a Problem!

More info

Documentary, Comedy

,

2016,

88 minutes

Žiga Virc

Cold War-era international intrigue, declassified top-secret documents, and a clandestine deal between John F. Kennedy and Yugoslavia's president Josip Tito are just the tip of the iceberg in this absorbing directorial debut from filmmaker Žiga Virc. Blurring the lines between fact and fiction, Houston, We Have a Problem! explores the myth behind the origins of America's race to be the first country to send a man to the moon, and a supposed multi-billion-dollar deal involving America's purchase of Yugoslavia's space program in the early 1960s.

Deftly combining archival footage with modern-day interviews with philosopher Slavoj Žižek and some of the key figures in the film's investigation—including a former Yugoslavian space engineer, an American historian, and a retired Yugoslav People's Army general—Houston, We Have a Problem! is a fascinating meta-examination of Cold War foreign diplomacy and myth-building, and the lies, manipulation, and dirty games that go into the construction of a national identity.

— Ian Hollander

Documentary, Drama

,

2016,

76 minutes

Jason Grant Smith

An unknown South Carolina candidate inexplicably wins his U.S. Senate primary in a landslide, despite never having campaigned. Filmmaker Jason Grant Smith sets out on a personal odyssey to expose the loopholes and pitfalls of our electoral system. On the way, he opens a Pandora's box of questions about America's voting process.

+

I'll Sleep When I'm Dead

More info

Documentary, Music

,

2016,

82 minutes

Justin Krook

From director Justin Krook and producers Matthew Weaver and David Gelb (Chef's Table, TFF 2015; Jiro Dreams of Sushi, TFF 2011) comes an energetic and fast-paced bio-doc that examines the story behind one of the most prolific and well-known DJs working today: Steve Aoki. Following Aoki in the lead-up to the biggest show of his career, Krook sheds light on the complex driving forces behind his passion and seemingly inhuman drive, chief among them Rocky Aoki: daredevil showman, Benihana restaurant tycoon, and Steve's absent father. Candid interviews with Steve and those closest to him, footage from his epic shows and a cavalcade of personal photos chart Steve's journey from starting a music label out of his college dorm to the seminal DIM MAK Tuesdays and ultimately to headlining the biggest music festivals in the world. I'll Sleep When I'm Dead is a revealing portrait of Aoki's quest to define his own legacy while raising his craft to ever-higher levels.

— Marina Hanna

+

Jeremiah Tower: The Last Magnificent

More info

Documentary

,

2016,

102 minutes

Lydia Tenaglia

The Last Magnificent charts the life of Jeremiah Tower, one of the most controversial, outrageous, and influential figures in the history of American gastronomy. Yet his name has largely been obliterated from history. Featuring interviews by Mario Batali, Anthony Bourdain, and Ruth Reichl, this delicious documentary for the culinary set tells the story of the rise and fall of America's first celebrity chef.

Documentary

,

2016,

97 minutes

Joseph Martin, Sam Blair

Passionate in his anti-Semitic beliefs and Holocaust denials, Csanad Szegedi rose up through the ranks to lead Hungary's far right conservative Jobbik Party. At the peak of his political career, Szegedi discovers that his family has kept a dark secret for decades: his maternal grandparents were in fact Jewish. After the initial shock, he enlists the help of an empathetic Rabbi who, to the horror of some of his peers, helps to guide him through what seems to be a 180 degree turn around. Complete with a trip to Auschwitz with Holocaust survivors, Csanad Szegedi is forced to confront his wrong doings and appears to make the journey from notorious anti-Semite to Orthodox Jew.

Weaving rich archival material, riveting interviews and vérité footage, Keep Quiet follows Szegedi on his three year journey. Filmmakers Sam Blair and Joseph Martin's access is astounding and the immersive experience leaves you questioning whether Szegedi did in fact have an epiphany—or is it all an act?

— Dan Hunt

+

Keepers of the Game

More info

Documentary, Sports

,

2016,

75 minutes

Judd Ehrlich

Lacrosse was born in Akwesasne Mohawk Territory as a sacred game, traditionally reserved for men. Just off the reservation at Salmon River High in Fort Covington, NY an all-Native girls lacrosse team comes together, seeking to be the first Native women's team to bring home a Section Championship. But first, they will have to overcome their crosstown rivals, Massena High. As the season comes to a head, the team is faced with increasing ambivalence in their own community and the girls must prove that the game of lacrosse is their rightful inheritance. With more than just the championship on the line, the girls fight to blaze a new path for the next generation of Native women, while still honoring their people's tradition in a changing world.

— Cara Cusumano

Comedy, Documentary

,

2016,

88 minutes

Ferne Pearlstein

Is the Holocaust funny? Director Ferne Pearlstein (Sumo East and West, Imelda) doesn't shy away from the taboo topic of humor, delving deep into pop-culture to find out where to draw the line, and whether that is a desirable—or even possible—goal.

The Last Laugh pairs clips from films, performances, and interviews with top comedians and prominent Jewish leaders (including Mel Brooks, Sarah Silverman, Joan Rivers, Louis C.K., Chris Rock, Abraham Foxman, and Shalom Auslander) with an intimate portrait of Auschwitz survivor Renee Firestone, and rare archival footage of cabarets in concentration camps. From this wealth of material, Pearlstein weaves together a complete and thoughtful exploration into the question of what is and is not off-limits in comedy. The answers are as diverse as the subjects she interviews. There is no consensus on which jokes work and which don't, and the film doesn't take a stance; instead, it invites you to think, to laugh, and to remember, all the while keeping its levity.

— Jule Rozite

Documentary

,

2016,

92 minutes

Roger Ross Williams

Life, Animated is the story of Owen Suskind, a young autistic man who was unable to speak as a child until he discovered a unique way to communicate, developed by immersing himself in the world of animated Disney films. When we first meet Owen—along with his father, Ron, mother Cornelia, and brother Walter—he is a young child, silent and unable to connect with other people or to convey his thoughts, feelings or desires. Over time, Owen's affinity for animated Disney characters leads him to memorize all of the dialogue in these films, and by repeatedly watching the films, he finds the tools he needs to understand, communicate, and connect with the world around him. Academy Award-winning director Roger Ross Williams has captured the magnificence of Owen's remarkable transformation: from a life of lonely isolation to the independence of young adulthood. Owen's inspirational story is a potent reminder that stories serve as a powerful means of persevering through dark times and moving us all toward the light.

— Deborah Rudolph

Documentary, Music

,

2016,

82 minutes

Alma Har'el

After winning Tribeca's Best Documentary Feature Award in 2011 for her remarkable debut, Bombay Beach, and screening work-in-progress selections from LoveTrue at TFF 2015, director and cinematographer Alma Har'el returns with the premiere of her anticipated sophomore feature. This genre-bending documentary brings Har'el's signature poetic imagery and fascination with performance in nonfiction to three complimentary stories that seek to demystify the fantasy of true love. Using an atmospheric blend of follow-along footage, artful camerawork, and scenes depicting the past, present, and future of her subjects, Har'el follows three complicated, real-life relationships as they unfold in distinct corners of the country. Alaskans Blake and Joel pursue a promising romance, in spite of physical limitations and her stripping career. In Hawaii, free spirit Coconut Willie discovers another side of true love after realizing his son is not biologically his own. And singer/songwriter Victory philosophizes on faith and faithfulness as she and her siblings perform in the streets of New York City accompanied by their father John, who was abruptly separated from his wife. Set to a hypnotizing score by Flying Lotus and executive produced by Shia LaBeouf, three revelatory stories emerge about a deeper definition of love.

— Cara Cusumano

Documentary

,

2016,

76 minutes

Benjamin Ree

Magnus Carlsen is widely known as the 'Mozart of Chess' because, unlike many chess grandmasters, he not only possesses an innate ability and a remarkable memory, but he blends those attributes with unrivaled creativity and intuition. Memorized moves and calculated probabilities can carry a chess player extremely far. But Magnus' journey eventually proves that there can be other elements of the game, ones that are impossible to measure or calculate.

From a young age Magnus Carlsen had aspirations of becoming a champion chess player. While many players seek out an intensely rigid environment to hone their skills, Magnus' brilliance shines brightest when surrounded by his loving and supportive family. Through an extensive amount of archival footage and home movies, director Benjamin Ree reveals this young man's unusual and rapid trajectory to the pinnacle of the chess world. This film allows the audience to not only peek inside this isolated community but also witness the maturation of a modern genius.

— Tilson Allen-Merry

+

Maurizo Cattelan: Be Right Back

More info

Comedy, Documentary

,

2016,

90 minutes

Maura Axelrod

An art world upstart, provocative and elusive artist Maurizio Cattelan made his career on playful and subversive works that send up the artistic establishment, until a retrospective at the Guggenheim in 2011 finally solidified his place in the contemporary art canon. Axelrod's equally playful profile leaves no stone unturned in trying to figure out: who is Maurizio Cattelan?

+

Memories of a Penitent Heart

More info

Documentary

,

2016,

74 minutes

Cecilia Aldarondo

Twenty five years after Miguel died from AIDS, his niece, filmmaker Cecilia Aldarondo, embarks on an excavation into a quagmire of unresolved family drama. Like many gay men in the 1980s, Miguel moved from Puerto Rico to New York City; he found a career in theater and a rewarding relationship. Yet, on his deathbed he grappled to reconcile his homosexuality with his Catholic upbringing. Now, decades after his death, Cecilia locates Miguel's lover Robert, who has been shunned and demonized by the family, in order to understand the whole story. Braiding recently discovered home movies, interviews, and contemporary vérité footage, Memories of a Penitent Heart dissects a family secret while exploring the AIDS crisis and the rarely heard story of Latino artists who died in the early days of the epidemic. This is a moving story about mistakes of the past and second chances that also questions how faith is used in times of crisis.

— Dan Hunt

+

Midsummer in Newtown

More info

Documentary

,

2016,

81 minutes

Lloyd Kramer

In the wake of the Sandy Hook tragedy, a theater production comes to Newtown, Connecticut, seeking to cast local children in a rock-pop version of A Midsummer Night's Dream. The project is aimed at healing the hearts and minds of a community devastated by the school shooting that occurred just over one year prior to production. From auditions and read-throughs to dress rehearsals; we witness the children find their voice, build their self-confidence, and ultimately shine on opening night. In parallel, we see a grieving family honor their daughter through the creation of a jazz album dedicated to her memory. The film culminates in a moving performance by Jimmy Greene and the pensive words of Nelba Márquez-Greene. Midsummer in Newtown is a testament to the transformative force of artistic expression to pierce through the shadow cast by trauma, and to the resilience of a community that is fighting to not be defined by tragedy.

The Grammy-nominated Jimmy Greene Quartet will perform after the premiere screening.

— Marina Hanna

+

My Scientology Movie

More info

Documentary

,

2016,

100 minutes

John Dower

'I find that the most inexplicable behavior is motivated by very relatable human impulses,' comments Louis Theroux as he heads to Los Angeles for his feature documentary, in collaboration with director John Dower and two-time Academy Award–winning producer Simon Chinn, exploring the Church of Scientology. Following a long fascination with the religion and with much experience in dealing with eccentric, unpalatable, and unexpected human behavior, the beguilingly unassuming Theroux won't take no for an answer when his request to enter the Church's headquarters is turned down. Inspired by the Church's use of filming techniques and aided by ex-members of the organization, Theroux uses actors to replay some incidents people claim they experienced as members in an attempt to better understand the way it operates. In a bizarre twist, it becomes clear that the Church is also making a film about Louis Theroux. Suffused with a good dose of humor and moments worthy of a Hollywood script, My Scientology Movie is as outlandish as it is revealing.

— Shayna Weingast

Documentary

,

2016,

92 minutes

Sonia Kennebeck

Heather battles psychological demons. Daniel fears dangers that may strike at any moment. Lisa exorcises her troubles with an unlikely search for forgiveness. The common cause of their suffering: the U.S. Air Force's predator drone program, though none of them were victims of an attack. They were servicemen and women who conducted America's unmanned war.

Filmmaker Sonia Kennebeck takes on the controversial tactic of drone warfare, and demands accountability through the personal accounts—recollections, traumas, and responses—of three American veterans whose lives have been shaken by the roles they played in this controversial method of attack. Through a compassionate lens that captures moments of regret and confusion, she argues that no matter the distance, analysts can sustain psychological injuries, and are then either ignored or kept silent. Superbly crafted visuals add depth to her concern, while a moment-by-moment account of a drone attack from both sides of the conflict exemplifies the brutality of the program. Executive produced by Wim Wenders and Errol Morris, National Bird demands accountability through a direct and difficult question: how will history judge America for these attacks?

— Cara Cusumano

Documentary

,

2016,

88 minutes

Andrew Cohn

Indianapolis has one of the lowest high school graduation rates in the country. Night School follows three adult students living in the city's more impoverished neighborhoods as they attempt to earn their diplomas while juggling other difficult responsibilities and realities. Through their stories, the filmmakers explore many issues that low-income Americans deal with, including unjust minimum wage and working conditions, arbitrary legal hindrances, and race and gender inequality.

Director Andrew Cohn observes the individual journeys of Greg, Melissa and Shynika as they fight to better themselves and their situations. Each has their own personal reasons and motivations but ultimately they have realized graduating to be a crucial stepping stone to bettering their lives. As in Cohn's directorial debut, Medora, the remarkable authenticity of these stories and the way in which they are woven together is both sobering and enlightening. These dynamic and empathetic characters are inspiring in their perseverance, and their small individual stories take on a larger importance in the context of the ongoing struggle for equal access to education in America.

— Tilson Allen-Merry

Documentary

,

2016,

93 minutes

Vanessa Gould

Within the storied walls of The New York Times, a team of writers is entrusted with reflecting upon the lives of luminaries, icons, and world leaders of our day. Often hours before newspaper hits doorstep—and the world's eyes devour words marking the end of a momentous life--endless detail is gathered and impossible choices must be made. Vanessa Gould's fascinating documentary, Obit, introduces us to the unseen women and men responsible for crafting the unequaled obituaries of the NYT. As we're taken through their painstaking process of digging through years of accomplishments, we learn about the particular pressures that accompany a career spent trying to elegantly and respectfully shape the story of a life for an audience of millions. From notorious politicians and beloved musicians to unknown personalities who have advanced the worlds of science, literature, and sports, the obit writers are in the unique and often unenviable position of spotlighting individuals whose impact and influence is near impossible to measure.

— Liza Domnitz

Documentary

,

2016,

75 minutes

Brent Hodge

Brent Hodge and Morgan Spurlock (A Brony Tale, TFF 2014) spin a variation on the classic underdog story told in fun-loving and free-wheeling style. Their focus: an eclectic group of actresses, musicians, writers, comedians, and moms who compete in the Los Angeles women's recreational basketball league. With team names guaranteed to make you smile (Shecago Bulls, Traveling Pants, Space Glam, Ba Dunka Dunks, LA Nail Clippers), this documentary shows that girls not only wanna have fun, they wanna ball too. The team that started it all is the Pistol Shrimps, whose lineup includes Aubrey Plaza (Parks & Recreation). From inspiring a podcast to creating their own merchandise, this group of exceptional women proves that organized sports can be enjoyed at any age and any skill level. Talented both on and off the court, they prove all the haters wrong as they full-court press their way to glory. Haters beware!

— Karen Kemmerle

Documentary

,

2016,

72 minutes

Perri Peltz and Geeta Gandbhir

Prison Dogs is a story of redemption, strength, fear, love, and dedication. In this wonderfully human tale, prison inmates, along with veterans suffering with PTSD, find a path to a second chance at life through their love and care of a puppy.

Documentary

,

2016,

110 minutes

Thierry Demaizière, Alban Teurlai

In early 2013, it was announced that choreographer and dancer Benjamin Millepied, known as the man behind the ballet of Black Swan, would take over as director of the Paris Opera Ballet. Reset finds Millepied on the eve of his first gala with the Opera, designing and refining his inaugural choreography for the esteemed institution. As a film, Reset possesses of the same artistic assuredness as its subject as he blocks out the preliminary steps for his choreography. It explores various concepts of space simultaneously: the digital space, the space of the opera house (each scene opens with a declaration of which studio it's in) and the space of the stage, the distance from stage right to stage left. It's a portrait of a watershed moment for one of the ballet's oldest institutions and one of its brightest new stars, both on the cusp of great transition.

— Frederic Boyer

Documentary

,

2016,

84 minutes

Kelly Duane de la Vega, Katie Galloway

In 2012, California voters approved Proposition 36, effectively repealing the state's notoriously harsh three-strikes law that had sentenced thousands of nonviolent offenders to a lifetime behind bars. But what does it mean to be released from prison after being sentenced to life? How does one begin to reintegrate into society? The Return depicts the struggles of two newly released former lifers as they deal with restoring relationships, avoiding personal triggers, finding meaningful employment, and managing the mental health problems which had previously contributed to their imprisonment.

Directors Katie Galloway and Kelly Duane de la Vega (Better This World) have created another searing and poignant character study that points to systemic problems with the American justice system. The Return puts a profoundly human face on the massive statistics of imprisoned people in the US.

— Tilson Allen-Merry

Documentary

,

2016,

91 minutes

Stéphanie Gillard

The end of the Indian Wars in the US concluded with the horrific events at Wounded Knee in December, 1890. After Custer's defeat at Little Big Horn and Chief Sitting Bull's subsequent surrender and execution, the Lakota Sioux set out on a 300-mile walk southward through South Dakota. Along the way they were joined by Chief Big Foot's band of Minneconjou Lakota and pursued by the Calvary, ending up at Wounded Knee where 350 Lakota were massacred. In The Ride we are witness to the annual Chief Big Foot Memorial Ride, a tradition since 1986 where young Lakota retrace part of the route on a 300-mile horse ride in late December. Stéphanie Gillard's intimate, moving vérité account follows the preparation and the journey amid the captivating, stunningly photographed South Dakota Badlands. The young riders share their thoughts and emotions as they contemplate their ancestors' history. As the adult Lakota guide and advise them on proper horse care, they share their own stories. Through Gillard's access we become immersed in this unique journey that is part adventure, bonding, a history lesson and deep reflection.

— Brian Gordon

+

Robert Klein Still Can't Stop His Leg

More info

Comedy, Documentary

,

2016,

89 minutes

Marshall Fine

Combining decades of archival material, interviews with some of comedy's biggest stars, and new footage, Robert Klein Still Can't Stop His Leg is hilarious and poignant look at the life and career of Robert Klein.

Documentary

,

2016,

94 minutes

Johan Grimonprez

Haliburton may be the shining example of an out of control arms industry, where the profit is billions of dollars and the loss is human lives. In Shadow World, based upon the 2011 book by Andrew Feinstein, The Shadow World: Inside the Global Arms Trade, there are other weapons manufacturers, world leaders, arms dealers, military leaders, and behind-the-scenes movers that come under director Johan Grimonprez's (Dial H-I-S-T-O-R-Y) scrutiny in an eye-popping assemblage of news and archival footage. Accompanying the images are comments from Feinstein, a slippery arms dealer, former New York Times writer Chris Hedges, and New Yorker investigative reporter Seymour Hersh, retired US Army Colonel Lawrence Wilkerson, and other once-willing participants in the business who decided to speak out. Grimonprez spares no one to expose a shadow world of corruption, slush funds, drones, illicit bed partners, and a whole lot of lies and greed from the early 80s up to the present. The aim is to perpetuate war in order to generate more cash, no matter what the expense.

— Brian Gordon

+

Shot! The Psycho-Spiritual Mantra of Rock

More info

Documentary, Music

,

2016,

91 minutes

Barnaby Clay

Legendary music photographer Mick Rock is best known for his iconic photographs of David Bowie, Lou Reed, Iggy Pop, Queen, and countless others. In a documentary as rock-n-roll as its subject, Mick Rock guides us through his psychedelic, shambolic first-hand experiences as the visual record-keeper of these myths and legends.

+

The Shows of Shows: 100 Years of Vaudeville, Circuses and Carnivals

More info

Documentary, Music

,

2016,

77 minutes

Benedikt Erlingsson

Benedikt Erlingsson brings us a world of imagination with a compendium of wonderful unseen archival footage of circus performers, cabaret acts, and fairground attractions. The films are set to a haunting electronic score composed by members of Sigur Rós in collaboration with Hilmar Örn Hilmarsson.

Documentary

,

2016,

81 minutes

Kristi Jacobson

There are 100,000 US citizens in solitary confinement across the country, a staggering number prompting comment from both President Obama and the Pope. Situated in rural Virginia, 300 miles from any urban center, Red Onion State Prison is one of over 40 supermax prisons across the US built to hold prisoners in eight-by-ten-foot cells for 23 hours a day. With unprecedented access, director Kristi Jacobson offers a revealing and moving portrait of life inside solitary confinement. Filmed over the course of one year, this eye-opening film braids stark prison imagery, stories from correction officers, and intimate reflections from the men who are locked up in isolation. The inmates share the paths that led them to prison and their daily struggles to maintain their sanity. Through the moving stories of the people who are immersed in this system, SOLITARY offers a rare window into life on both sides of the bars and prompts challenging core questions about punishment in America today.

— Dan Hunt

+

Southwest of Salem: The Story of the San Antonio Four

More info

Documentary

,

2016,

91 minutes

Deborah S. Esquenazi

"This case is the last gasp of the Satanic ritual abuse panic." So says Debbie Nathan, a journalist and author of Satan's Silence, and one of the many experts called up in the documentary Southwest of Salem to explore the case of the San Antonio Four. In 1994, four women were accused, tried, and convicted of the heinous sexual assault of two young girls—as one newscaster puts it, "the modern version of the witchcraft trials." Twenty years later, the four women have maintained their innocence, insisting that the accusations were entirely fabricated, and borne of homophobic prejudice and a late-'90s mania about covens, cults, and child abuse. Southwest of Salem is a riveting and layered true crime story that explores the web of prejudices in a contentious trial and the interrelated political and personal forces that work to convict those thought guilty that perhaps trample the innocent in the process.

— Cara Cusumano

Documentary, Music

,

2016,

83 minutes

Ester Gould, Reijer Zwaan

To the fans they were the unforgettably sleek, talented, and beautiful men that helped support the career of one of the world's most beloved and controversial music artists. But behind the scenes they were Kevin, Oliver, Luis, Carlton, Jose, Gabriel, and Salim; a diverse, impressionable group of young dancers whose lives were forever changed by Madonna's iconic blonde ambition tour and its accompanying documentary, Truth or Dare. No longer swept up in the thrill of Madonna's inarguable power, some found life away from her influence emotionally devastating and near impossible to navigate. Strike a Pose movingly revisits the men after years apart and provides us with a chance to learn about the emotional truth behind the glamorous facade.

— Liza Domnitz

+

Team Foxcatcher

More info

Documentary, Sports, Thriller

,

2016,

90 minutes

Jon Greenhalgh

Meant to be a retreat for elite American athletes, Foxcatcher Farms, and all it was intended to represent, was lost in the paranoid downward spiral of its troubled benefactor John Du Pont. Heir to the Du Pont family fortune, John Du Pont funneled his considerable resources into his love of sports—wrestling in particular. Aiming to reinvigorate the US Olympic wrestling team, Du Pont created Foxcatcher, and invited gold medal champion Dave Schultz to lead the charge. What began as an idealistic sports idyll soon deteriorated into suspicion, distrust, and ultimately murder.

Through fascinating archival footage and never-before-seen home videos shot during Schultz's time at the farm, director Jon Greenhalgh's absorbing film unpacks the events leading up to Foxcatcher's well-documented tragedy, exploring the complex and contradictory character of Du Pont, while serving as a poignant memoir to the legacy of Schultz as a champion wrestler, husband, and father. Team Foxcatcher charts a true American tragedy of Olympic dreams, ambition, mental illness, and murder.

— Cara Cusumano

+

30 for 30: This Magic Moment

More info

Documentary

,

2016,

100 minutes

Gentry Kirby, Erin Leyden

In the mid-1990s, Orlando was the epicenter of excitement in the NBA. The young franchise, led by mega-stars Shaquille O'Neal and Penny Hardaway, beat the mighty Bulls en route to the 1995 NBA Finals. They lost that year but it was clear this team from Orlando was a dynasty in the making. But the Magic's moment on top was never fully realized.

+

Tickling Giants

More info

Documentary

,

2016,

111 minutes

Sara Taksler

Bassem Youssef faced an unusual choice in 2011: heart surgeon or full-time satirist. The established doctor picked the unexpected path and it would make him one of the most famous men in the Arab world and earn him the nickname "the Jon Stewart of Egypt." Charting Youssef's rise and career as Egypt's most famous television presenter, Tickling Giants offers a rousing celebration of free speech, showcasing the power of satire to speak for the people and against a repressive government. This story differs from the familiar American success of Stewart and Stephen Colbert: Youssef's jokes come with serious, dangerous, at times revolutionary consequences.

With a precise documentary eye, Daily Show Senior Producer Sara Taksler captures the strength and fragility that color Youssef's life on and off screen, as well as the courage of the coworkers who stand by him. She celebrates satire as a tool with a greater use than the extraction of a laugh, positioning the genre as both a weapon against fear and an instrument of democracy for those in desperate pursuit of freedom. As one of Youssef's researchers puts it, "It's my right to express how I feel."

— Cara Cusumano

Documentary

,

2016,

106 minutes

David Feige

When a powerful Florida lobbyist discovered that a nanny sexually abused his daughter, he wielded all of his considered political capital to pass some of the strictest sex offender laws in the country. Today, 800,000 people are listed in the sex offender registry, yet the cycles of abuse continue.

Attorney-turned-filmmaker David Feige delves fearlessly into this complex and taboo issue, sewing together interviews with victims of childhood sexual trauma and leaders of community organizations striving to eradicate abuse as well as the men and women branded sex offenders and the advocates and academics who argue that the stringent laws are doing more harm than good. The result is a big-picture survey of an interconnected public health crisis where the victims and perpetrators are inextricably linked by the larger failings of the system.

Moving from the halls of power to the cardboard homes of a marginalized pariah people, this enlightening documentary defies expectations and challenge assumptions to argue for a new understanding of how we think about and legislate sexual abuse.

— Cara Cusumano

Documentary, Sports

,

2016,

75 minutes

Matthew Testa

YouTube may have begun as a website for videos of cats and funny babies, but it is now home to vloggers: video diarists who have conjured a massive audience and wild financial success by filming themselves, their thoughts and their daily lives. Vlogumentary pulls the curtain back on this new media revolution by following some of the top vloggers in the business, examining how they work, what they have to say and why their fans prefer videos of real life over traditional entertainment. Featuring Shay Carl, Swoozie, Grace Helbig, Charles Trippy and Gaby Dunn, Mikey Murphy.

Documentary

,

2016,

104 minutes

Justin Webster

Just months after the 2014 World Cup saw soccer's popularity in the US reach unprecedented heights, a new expansion team was set to enter Major League Soccer and take the competition by storm: New York City Football Club. The announcement of a new team in the country's most competitive sports market, backed jointly by British club Manchester City and the New York Yankees, had the global soccer community abuzz with anticipation. All they needed was a coach, and players, and fans…

Offering a fascinating vérité look into what it takes to build a soccer team from the ground up, Win! follows New York City FC's historic inaugural season in Yankee Stadium as a young coach and a team—led by global superstars like David Villa, Frank Lampard and Andrea Pirlo—alongside a growing squad of American veterans and young talent, set out to conquer their owners' lofty expectations and win the hearts of New Yorkers.

— Ian Hollander
Narratives
Drama

,

2016,

75 minutes

Nathan Silver, Mike Ott

Lacking exciting-enough thespian work in his home town of Denver, computer repairman and aspiring actor Arthur Martinez decides to hire indie directors Mike Ott (Pearblossom Hwy, Lake Los Angeles) and Nathan Silver (Uncertain Terms, Stinking Heaven) to document his life, and consequently become the star of a feature film. However, as the project evolves, the directors' and Arthur's vision increasingly differ. It becomes clear that watching Arthur perform tai chi, mingle with the local Denver theater community, and drive around town, will not provide enough drama to sustain a feature as Arthur might think.

Actor Martinez explores the distinction between performance and life, and the relationship between subject and director. Directors Ott and Silver become characters in the film; as they wrestle with Arthur for control of the project it becomes less clear who is manipulating whom. When the woman cast to play the love interest, Lindsay Burdge (A Teacher, Come Down Molly, First Winter) arrives on set, the very nature of the project is questioned.

— Jule Rozite

+

Adult Life Skills

More info

Comedy, Drama

,

2016,

96 minutes

Rachel Tunnard

Anna (Jodie Whittaker) is stuck: she's approaching 30 and has just moved back to her rural home-town, and into a shed in her mother's backyard. She spends her time working a menial job at a local boating center and hides in the depths of her imagination, making movies with her thumbs. Irritated by her childish behavior, Anna's mother insists that she move out of her shed and on with her life. When a troubled young boy starts hanging around, the two form an unlikely bond. Through their strange yet mutually beneficial friendship, Anna slowly begins to confront her perpetual state of arrested development. Expanded from her BAFTA-nominated short, Rachel Tunnard's striking feature debut is a dry-witted, charming, dark comedy that mixes dreamlike flourishes with dramatic action. Adult Life Skills is an off-beat comedy about a lost woman finding herself.

— Shayna Weingast

Drama

,

2016,

105 minutes

Katie Holmes

Ruthie Carmichael (Stefania Owen) makes the best of bad circumstances, pulled along in the wake of the hard luck of her mother Rita (Katie Holmes). From escaping a bad boyfriend to their car breaking down on the road to going broke, they continually find themselves in search of stability. When their attempt at settling in a new town hits a stumbling block, and as the shine wears off of the kind strangers who supported them when they had first arrived, even Ruthie struggles to keep it together. Based on Annie Weatherwax's 2014 novel, Katie Holmes's feature directorial debut is a sensitive rendering of the Great Recession as told by people who were unprepared for the shortfall and could not have seen it coming. Owen and Holmes are perfectly matched as they explore a mother-daughter bond crashing against universal teenage themes: growing up under hardship, realizing the imperfections of parents and facing the many little dramas that overwhelm positivity and progress. Holmes finds in All We Had a stimulating and ultimately enriching coming-of-age drama about a resilient mother and daughter who find strength in each other.

— Genna Terranova

Drama

,

2016,

89 minutes

Domenica Cameron-Scorsese

In the wake of the mortgage lending crisis, a former banker has to return home in order to get back on his feet. Directed by Domenica Cameron-Scorsese, Almost Paris is a story of resilience and redemption where one can rise up, collaborate and give back to those he loves in ways that are priceless.

Thriller

,

2016,

85 minutes

Sophia Takal

Two women, both actresses with differing degrees of success, travel north from Los Angeles to Big Sur for a weekend vacation in Always Shine, Sophia Takal's twisty, psychological thriller. Both see the trip as an opportunity to reconnect after years of competition and jealousy has driven a wedge between them, but upon arrival to their isolated, forest retreat, the pair discovers that their once intimate friendship has deteriorated into forced conversations, betrayals both real and imagined, petty jealousies, and deep-seated resentment. As the women allow their feelings to fester, each begins to lose their bearings not only on the true nature of their relationship, but on their own identities. Mackenzie Davis (Halt and Catch Fire) and Caitlin FitzGerald (Masters of Sex) give brave and raw performances as Beth and Anna, two women whose ideas of success are dictated as much by external cultural criterion as their own sense of self-worth. Beautifully photographed and assuredly directed by Takal, Always Shine wraps itself in an evocative shroud of dread and paranoia that lingers long after the final frame.

— Cara Cusumano

+

As I Open My Eyes

More info

Drama, Music

,

2016,

103 minutes

Leyla Bouzid

Tradition butts up against progress in Leyla Bouzid's debut feature As I Open My Eyes, a musically-charged French-Tunisian film that follows a young woman in a band as she navigates familial, cultural, and social ideals in contemporary Tunis. Her band—assembled of several friends and one more-than-a-friend—plays a blend of original music and covers at local bars, including men's-only joints. For Farah (Baya Medhaffar), the young woman at the heart of the film, music transcends cultures and languages, and the lengthy musical interludes demonstrate a kind of escapism. But music too is wrapped up in the politics. As I Open My Eyes situates itself at the dawn of the Arab Spring in Tunisia, and Farah's music addresses politics and issues in her home country.

— Frederic Boyer

Drama

,

2016,

85 minutes

Deb Shoval

Lola Kirke (Mistress America) shines as Joey, an aimless young woman searching for a direction in her small town in rural Pennsylvania. A visit to an Army recruiting office appears to provide her a path but when she meets and falls in love with Rayna (Breeda Wool), a rough and tumble housewife neglected by her long-haul trucker husband, that path diverges in ways that neither woman anticipated. As Joey falls deeper in love, she begins to lose sight of what's most important to her while also becoming blind to the mistakes she is making.

Building from her award-winning short, writer-director Deb Shoval's debut feature is a clear-eyed love story told with an assured voice and impressive attention to details of a small town life. Bolstered by two impressive lead performances from Kirke and Wool and a strong supporting cast, AWOL is a beautiful romantic drama that is both tender and tough in equal measure.

— Cara Cusumano

Comedy, Drama

,

2016,

95 minutes

Rafael Palacio Illingworth

Stalled in a long-term committed relationship that seems to be going nowhere, Dianne (Olivia Thirlby) and Henry (Ben Feldman) feel pressure to marry, abandon their bohemian lifestyle in Los Angeles and move to the burbs. As the nuptials approach, both feel the temptation to stray, setting in motion a series of cataclysmic events. Separately, they treat themselves to a night on the town, discovering that they are capable of surprising things—good and bad.

This sophomore feature from writer/director Rafael Palacio Illingworth is remarkably self-assured, drawing upon a wide range of influences from John Cassavetes to YouTube. Illingworth elicits strong supporting performances from Adam Goldberg, Analeigh Tipton, Peter Bogdanovich and Lesley Ann Warren as he weaves into this tale of love in the modern age all the fickleness, mundanity, pettiness, and moments of unexpected passion that come with long-term relationships.

— Karen Kemmerle

Drama

,

2016,

91 minutes

Marina Person

The year is 1984, and Brazil is on the cusp of massive political change. Estela is a high school woman preparing to travel to California to visit her uncle, who is a music journalist and pop-culture connoisseur. She focuses on keeping up her grades to go on her trip while navigating romance, sex and social pressures. But when Estela's uncle suddenly returns to Brazil sickly thin and pale, intending to get his things in order, the family's quiet mourning hints at the nascent AIDS epidemic of the '80s. Set to the musical and cultural touchstones of the era—Bowie, the Cure, Kerouac's On the Road—Califórnia tells a nostalgic coming-of-age story very much of a moment in time, but also speaking to universal experiences of family, love and growing up.

— rederic Boyer

+

Children of the Mountain

More info

Drama

,

2016,

100 minutes

Priscilla Anany

Against the picturesque Ghanaian backdrop, Children of the Mountain is an honest exploration of a mother's will in the face of much adversity. When her baby is born with a cleft lip, cerebral palsy, and Down syndrome, Essuman is led to believe that she has a 'dirty womb.' Her promising future as a wife and mother is shattered as her lover disowns her and the community eyes her with suspicion. In a Ghana of old wives' tales and superstition, such deformities in the child are surely the work of the devil. As Essuman searches for a cure to her son's illness, she encounters futility at the hospitals and dubious religious leaders and medicine men. In these dire times, she oscillates between having the utmost devotion to her son and controversial attempts at self-preservation. However, in the rural mountains of Ghana—where the souls of children are said to wait—their future may contain hope. Priscilla Anany's debut feature is a thoughtful and visually-luscious film and a story of the human spirit.

— Jule Rozite

Drama

,

2016,

98 minutes

Christian Vincent

Judge Xavier Racine (Fabrice Luchini) presents a composed and impatient persona at the courthouse over which he presides preferring colleagues and defendants to fear him rather than let his guard down. But behind this mask he hides a divorce and strained personal relationships. When a French-Danish juror, Ditte Lorensen-Coteret (Sidse Babett Knudsen from Danish television series Borgen), is confirmed for a contentious case he is presiding over, Racine finds it increasingly difficult to separate his personal life from his professional life.

Unfolding Racine's personal story against the backdrop of the courtroom drama in which a young father is accused of murdering his infant daughter, director Christian Vincent (Four Stars, Haute Cuisine) explores the delicate territory of pride and self-perception. The film casts an interesting light on class and behavior and how we're judged on both—the appearance and mannerisms of the young couple on trial are dissected by the jurors, in stark contrast to unquestioned reverence embodied by Racine. Vincent's film earned the Best Screenplay Award for his finely crafted script and Luchini's appealing performance the Best Actor Award at the 2015 Venice Film Festival, as well as three nominations at France's Cesar Awards.

— Jule Rozite

Drama

,

2016,

104 minutes

James Lapine

James Lapine's family courtroom drama stars Viola Davis, Hayden Panettiere, and Catalina Sandino Moreno as the key players in a custody case set against the backdrop of the myriad struggles at New York Family Court. In one corner, there's Sara (Moreno), a young, single mother of two who suddenly finds herself embroiled in a custody battle when her son's teacher calls the Administration for Children's Services regarding a cut above his eye. Then there's Martha Schulman (Davis), a beleaguered family court judge struggling through a 23-year marriage to Jason (Tony Shalhoub), and finding that it might not be possible to compartmentalize work and home. Recent law school graduate Alexandra Fisher (Panettiere) is assigned to Sara's case, and finds it brings up haunting memories of her own. Hanging over it all is the recent death of a young girl whom the system failed. At the heart of Custody, the individual is locked in a dance with the institution and human error butts up against broken systems.

— Genna Terranova

Comedy, Drama

,

2016,

87 minutes

Demetri Martin

Comedian Demetri Martin performs triple threat duties in this heartfelt comedy, with writing, directing, and starring credits. Dean (Martin) is an artist who is facing the prospect of adulthood along with all of the uncertainties that can be expected. Recently out of a serious relationship and coming to terms with his family home being sold, Dean watches as his friends move forward in life whilst he confronts stagnation. During an impromptu trip to Los Angeles, he meets Nicky (Gillian Jacobs), and finds that he is able to be himself in her presence. Meanwhile his father (Kevin Kline) is also following a similar trajectory, just at a different stage in life. After meeting a real estate agent (Mary Steenburgen) he finds himself opening up again, since the death of his wife. This quirky and comedic coming-of-adult-age story serves as a love note to both the East and West Coast. Martin showcases his visual and artistic flair in a self-assured debut that reflects the interpersonal deliberations so many of us often face in life.

— Mara Webster

Thriller

,

2016,

96 minutes

Christopher Smith

Harper, a seemingly naive law student, obsesses over the idea that his shifty stepfather is somehow involved in the devastating car crash that leaves his mother lying comatose in the hospital. He drowns his suspicions in whiskey and, with little forethought, finds himself suddenly entwined in conversation with a volatile grifter, Johnny, and his stripper companion, Cherry. As daylight breaks and the haziness of promises made becomes clearer, how will Harper handle the repercussions—and the violent duo—on his doorstep?

From director Christopher Smith (Creep, Black Death, Triangle), Detour is a stylized noir throwback with a trio of lead performances by of-the-moment actors: Tye Sheridan (Mud, The Tree of Life), Emory Cohen (Brooklyn) and Bel Powley (Diary of a Teenage Girl). Utilizing a unique split-narrative structure to tell his tale of deception and murder, Smith takes his audience on a twisty, thrilling ride, where it's never quite clear what or whom can be trusted.

— Liza Domnitz

+

The Devil and the Deep Blue Sea

More info

Drama

,

2016,

107 minutes

Bill Purple

After the accidental death of his free-spirited pregnant wife, Penny (a luminous Jessica Biel), reserved architect Henry (Jason Sudeikis) struggles to find meaning in his life and in the work that once consumed him. As he continues to work on the house he and Penny were building together, Henry is drawn to a mysterious young runaway named Millie (Game of Thrones star Maisie Williams) whom Penny had often talked about helping. Though Millie mistrusts Henry at first, the two build a tentative friendship as she reveals her ambition to build a raft to sail away from her dark past and start anew. Taking on the father role he was meant to have, Henry neglects his job and other responsibilities to help Millie on her quest. As they work together, he comes to understand that she can help him to heal as much as he can help her. Set in New Orleans, this tender drama features solid performances from a terrific supporting cast including Mary Steenburgen, Orlando Jones, and Paul Reiser. Veteran TV director Bill Purple delivers a nuanced big-screen directorial debut and manages to capture the rhythm of this historic musical city aided by an affecting score from first-time film composer Justin Timberlake.

— Karen Kemmerle

+

DJ Z-Trip - Saftey Last!

More info

Comedy, Drama

,

1923,

70 minutes

Fred C. Newmeyer, Sam Taylor

Legendary DJ/Producer Z-Trip returns to Tribeca Film Festival to offer his eclectic and energizing musical take on the Harold Lloyd silent classic Safety Last! Z-Trip performs his original score live, with a mix of soundscapes, samples, and live turntablism.

+

Don't Think Twice

More info

Comedy, Drama

,

2016,

91 minutes

Mike Birbiglia

Mike Birbiglia's funny and authentic follow-up to his acclaimed debut Sleepwalk With Me is set in the world of New York improv comedy. Keegan-Michael Key, Gillian Jacobs, Kate Micucci, Tami Sagher, and Chris Gethard are best friends who are inseparable members of a well-regarded troupe, and Birbiglia is their teacher and leader—and the group's founder. But after two of them audition for a coveted spot on a hit TV show and only one of them lands it, the tight-knit group of friends and collaborators is thrown into disarray. Birbiglia captures the unique milieu of NYC's underground comedy scene of up-and-comers and scene-stealers, all pursuing that same goal of showbiz success. Perfectly intertwining drama and comedy, this is a story of the sometimes serious side of the comedy business—where friendships, romances, and partnerships are forged on the stage, but threatened by the divisive but alluring ambition for fame.

— Cara Cusumano

Comedy, Drama, Music

,

2016,

89 minutes

Robert Schwartzman

Robert Schwartzman makes his directorial debut with this comedy about dreams and the costs paid to reach them. Part-time pianist and full-time underdog Monty Fagan (Johnny Simmons) fills in on the ivories at an upscale hotel and the seemingly dead-end assignment sets into motion a May-December romance that upends his home life and dramatically reshapes his worldview. As Monty says early on about the requirements of a quality music performance, "Sometimes you have to step back and contemplate what it is you're doing."

Schwartzman and co-writer Benjamin Font offer an update on The Graduate, cut with a little piano music. Monty and the people in his life discover just how quickly impulsive decisions go bad, and that shortcuts are no substitute for honest, dedicated hard work. Simmons skillfully handles Monty's growth, alongside a set of perfectly cast co-stars who push or manipulate him along the way: Amy Landecker, Frankie Shaw, Alan Ruck, Beverly D'Angelo, Noël Wells, elder Schwartzman Jason and their mother Talia Shire.

— Shayna Weingast

Drama

,

2016,

97 minutes

Halkawt Mustafa

Alan is deeply in love with Gona and has been keeping it a secret for years. When he finally works up the courage to ask Gona's father for her hand in marriage, his proposal is denied because of his small stature. Crushed by this verdict, Alan convinces his brother Shirwan, a huge Real Madrid fan, to join him on a mission to deliver a pair of handmade Kurdish soccer shoes to famed Real Madrid footballer Cristiano Ronaldo. With the hope that the attention of Ronaldo will change Gona's father's mind about their relationship, the two brothers hit the road and set out on an epic journey of self-discovery and adventure.

El Clásico refers to the highly competitive and widely televised match between Spanish football rivals Real Madrid and Barcelona, and it's in this spirit that the film derives its beating pulse. Sublimely sweet and unabashedly sincere, El Clásico is a heartwarming comedy—anchored by two stellar performances by first-time actors—about two little people who refuse to think small.

— Shayna Weingast

Comedy

,

2016,

87 minutes

Liza Johnson

Liza Johnson's Elvis & Nixon tells the untold story of the legendary meeting between Elvis Aaron Presley (Michael Shannon) and Richard Milhous Nixon (Kevin Spacey), immortalized in the most requested photograph in the National Archives. Days before Christmas in 1970, the most famous man in America turns up at the doorstep of the most powerful one, inexplicably seeking to be made a Federal Agent at Large for the Bureau of Narcotics and Dangerous Drugs. What follows is a farcical scramble, as entourages jockey to coordinate a mutually acceptable meet-and-greet. One of the more surreal encounters in American history, the Elvis and Nixon meeting perhaps captures perfectly a pre-Watergate moment in time: before their names came to evoke tragedy and corruption; when the cultural cachet was passing from politicians to celebrities; and when America had both a King and a President.

— Cara Cusumano

Drama, Science Fiction

,

2016,

103 minutes

Drake Doremus

Set in a sleek and stylish future world, Drake Doremus' (Like Crazy, Breathe In) sci-fi romance envisions an understated dystopia, where human emotion is seen as a disease that must be treated and cured. Impassive faces and collegiate pleasantries are the ideal, and those whose feelings break the surface are diagnosed with 'Switched-On Syndrome' and tracked by the Health and Safety Department. Against this backdrop, coworkers Nia (Kristen Stewart) and Silas (Nicholas Hoult) begin to feel dangerous stirrings for one another.

In this futuristic Romeo & Juliet, Doremus builds on his previous star-crossed romances by adding a layer of rich world-building and fantasy, which puts the rawness and humanity of his characters' feelings for each other in relief. How will these two star-crossed lovers find a way to be together when, as the Collective continually reminds us via big-screen public service announcements: 'a cure is just around the corner?'

— Cara Cusumano

Drama

,

2016,

100 minutes

Meera Menon

In 2013, Meera Menon won the Tribeca Film Festival's inaugural Nora Ephron Prize for her debut feature, Farah Goes Bang. She returns with even bolder evidence of her place among the country's most promising and impressive young filmmakers; a forceful correction to the Wall Street thriller's masculine slant.

Denied a promotion, investment banker Naomi Bishop (Anna Gunn) aims to one-up her male counterparts by snagging the IPO for the hottest new social media platform. Her success quickly sours as a scandal threatens the razor-thin divide she maintains between the personal and political. No one can be trusted. Bishop soon faces a daunting attack from an estranged friend-turned-prosecutor (Alysia Reiner) and a challenge in her relationship with her junior partner (Sarah Megan Thomas). Deftly handled by Menon, Amy Fox's script offers a pitiless vision of Wall Street, post-financial crisis, where no device is too devious between women bracing for the glass ceiling.

— Cara Cusumano

+

The Family Fang

More info

Comedy, Drama

,

2016,

107 minutes

Jason Bateman

Nicole Kidman and Jason Bateman are Annie and Baxter Fang, the offspring and reluctant collaborators of Caleb and Camille Fang (Christopher Walken and Maryann Plunket). Celebrated and controversial performance artists, Caleb and Camille's work put innocent bystanders in the midst of elaborate staged scenes that frequently featured their young children. When the elder Fangs go missing under mysterious circumstances, Annie is convinced it's just another elaborate prank-cum-art piece, while Baxter suspects something else might be afoot. In digging into the unraveling mystery, the siblings begin to unpack long dormant and unresolved issues from their unorthodox childhoods.

Following up his delightfully raunchy debut Bad Words, Bateman turns his directorial attentions to more mature material, telling a dysfunctional family story that is at once idiosyncratic and identifiable, while never losing his distinctive sense of humor. Deeply felt and caustically funny, Bateman's sophomore feature is an unpredictable and unique take on the dysfunctional family drama genre.

— Cara Cusumano

Comedy, Horror, Thriller

,

2016,

92 minutes

Vincent Masciale

For a guy like Joe Foster—a carefree, PBR drinking, perpetual adolescent, who gets his kicks from being terrified by scary movies—the chance to experience classic horror film moments in real life is too good an opportunity to pass up, no matter how foreboding the offer may seem. And that's exactly what Fear, Inc. proposes: the next level in fright. On an average date night at a haunted playhouse, Joe is ominously handed the Fear, Inc. business card from a spook in a clown-mask. Despite his friend's warning that Fear, Inc. is a band of demented criminals and not a legitimate company, Joe calls the number on the card. Game on.

Fear, Inc. is a self-aware horror comedy that fiendishly slices in a thriller element. Director Vincent Masciale deftly plays with our expectations and suspicions—what is real and what is part of the game? As the lines between the two blur, Joe's dream come true begins to look more like a nightmare.

— Marina Hanna

Drama

,

2016,

103 minutes

Ian Olds

Leaving behind his life as a fixer for Western journalists reporting on the war in Afghanistan, Osman (Dominic Rains) lands in a small bohemian town in Northern California, living on the couch of his friend's mother (Melissa Leo) and working as a crime reporter for the local newspaper. Restless and eager to find purpose in the context of his new life, he befriends a couple of locals—the eccentric and unstable Lindsay (James Franco) and the elusive Sandra (Rachel Brosnahan)—recruiting them to help him penetrate the town's peculiar subculture. When Lindsay mysteriously goes missing, Osman gets drawn into the backwoods of the town in order to find him. As things begin to take a dangerous turn, Osman is forced to confront the untenable reality of his situation.

Shot with rigorous attention to atmosphere and milieu, The Fixer is a slow-burning thriller that employs stillness to create an undercurrent of suspense. Director Ian Olds adroitly exposes the larger-than-life characters who often inhabit the smallest of towns.

— Shayna Weingast

+

Folk Hero & Funny Guy

More info

Comedy, Drama, Music

,

2016,

112 minutes

Jeff Grace

Recently dumped by his fiancée and with a stagnating standup routine, aspiring comedian-slash-copywriter Paul (Alex Karpovsky, Girls) is stuck. The manager of the club where he performs suggests he take some time off to update his comedy material, and in waltzes his childhood friend Jason Black (Wyatt Russell), an acclaimed folk-rock musician about to embark on a solo acoustic tour of the east coast. Jason suggests Paul needs to get his mojo back—and he should start by opening for Jason on tour. They set off on the road together, picking up a new act (folk singer Bryn, played by Meredith Hagner) on the way. But when Jason reveals an ulterior motive behind the tour, rifts are exposed in their otherwise affable camaraderie. Folk Hero & Funny Guy is a music-infused spin on the road-trip buddy comedy.

— Cara Cusumano

Comedy, Drama, Music

,

2016,

86 minutes

Lee Kirk

Perry (Billie Joe Armstrong) is a happily married father of two living a comfortable but sedate life in the suburbs. On the occasion of his 40th birthday, he seeks to revisit his former life as the lead singer in a popular punk band though his middle-aged reality quickly (and hilariously) clashes with the indulgences of his youth.

Drama, Horror, Science Fiction, Thriller

,

2016,

97 minutes

Rod Blackhurst

After a terrible virus ravages human civilization, Ann finds herself living alone in a forest, foraging for supplies, and accompanied only by a radio that broadcasts a single transmission in French. Few animals even remain; the only survivors seem to be the roving hordes of infected creatures with a taste for human flesh. One fateful day, Ann crosses paths with two more survivors, Chris and Olivia. But after surviving on her own for so long, she struggles to relate to them and and their desire to settle down and start a new community. As Ann tells Chris, "Those who stay, die." Though a stomach-clenching thriller, Here Alone is less about the threat itself than the people who are surviving it. For Ann, killing the infected is an easier proposition than connecting with her new companions in a world where intimacy, jealousy, and your fellow man can be just as dangerous.

— Cara Cusumano

Action, Drama

,

2016,

119 minutes

Ben Wheatley

Based on J.G. Ballard's novel of the same name, and brought to life in harrowing and stylish detail by visionary director Ben Wheatley, High-Rise centers on Dr. Robert Laing (Tom Hiddleston), a newcomer to a luxury high-rise building where the inhabitants are stratified by social class. Opening on trash bags piled high, with men roasting a dog over a spit fueled by detritus, and dead bodies lurking in the background, Wheatley rewinds three months to a period of relative peace to chart the descent into anarchy and violence. Sienna Miller, Luke Evans, and Elisabeth Moss co-star as residents of the dystopian complex, while Jeremy Irons reigns above it all as its chief architect and penthouse resident. An allegorical fever dream of class division and human nature, Wheatley's fully realized vision of a brutal and stylized self-contained world is destined for cult status.

— Genna Terranova

Comedy, Horror

,

2016,

105 minutes

Kevin Kolsch & Dennis Widmyer, Nicholas McCarthy, Gary Shore, Sarah Adina Smith, Anthony Scott Burns, Kevin Smith, Scott Stewart, and Adam Egypt Mortimer

From some of the brightest minds in the darkest genre, Holidays is a horror anthology unlike any other. With an ingenious structure, each segment of the film takes its inspiration from a different holiday, exploring the bizarre, grim and ghoulish sides of our favorite festivities. With stellar directorial talent, including Kevin Smith (Red State), Gary Shore (Dracula Untold), Matt Johnson (The Dirties), Scott Stewart(Legion), Nicholas McCarthy (The Pact), Dennis Widmyer and Kevin Kolsch (Starry Eyes), Sarah Adina Smith (The Midnight Swim), Adam Egypt Mortimer and Anthony Scott Burns, the film takes the audience on a thrilling ride that will definitely get you in the seasonal spirit. Each story does an amazing job of building very large worlds in very small amounts of time, introducing an exceptional cast of fully realized characters in various treacherous scenarios. From a very unholy Easter Bunny to a particularly macabre Valentine's Day gift, Holidays holds a full calendar year of festive stories, bringing out the most twisted and subversive sides of each seasonal celebration.

— Loren Hammonds

+

A Hologram for the King

More info

Drama

,

2016,

97 minutes

Tom Tykwer

Tom Hanks stars as Alan Clay, a struggling American businessman who travels to Saudi Arabia in hopes of landing a career-saving IT contract by selling a new technology to the king for a massive, inexplicable development in the middle of nowhere. Upon arrival, he finds only labyrinthine bureaucracy and endless desert. As he awaits the arrival of the perpetually absent monarch, Clay gets to know his local driver, sneaks some contraband hooch with a European diplomat, and begins to monitor a suspicious growth on his back with increasing alarm.

Tom Tykwer's wryly comic adaptation of Dave Eggers' novel is a darkly funny, fish out of water story that points to bigger ideas about America's outdated sense of its own importance in the global marketplace, and the dashed hopes and desperation of American business abroad. A thoroughly enjoyable allegory, A Hologram for a King is simultaneously subtle and surreal, drolly funny, and wistfully sad.

— Cara Cusumano

+

The Human Thing

More info

Comedy, Drama

,

2016,

85 minutes

Gerardo Chijona

Gerardo Chijona's (Ticket to Paradise) newest film opens with a thief, Maikel (Héctor Medina) and his brother breaking into the home of a famous writer, Justo (Vladimir Cruz) and unknowingly stealing what turns out to be the only manuscript of his upcoming story.

Forced into a criminal lifestyle by circumstance, Maikel and his brother are on the lowest rung of society, mocked even by their mob boss, Soave (Enrique Molina) who jibes them that the world needs more businessmen than criminals before giving them their next assignment. Tired of being in perpetual debt, Maikel jumps at the chance of entering a respected literary competition he comes across with the script they've stolen. With the help of Soave, as his self-proclaimed writing mentor, Maikel sets out to rewrite the script in order to conceal Justo's signature style as unbeknownst to both of them, Justo himself decides to enter.

Despite a light air and humorous touches, violence and passion are never far from the surface as Chijona examines the importance of culture for a society, emphasizing that it is a multitude of voices, of writers, of stories which create a nation. Everyone's voice is important and embracing this paves the path to freedom.

— Jule Rozite

+

Hunt for the Wilderpeople

More info

Comedy

,

2016,

101 minutes

Taika Waititi

In Taika Waititi's Hunt for the Wilderpeople, we're treated to a deliriously off-kilter New Zealand in which a massive manhunt is triggered by series of misunderstandings involving a young orphan and his gruff guardian. As the hapless duo flee from clueless authorities, the comedic chemistry of these mismatched fugitives propels the film forward with increasing energy, delivering a relentlessly entertaining yarn reminiscent of classic 80's adventure comedies.

Starring Sam Neill, and featuring a hysterical performance from newcomer Julian Dennison, Waititi has crafted a truly touching film that is remarkable in both its humor and its humanity. With the one-two punch of this cinematic gem and his 2015 soon-to-be cult classic What We Do in the Shadows, not to mention the upcoming Thor: Ragnarok, Waititi has firmly cemented himself as one of the most exciting, and funniest, voices in film today.

— Loren Hammonds

+

Icaros: A Vision

More info

Drama, Music

,

2016,

91 minutes

Leonor Caraballo, Matteo Norzi

In search of a miracle, an American woman embarks on a journey to the Peruvian Amazon and finds hope in a community, through rituals involving an ancient psychedelic plant known as ayahuasca. With her perception forever altered, she forges a bond with a young indigenous shaman undergoing a crisis of his own, and a motley crew of psychonauts seeking transcendence, companionship, and the meaning of life and death.

Filmmakers Leonor Caraballo and Matteo Norzi have deftly handled this drama by drawing from their own experiences, allowing for a uniquely stirring film that touches on the notions of friendship, familial bonds, and the fear of the unknown. Visually inventive and hypnotic in nature, Icaros: A Vision captivates with its meditative look at a little-seen world, punctuated by truly trippy depictions of ceremonial splendor.

— Loren Hammonds

Drama, Music

,

2016,

97 minutes

Udi Aloni

"My songs aren't political, they just describe the place I come from." Aspiring rapper Kareem (Tamer Nafar), the central character in Udi Aloni's Junction 48, infuses his every action with music: from meeting friends and family dinners to video chats with his girlfriend Manar (Samar Qupty). After a car wreck kills his father and critically injures his mother, music is the thing to which he clings. But as his hip-hop ensemble begins to rise in the ranks of acclaim, we begin to question whether his lyrics can really be divorced from his politics. The title of the film refers to the 1948 Palestine War, the aftermath of which still looms large over successive generations. The film has its share of sudden and senseless violence, deploying the single crack of a pistol to explore the intersection of personal and political tragedy.

— Frederic Boyer

Drama

,

2016,

87 minutes

Justin Tipping

In director Justin Tipping's feature debut Kicks, nothing is as simple as it seems. Fifteen-year-old Brandon longs for a pair of the freshest sneakers that money can buy, assuming that merely having them on his feet will help him escape the reality of being poor, neglected by the opposite sex, and picked on by everyone—even his best friends. Working hard to get them, he soon finds that the titular shoes have instead made him a target after they are promptly snatched by local hood Flaco. Seemingly the embodiment of menace, Flaco harbors complexities of his own that will be revealed when Brandon goes on a mission to retrieve his stolen sneakers with his two best friends in tow. Boasting a strong ensemble cast, and featuring a memorable lead performance by newcomer Jahking Guillory, the film transcends a deceptively traditional hero's journey to deliver an entertaining and sobering look at the realities of inner-city life, the concept of manhood, and the fetishization of sneaker culture. Visually and thematically rich, with an amazing soundtrack of both hip-hop classics and Bay Area favorites, Kicks creates an authentic and original portrait of a young man drowning in the expectations of machismo.

— Loren Hammonds

+

A Kind of Murder

More info

Drama, Thriller

,

2016,

96 minutes

Andy Goddard

Architect Walter Stackhouse (Patrick Wilson), crime novelist by night, is quite unhappily married to Clara (Jessica Biel), a successful real estate saleswoman. As Walter becomes fascinated by the case of Melchior Kimmel, a bookstore owner in New Jersey suspected of murdering his wife Helen, he begins to imagine what it might be like to murder his own wife. In this faithful adaptation of the 1960s suburban thriller, The Blunderer, written by Carol author Patricia Highsmith, the question of how we judge a person's guilty conscience in the death of another plays a central theme. When Clara turns up dead, Walter starts to seem increasingly guilty as he finds himself at the unfortunate intersection of a conniving murderer and a resolute cop. A Kind of Murder seamlessly combines philosophical musings on culpability with edge-of-your-seat Hitchcockian noir.

— Genna Terranova

Drama

,

2016,

92 minutes

Justin Kelly

Writer-director Justin Kelly follows up last year's festival favorite, I Am Michael, with a ripped-from-the-headlines drama covering the early career of Sean Paul Lockhart (Garrett Clayton), who rose to niche stardom as the gay porn headliner Brent Corrigan, yet did not see the returns he expected from his meteoric success.

Offended by his paltry paycheck, Lockhart falls out with the owner, director, and producer (Christian Slater) of the label that made his famous Cobra video. When the newly minted sex symbol attracts the attentions of a cash-strapped pair of rival producers and performers (James Franco and Keegan Allen) an all out porn turf war ensues. Alicia Silverstone and Molly Ringwald offer memorable turns as the mother and sister stunned by the revelations of the sordid, secret lives of their loved ones as the film delves into the most extreme lengths people will go to stay in the game.

— Dan Hunt

Thriller

,

2016,

93 minutes

Ed Gass-Donnelly

Abbie Cornish stars in this thriller as Jane, a photographer who is forced to come to terms with her mysterious and tragic past after a horrendous car accident robs her of her memory. Along with her husband (Diego Klattenhoff, Blacklist) and daughter, Jane returns to her childhood home and reconnects with her estranged uncle (Dermot Mulroney). To take control of her life, Jane must confront a mysterious lurking force and grapple with a past that continues to haunt her. Director/co-writer Ed Gass-Donnelly crafts a riveting hallucinatory tale about a woman who must relive horrors to save the ones she holds the most dear. With a strong supporting turn from Justin Long, Lavender is full of twists and turns that will keep audiences engaged until the very end.

— Karen Kemmerle

Comedy, Drama

,

2016,

90 minutes

Rob Meyer

It's the summer before 6th grade, and Clark is the new-in-town biracial kid in a sea of white. Discovering that to be cool he needs to act 'more black,' he fumbles to meet expectations, while his urban intellectual parents Mack and Gina also strive to adjust to small-town living. Equipped for the many inherent challenges of New York, the tight-knit family are ill prepared for the drastically different set of obstacles that their new community presents, and soon find themselves struggling to understand themselves and each other in this new suburban context.

Director Rob Meyer (A Birder's Guide to Everything) returns to Tribeca with his second feature, a poignant comedy about understanding identity, featuring a robust cast including Melanie Lynskey, Nelsan Ellis, Armani Jackson, Oona Laurence, Janeane Garofalo, and Christine Taylor. Executive Produced by Cary Fukunaga.

— Tilson Allen-Merry

Drama, Thriller

,

2016,

88 minutes

Logan Sandler

Featuring an ethereal tone and stark black-and-white cinematography, Live Cargo is set on a small island in the Bahamas that is being torn in two. On one side is a dangerous human trafficker using stolen boats to move Haitians to the United States, and on the other is an aging patriarch, struggling to maintain order. This is the situation grieving couple Nadine and Lewis move into when they journey to the island, hoping to restore their relationship after the tragic death of their newborn child. They soon discover that, no matter how hard they try, nothing on the island is untouched by the effects of human trafficking. Dree Hemingway (Starlet, While We're Young) and Keith Stanfield (Straight Outta Compton) give fantastic, nuanced performances as Nadine and Lewis, while Robert Wisdom (The Wire) anchors a strong supporting cast. Director Logan Sandler keeps an impressively keen grip on the tone of his debut feature, which is suspenseful and poignant in equal measures, all the while maintaining a sharp focus on the small details of everyday life in the Bahamas.

— Cara Cusumano

Action, Thriller

,

2016,

101 minutes

Daniel Grove

Haunted by memories as a child soldier in 1980s Iran, Behrouz (Reza Sixo Safai, A Girl Walks Home Alone at Night) finds himself in bustling, neon-soaked Los Angeles, working to become a real estate agent and live a simple life with his girlfriend Oksana. But Behrouz's attempts at a normal life become increasingly difficult as his opium addiction and gambling habit rear their ugly heads, and he struggles to leave behind his past with the Iranian mafia. Soon Behrouz and Oksana find themselves caught between the feuding heads of the Iranian and Russian mobs. Parviz Sayyad, one of the best-known actors of pre-revolutionary Iran, plays the fear-inducing Iranian mobster Cirrus, and a wild Julian Sands plays his out-of-control Russian counterpart, Evgeny.

First-time feature filmmaker Daniel Grove deftly balances action and violence with a bold visual style, while sensitively portraying Behrouz's troubled past and present. Accompanied by a pulsating electro soundtrack, this multi-layered neon-noir takes you on a thrilling ride through the underbelly of Los Angeles.

— Jule Rozite

Drama

,

2016,

106 minutes

Gael García Bernal, Mia Wasikowska, Sebastian Silva, Anurag Kashyap, Sion Sono, Natasha Khan

Madly explores love in all its permutations in six short films from a vibrant group of filmmakers representing Japan, Argentina, the UK, the US, India, and Australia. All forms of love are on display in this anthology. And all manners of feelings expressed from jubilance to depression are done so strongly. In Afterbirth, actress Mia Wasikowska goes behind the camera to tell the story of a young mother's postpartum struggles; Gael García Bernal explores how pregnancy affects one couple's already ambivalent relationship in Love of My Life; and ghosts of past relationships are resurrected in Natasha Khan's I Do. These stories of love never shy away from taboo either: Sion Sono's Love of Love delves into underground sex clubs in Japan, and Anurag Kashyap's Clean Shaven uncovers the social relevance of a woman's pubic hair. Love can even be delightfully irreverent at moments, Dance Dance Dance from Sebastian Silva features an eye-roll from Jesus. Madly, after all, is a contemporary portrait of love in all its glorious, sad, ecstatic, empowering, and erotic manifestations.

— Genna Terranova

+

The Man Who Knew Infinity

More info

Drama

,

2016,

109 minutes

Matthew Brown

In 1913, a self-taught mathematics prodigy Ramanujan (Dev Patel) traveled from his home in India to Trinity College in Cambridge to study with the esteemed professor GH Hardy (Jeremy Irons). Hardy fights for Ramanujan to be recognized as the two struggle with prejudice, illness, and culture on the road to perfecting the theorems that changed the course of history of math.

Drama, Comedy

,

2016,

103 minutes

Lorene Scafaria

Susan Sarandon delivers a magnetic performance as doting mother supreme Marnie Minervini. After the death of her husband, Marnie crosses coasts to drop into the life of her screenwriter daughter Lori (Rose Byrne). When Lori demands boundaries, Marnie puts her interfering tendencies to uses that range from invasive to genuinely altruistic. She forces a genius behind the bar at her local Apple Store to go back to school, arranges a dream wedding for a near-stranger, and launches into a romance with a motorcycle-riding, free-range-chicken farming ex-cop named Zipper (J.K. Simmons).

Sarandon brings incredible range to the role, investing in Marnie a winning naiveté that transforms quick enough into sincerity to allow writer-director Lorene Scafaria's sophomore feature to neatly reverse the obvious pitfalls of a loosely autobiographical comedy-drama about an overbearing mother. Rather than side with Lori, The Meddler offers a heartfelt and wryly scripted defense of a woman struggling to cope with familial loss. The result is an enjoyable send up on mother-daughter relations caught in the blazing spotlight of Los Angeles.

— Cara Cusumano

Drama, Thriller

,

2016,

89 minutes

Kadri Kõusaar

This darkly comic crime mystery set in small-town Estonia centers on Elsa, the mother and full time caretaker of Lauri, a teacher who has been in a coma since being shot under shadowy circumstances. Attentive in her duties but at the end of her tether, Elsa receives Lauri's visitors—friends, students, his girlfriend, his boss, and others—who come to update the unconscious Lauri on their lives and unburden themselves of their troubles. But as the police inquiry into the crime progresses, some of his closest ties are called into question.

Director Kadri Kõusaar cunningly navigates a script that slowly pieces together the truth behind Lauri's shooting through his visitors' confessionals to the comatose protagonist, cleverly building a web of motives among the tight-knit community. Bathed in the pastel tones of post-Soviet life, Mother is a smartly-crafted whodunit set in a small town where just about everyone is dreaming of something bigger and some are willing to do whatever it takes to get out.

— Ian Hollander

Drama

,

2016,

104 minutes

Bruce Beresford

A dying mother finds that she is unable to continue caring for her young daughter Charlotte on her own, and so retains the services of one Henry Joseph Church to look after the girl. Mr. Church is an expert chef and immediately takes a shine to his precocious new ward. What began as a temporary arrangement blooms into a lifelong friendship between the talented chef and the maturing young woman. As time passes, Charlotte's curiosity about her mysterious friend will push the limits of their bond.

As directed by the Oscar-nominated Bruce Beresford (Driving Miss Daisy), Mr. Church is a tender coming-of-age family drama about the families we have and those we make. Eddie Murphy delivers a nuanced dramatic performance as the titular character, and co-stars Britt Robertson, Xavier Samuel, Natascha McElhone and Lucy Fry round out the pitch perfect cast.

— Cara Cusumano

+

My Blind Brother

More info

Comedy, Drama

,

2016,

81 minutes

Sophie Goodhart

Robbie (Adam Scott) is a champion blind athlete and local sports hero doted on by the community and seemingly incapable of wrongdoing. His unassuming brother Bill (Nick Kroll) knows the real Robbie to be petulant and arrogant, but still runs every marathon by his side and never makes a peep when he doesn't receives the same accolades. When Bill gets lucky with a charming lady (Jenny Slate), he thinks his karma might finally be coming due, until his brother introduces him to his own new paramour (the very same Jenny Slate). Now Bill must decide if he will put himself second again or finally stand up to his blind brother.

With its original take on the love triangle and sibling rivalry stories, brimming with farcical humor and chemistry between its trio of leads, Sophie Goodhart has crafted a sharp and utterly delightful romantic comedy.

— Cara Cusumano

Animation

,

2016,

83 minutes

Chris Prynoski

Aspiring actor John (Paul Rudd) and would-be screenwriter Elliot (Patton Oswalt) are two LA dudes approaching their 30th birthdays without yet becoming the megawatt superstars they know they were meant to be. In a town built on who you know (and who knows you), the ambitious duo will set out on an all-day journey through their all-star rolodexes to make it big by the end of the night.

The first feature from animation house Titmouse, Inc. whose brainchildren include Metalocalypse, Moonbeam City and Superjail!, Nerdland is a hallucinatory Hollywood road trip told in an appropriately bold and distinctive animation style. Featuring an army of comedy cameos including Hannibal Burress, Larraine Newman, Mike Judge, Kate Micucci & Riki Lindhome, Venture Brothers' Jackson Publick, Molly Shannon, Charlene Yi, and Paul Scheer, this is an R-rated cartoon comedy about celebrity, excess, and two showbiz nobodies with a plan to become famous—or even infamous—no matter what...

— Cara Cusumano

Drama

,

2016,

86 minutes

Christian Tafdrup

Kjeld and Vibeke, a middle-aged Danish couple, aren't entirely certain who they are without their son. Esben has recently moved away from home; their identities unmoored in his absence. Attempting to recapture the vigor and magic of their younger days, they move out of their house and into the old, pre-parenthood apartment where they first fell in love. Recapturing their youth is changing them in strange and unexpected ways. Told with deadpan Nordic humor and just a touch of surrealism, Parents is ultimately a droll rumination on family identity and how to grow old gracefully.

— Frederic Boyer

+

Pelé: Birth of a Legend

More info

Drama, Sports

,

2016,

107 minutes

Jeff Zimbalist, Michael Zimbalist

From the slums of Brazil to center stage at the world's biggest sporting event, Pelé's rise to become the youngest-ever World Cup winner, at the age of 17, was nothing short of a miracle. Full of laughs, life lessons, and heart, this inspiring biopic is perfect for introducing a new generation to the greatest soccer player of all time.

+

Perfect Strangers

More info

Comedy

,

2016,

96 minutes

Paolo Genovese

Paolo Genovese's new film brings us a bitter ensemble with an impressive cast that poses the question: How well do we really know those close to us? During a dinner party, seven friends decide to play a dangerous game. Each attendee places their cell phone on the table and agrees to make all texts and calls public in an attempt to prove that they have nothing to hide. What at first seems like a playful distraction between friends quickly turns into something much more toxic as the messages begin to reveal how little they may know about the partners and acquaintances surrounding them. Through its brilliant scripting and cast, including Alba Rorhwacher, Marco Giallini, and other Italian favorites, Perfect Strangers effortlessly transitions from tender comedy to piercing drama without taking away from the dialogue's grounding sense of honesty. Throughout, Genovese provides an undeniably modern take on a classic story, examining the ways performance comes to define our public lives.

— Frederic Boyer

Drama, Sports

,

2016,

88 minutes

Noah Buschel

Major-league rookie pitcher Hopper Gibson (Johnny Simmons) has lost his focus. After choking on the mound, he's sent down to the minors and prescribed sessions with an unorthodox sports therapist (Paul Giamatti), who pushes him to uncover the origins of his anxiety. Beneath it all is his fraught relationship with his overbearing ex-con father (Ethan Hawke), whose tough love is the source of both his success and his paralysis. The Phenom is not your typical sports movie; TFF alumnus Noah Buschel (Glass Chin) brings depth and complexity to this gripping psychological portrait of an athlete at a crossroads in the big-league sports grind.

— Genna Terranova

Drama

,

2016,

105 minutes

Robert Scott Wildes

Romeo and Samson Griggs are two reckless, misfit brothers who live on a battered houseboat in the desert on the outskirts of town. Left without any other family to speak of, these two desperately lack both intuition and direction. They survive by constantly hustling, gambling and thieving other small-time crooks in their neighborhood. Nothing seems to ever go according to their harebrained schemes but that hardly seems to faze either of them as they operate in their own strange and delusional headspace. In an attempt to finally leave for California, they plan an even more complex and financially rewarding long con.

First-time feature filmmaker Robert Scott Wildes assembles a cast brimming with notable indie veterans and creates a darkly nuanced, adrenaline-filled caper set in a modern western landscape. Hypnotic visuals collide in an emotionally powerful rhythm that reflect the film's bizarre environment and characters, immersing the viewer into the filmmaker's own twisted Southwestern phantasmagoria.

— Tilson Allen-Merry

Action, Comedy, Thriller

,

2016,

101 minutes

Karl Mueller

Rebirth tosses out a few red herrings in its opening moments: a reunion between college buddies (Adam Goldberg and Fran Kranz), a weekend getaway for spiritual rejuvenation, a playful treasure hunt leading the way to the retreat. But from the moment our protagonist Kyle gets on that bus all bets are off as he embarks on a terrifying tour through a haunted house filled with brainwashed birthers. Playfully toeing the line between psychological horror and biting satire on everything from new age health trends to male bonding culture, TFF alum Karl Mueller's (Mr. Jones) 2nd feature is a wild rollercoaster of a genre mashup. The eponymous retreat comes stamped with a "no-spoiler rule" (among other edicts including a chant of "we are not a cult" and "you can leave at any time") and viewers would be well-served to follow the same rules.

— Genna Terranova

+

Special Correspondents

More info

Comedy

,

2016,

101 minutes

Ricky Gervais

American politics and media are aptly satirized in this feature by firebrand comedian Ricky Gervais. A pretentious radio journalist and his ineffectual technician botch an assignment in South America, and decide to fabricate an on-the-scene story while hiding out in a New York City apartment. This scheme spirals out of their control when their escalating story becomes a national headline.

Drama

,

1976,

112 minutes

Martin Scorcese

Martin Scorsese's powerful psychological thriller Taxi Driver will celebrate its 40th Anniversary at the 15th edition of the Festival. Starring Robert DeNiro, Jodie Foster, Albert Brooks, Leonard Harris, Peter Boyle, and Cybill Shepherd, Directed by Martin Scorsese, written by Paul Schrader and produced by Michael Phillips and Julia Phillips, the 1976 film was nominated for four Academy Awards®, including Best Picture and Best Actor for Robert De Niro; and two Golden Globes. One of TIME Magazines 'all-TIME 100 Movies,' Taxi Driver was called 'a brilliant nightmare,' by the Chicago Sun-Times and praised by the Village Voice as 'a phenomenon from another day and age.'

Comedy, Drama

,

2016,

82 minutes

Daniel Burman

After many years away, Ariel (Alan Sabbagh) is summoned by his distant father to his childhood home in the bustling Jewish quarter of Buenos Aires, known as El Once. Over the course of seven days, during the vibrant holiday of Purim, Ariel seeks to reconnect with his father, who runs a Jewish charity and is regarded as a big macher in the close-knit community, but was frequently absent due to his obligation to fulfill the Jewish quorum of having 10 men present at all funerals. It's from this theological conundrum that the film derives not just its English title but also its momentum as Ariel grapples with his religious upbringing and the ways it informed his relationship with his father.

Director Daniel Burman (All In, TFF 2012) returns to Tribeca with The Tenth Man, continuing to wrestle with notions of identity, home and the intricacies of the father-son relationship. This well-observed comedy is at once a heartfelt valentine to the El Once district, Burman's own Jewish upbringing and his continuing desire to use cinema as a means of self-exploration.

— Shayna Weingast

Drama, Experimental

,

2016,

100 minutes

Ido Fluk

After James (Dan Stevens), a blind man, inexplicably regains his vision, he becomes possessed by a drive to make a better life for himself. However, his new improvements—a nicer home, a higher paying job, tailored suits, luxury car—leave little room for the people who were part of his old, simpler life: his plain wife (Malin Åkerman) and close friend Bob (Oliver Platt). As his relationships buckle under the strain of his snowballing ambition, it becomes uncertain if James can ever return from darkness. Fluk paints a visual world that reflects the mesmerizing effect that newfound sight has on James; the vibrant backgrounds and the sun-drenched rooms are captivating in their beauty. His dreamy and subjective style combines with an astute sense of character to craft a modern morality fable of desire, perception, and what it really means to be blind.

— Marina Hanna

Thriller

,

2016,

92 minutes

Simon Dixon

While on a covert mission, two cold blooded mercenaries form an unlikely bond as they race across the desert in the dead of night. When their violent and desperate world implodes, past atrocities come to the surface threatening to tear each of them apart.

Brian Gleeson (Show White and the Huntsman), Damien Molony (Kill Your Friends), and Sofia Boutella (Star Trek Beyond) offer stunning performances as the inhabitants of director Simon Dixon's dark and arid, seemingly unpopulated desertscape. Dixon surrounds these complex and troubled characters in haunting imagery and immersive sound design. As the true nature of their mission becomes clear, betrayals accumulate; no one emerges innocent in this disturbing action-thriller.

— Dan Hunt

+

Vincent N Roxxy

More info

Drama, Thriller

,

2016,

116 minutes

Gary Michael Schultz

When Vincent saves Roxxy from her violent ex-boyfriend, their lives are suddenly transformed. Strangers thrown together by circumstance, this small town loner and rebellious punk rocker find themselves on the run, hiding from the aftermath of Vincent's intervention at his family farm. Their brief solace is shattered when they discover a common history and realize that violence and rage is, for them, inescapable.

Emile Hirsch (Into the Wild, Milk), Zoe Kravitz (Divergent), Emory Cohen (Beneath the Harvest Sky) and Scott Mescudi, aka Kid Cudi, offer compelling performances in director Gary Michael Schultz's powerful and complex story about a misfit romance at the mercy of brutality.

— Dan Hunt

Drama

,

2016,

109 minutes

Bart Freundlich

Anthony Keller (Taylor John Smith) is the captain of his NYC high school basketball team, riding his way to Cornell on a sports scholarship. He is smart, well-liked, and confident. But he can only maintain his popular jock facade for so long, as his troubled father Lee (Michael Shannon) has a gambling addiction that threatens to derail his dreams both on and off the court.

Bart Freundlich's powerfully directed drama features stand-out performances from its trio of leads—Shannon as the complex and compulsive Lee, Carla Gugino as Anthony's well-meaning mother struggling to keep the fracturing family together, and newcomer Smith, who channels confidence and vulnerability as Anthony faces his first real adult decisions. Moving fluidly among the halls of affluent prep schools, the public courts of West 4th street, and tenements of the Lower East Side, Wolves is an emotionally-charged portrait of a boy becoming a man in New York City.

— Cara Cusumano

Comedy, Drama, Thriller

,

2016,

91 minutes

Ingrid Jungermann

'It's Park Slope' says a recently missing friend, 'there aren't hate crimes here, just a lot of intense parenting.' So goes Ingrid Jungermann's whip smart feature debut; a marvelous send-up of the search for meaning in modern-day relationships. Even uneventful encounters lead the more eager searchers to find drama where there is none.

Morgan (Jungermann) and Jean (Ann Carr) work well together as hosts of their semi-famous true crime podcast because they didn't work, at all, as a couple. When Morgan strikes up a relationship with the mysterious Simone (Sheila Vand, importing substantial menace from her breakout role in A Girl Walks Home Alone at Night) their professional interest boils over into a cycle of suspicion, paranoia, and fear. Thankfully, Morgan has a confidant (maybe not her first choice given that she is in prison for murder). Women Who Kill is an adept and wry comedy on modern romance's hollow results set in an LGBTQ Brooklyn that pulls ample humor from awkward and, perhaps to confirmed Park Slopers, all-too-familiar situations.

— Loren Hammonds

+

Youth in Oregon

More info

Comedy, Drama

,

2016,

100 minutes

Joel David Moore

Frank Langella, Billy Crudup, Christina Applegate, Mary Kay Place and Josh Lucas star in this moving family road trip dramedy. Raymond Engersoll (Langella) aims to reach Oregon in time for an appointment to legally end his life under the state's laws, but his headstrong daughter (Applegate) sends her unwilling husband (Crudup) along for the ride, convinced they can talk him out of the scheme before he reaches his destination. Along the way Engersoll works to reconcile with his estranged son (Lucas) and convince his tuned-out wife (Place) of the veracity of his purpose.

Langella delivers a characteristically superb performance as Engersoll, extraordinary in his depiction of the frustration, resolution, humanity, and unlikely humor inherent in his situation. Actor-turned-director Joel David Moore weaves nuance through the many lives affected by Engersoll's determination, as parents, children and partners discover just how far they have slipped away from the ones they love. Youth in Oregon blends surprising comedy with vivid depictions of the emotional steps involved in Oregon's end-of-life requirements, creating a powerful and disarmingly funny affirmation of the search that finds the value in the life you have.

— Cara Cusumano
You're planning to spend
0

watching

0

Tribeca Film Festival features.