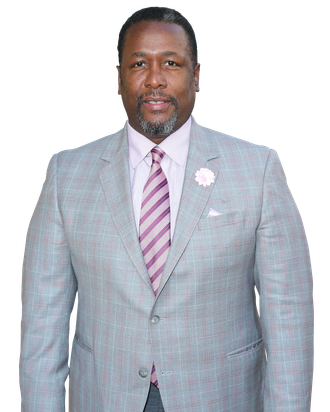 Ask Wendell Pierce whom he thinks was telling the truth at the Clarence Thomas–Anita Hill hearings in 1991, and he pleads the Fifth. "I do have an opinion, but all the change that came about became of the events is more important," says Pierce, who plays the Supreme Court justice in the docudrama Confirmation, which airs Saturday night on HBO. "That's why I choose not to distract from it by giving my opinion. I hold it close to the vest." He was more forthcoming about working with Kerry Washington, his recent turn as the coach in Grease Live!, and the legacy of The Wire's Bunk Moreland.
Did you watch the Clarence Thomas hearings when they happened, and what did you think of them at the time?
Absolutely. I watched them intently, late into the night. It was intense, fascinating, painful, and embarrassing. Dirty laundry being aired — especially in the African-American community — is difficult to watch. Two successful African-American lawyers having such a lurid discussion brought up complex feelings.
Did you try to meet with Thomas once you were cast in the role?
I tried to reach out through back channels, but I didn't get the chance to meet him. I would be just as fascinated to meet him now. Because one of the epiphanies to me was not how little we have in common but how much. We both come from families in the South who lived through slavery and Jim Crow and put a premium on education as the key to success in life. And we're both black Catholics, which is rare.
Did you change your voice to sound like Thomas?
As an actor, I'm a student of human behavior, so I studied the tapes of the hearings and was very exact in trying to replicate his phrasing and pronunciation of words. Right before the iconic moment in his testimony when he said "high-tech lynching," he sits back, then he gets this impulse to lean forward back into the microphone and deliver that phrase. I showed that to [director Rick Famuyiwa] and said, "There's a moment where he considers whether he should say it." I tried to replicate that.
Does the film feel timely in light of the current Supreme Court vacancy?
Absolutely. This film reminds people you have to be ever-vigilant. It's like raising a veil off your eyes and being aware so you can fight issues of sexual harassment and gender inequality and racism. It's an ongoing thing. This is not an event that lives in the past. The fact that there's a vacancy on the Supreme Court now that could affect people for generations just makes the film that much more relevant.
How do you react to conservative critics who claim the film is pro-Anita Hill?
It's a knee-jerk reaction, which always happens when people have an agenda. It's like, "Let me make the first volley before anything happens to get my agenda out there before anyone else." It's what I expected from politicians. It's unfortunate.
What's it like to co-star with Kerry Washington but not share any scenes?
She was coming to the end of her filming as I was beginning mine. I don't think she knew, but I was in the studio watching her testify as she shot those scenes. It was the fuel for me to step into the room and begin my work. It really helped me to watch her. So while I didn't have any scenes with her, I was able to play off her work.
Is it a coincidence that Confirmation is coming out around the same time as The People v. O.J. Simpson? Has enough time passed since these events of the '90s to understand their significance?
The timing allows us to reflect on it better. But it's a testament to the craftsmanship of the actors, writers, and directors that we're captivated by these stories again. Courtney B. Vance and Sarah Paulson gave two of the year's best performances on film or TV. John Travolta reminded us of his talent as an actor. And I have seen Confirmation three or four times, and Kerry Washington captivates me every time.
You've been busy, between Confirmation, The Odd Couple's second season, and Grease Live! Is this a dream as an actor to do such diverse projects?
Yes! Just last night I had dinner with some of my classmates from Juilliard. It's been 30 years since we've gotten together, and it made me remember why I went there. I consider myself a journeyman actor. I can do drama, comedy, classical theater. and contemporary work. Grease Live! was one of the most amazing experiences in my career. It was a connection to the past, like doing a huge MGM musical, but it changed the game in terms of live TV going forward.
So many shows are being revived lately — would you ever do a Wire reboot?
Yes, but I know for a fact that David Simon would never do it. He always said it was like a novel. And like a great novel, you can revisit it and see new things every time. When we were coming to the end, I tried to convince him to do a film, and he said, "But everybody's dead!" I said, "We should do a prequel and see how Stringer Bell and Avon Barksdale initially took over the towers." I'd talked to Samuel L. Jackson about playing the head of a rival family. David wasn't onboard with it, and it would mean nothing without him. But I will always meet someone somewhere in the world who says, "I just watched The Wire for the first time, and I loved it." I wear that with honor, and I will forever be Bunk. You can call me Bunk whenever you see me.