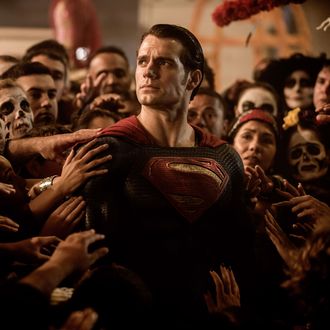 Superman in Batman v Superman.
Photo: Clay Enos/Warner Bros. Entertainment Inc.
Is Batman v Superman an underperformer? The film's brought in more than $400 million worldwide so far, but its grosses dropped substantially in its second week, and it seems likely the film will not be quite the overwhelming box-office sensation that Warner Brothers hoped for to kick off its massive cinematic universe. What does that mean for the studio? As THR reports, after the fall of Jupiter Ascending and the panning of Pan, some industry insiders say the studio is considering cutting down the number of "filmmaker-driven" films it greenlights and concentrating on its trio of tentpoles: DC superheroes, Lego movies, and Harry Potter films. The studio disputes this, of course, and it still has profitable relationships with directors like Christopher Nolan, Clint Eastwood, and Ben Affleck (which may have been the reason the latter signed on to play Batman in the first place). Still, if even those don't work out, look forward to Warner's latest film, Lego Batman Goes to Hogwarts.