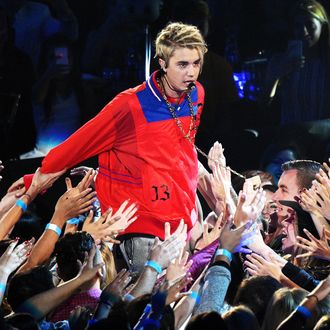 Biebs: It don't make no sense.
Photo: Jason Kempin/Getty Images
So, you missed the iHeartRadio Music Awards for a third time? Shame! You could've spent your Sunday night watching host Jason Derulo say his own name a lot, but instead you chose Negan. We respect your (wise) decision and are here to fill you in on the many, many, many things you definitely should've been focused on instead of, say, who had the pleasure of being on the wrong side of Negan's bat. Things like, oh, you know: Taylor Swift winning an award or two; Taylor Swift having her 1989 World Tour put in the tour Hall of Fame; Taylor Swift making googly eyes at Calvin Harris, er, excuse us, Adam … the usual. She says this might be her last awards show outing for a while (!), so let's savor all her important 2016 iHeartRadio Award moments while we still can — and recap a few others while we're at it.
Justin Bieber: No one really knows for sure what's happening atop the Biebs' head right now, but whatever it is, it comes complete with an acoustic guitar and a Rangers jersey. Oh, Canada.
Donald Trump shade: Why yes, even the iHeartRadio Awards — an award show ostensibly for 15-year-olds and whoever still listens to the radio — managed to throw Donald Trump shade. Or as Justin Timberlake calls it, a "political joke." Let's all leave the dad humor to Bono.
Taylor Swift: When Taylor Swift wasn't being praised by Bieber, Timberlake, or onstage gushing about her boyfriend Adam (that's Calvin Harris, to the rest of us), she was in her seat doing what Taylor Swift at an award show does best: Stealing the spotlight. Nothing says true industry love like a cut to Tay's smitten face during Calvin's own acceptance speech.

Zayn: Hours after his first solo album went No. 1, Zayn made his solo awards show debut bathed in the light of a thousand lasers, just like you always knew he would.

Meghan Trainor: Yeah, no.
Chris Brown: An even harder no. Just days after mocking Kehlani's apparent suicide attempt, Chris Brown brought his ignorance and new perm to the iHeartRadio Awards, which not only named him R&B Artist of the Year (over Beyoncé!), but allowed him to perform an entire medley of songs. #MusicSoTrash