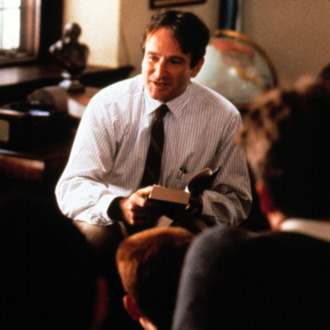 Each month, several films and TV shows leave Showtime's catalogue. We provide a list of titles leaving the platform so you can watch them all before they're gone forever (or just available on a different site). For more comprehensive coverage of the best titles available on Showtime and elsewhere, check out Vulture's What to Stream Now hub, which is updated throughout the month.
Don't cry for me: Evita (1996)
Madonna stars as Eva Perón in this adaptation of Andrew Lloyd Webber's musical. If her acting leaves something to be desired, Madonna's still at the peak of her glamour game, especially while wrapped in Webber's sumptuous score. Leaving May 12.
O Captain: Dead Poets Society (1989)
Robin Williams inspires a group of prep school students to live life to the fullest in Peter Weir's big-hearted look at literary inspiration. This movie is probably the reason why you can recite about 40 percent of Walt Whitman's "O Captain! My Captain!" from memory, and the rest with an admirable level of enthusiasm. Leaving May 14.
Beauty and the Beast: King Kong (2005)
Peter Jackson made King Kong in between his stints on the Lord of the Rings and Hobbit films, and he manages to find some real pathos in the midst of the CGI spectacle. The world would be a better place if every franchise reboot had this much imagination. Leaving May 17.
Movies leaving Showtime's catalogue:
Evita (1996) (May 12)
Dead Poets Society (1989) (May 14)
King Kong (2005) (May 17)
Alone in the Dark (2005) (May 24)
The Battle of Shaker Heights (2003) (May 24)
Beloved (1998) (May 25)
Turner & Hooch (1989) (May 25)
Mr. Holland's Opus (1995) (May 30)
Cradle Will Rock (1999) (May 30)
Cold in July (2014) (May 31)
The Devil's Rejects (2005) (May 31)
From Dusk Till Dawn (1996) (May 31)
Last Vegas (2013) (May 31)
For more details on the best film and television available online, consult Vulture's What to Stream Now hub.