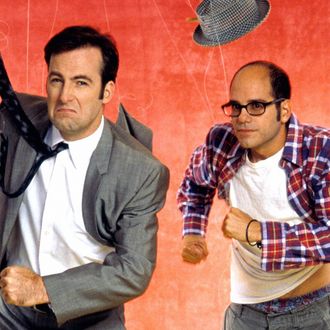 At the beginning of (and during) each month, HBO adds new movies and TV shows to HBO Go and HBO Now. We figure you want to know what they are. For more comprehensive coverage of the best titles available on HBO and elsewhere, check out Vulture's What to Stream Now hub, which is updated throughout the month.
Essential comedy: Mr. Show With Bob and David (Seasons 1–4) (May 1)
You might have been able to find samples of Mr. Show online before, but now the Bob Odenkirk and David Cross's landmark sketch-show is streaming in full on HBO's Now and Go. You won't regret watching every episode all the way through, but if you want a good way to get your feet wet, hey, we made a ranking for you. Premieres May 1.
Cranston does LBJ: All the Way
Bryan Cranston takes his big Broadway turn as Lyndon Johnson to the small screen, with the help of Melissa Leo as Lady Bird Johnson and Bradley Whitford as Hubert Humphrey. Much like the Big Bad Wolf, Cranston's LBJ intends to huff and puff till he gets the House down (to pass the Voting Rights Act). Premieres May 21.
Simply fabulous: The Man From U.N.C.L.E. (2015)
Guy Ritchie's stylish adaptation of the 1960s TV series about Russian and American spies forced to work together didn't get the recognition it deserved at the box office, which is too bad, because it's a total romp. Henry Cavill and Armie Hammer bring all the charm you thought was missing from their performances in bigger-budget blockbusters, while Elizabeth Debicki makes for a devastatingly chic villain. Available May 1.
A good commitment: Mistress America (2015)
The Frances Ha dream team of Noah Baumbach and Greta Gerwig reunites for yet another moving, funny, and deceptively dark portrait of growing up in New York. Lola Kirke (star of Mozart in the Jungle, sister to Girls's Jemima) is a Columbia freshman who gets swept into the world of Gerwig's manic pixie best friend. With a lighter touch and zippy dialogue, Mistress America is more of a screwball comedy than much of Baumbach's other work, coming to a head with a masterfully staged argument in a Greenwich mansion that keeps roping in new characters. Available May 1.
No, really: Jupiter Ascending (2015)
All the terrible things have already been said about the Wachowskis' bomb of a space opera, but this is a safe space, where we can freely admit that it's very hard not to enjoy a movie where Channing Tatum has space roller skates, or where a marriage ceremony takes place in a gothic cathedral on the prow of a spaceship, or where Eddie Redmayne gives a performance so unhinged (literally, at the jaw) you wonder whether he'll ever be so compulsively watchable again. I'm not saying that you should watch this movie when it comes out on HBO, necessarily. I'm saying that I will, and that I'm already looking forward to it. Available May 10.
New television:
Mr. Show With Bob and David (Seasons 1–4)(May 1)
Claude Lanzmann: Spectres of the Shoah (May 2)
El Hipnotizador  ( Season 1 Finale)(May 20)
All the Way (May 21)
Dios, Inc.  (Season 1 Premiere)(May 27)
Movies
May 1
27 Dresses (2008)
The Best Little Whorehouse in Texas (1982)
Face/Off (1997)
The Grapes of Wrath (1940)
The Good Shepherd (2006)
The Insider (1999)
Juno (2007)
The Pianist (2002)
Snakes on a Plane (2006)
Soapdish (1991)
Lost River (2014)
The Man From U.N.C.L.E. (2015)
Mistress America (2015)
Available later in May
Fantastic Four (2015)(May 7)
Jupiter Ascending (2015) (May 10)
Pan (2015) (May 14)
The Intern (2015)(May 28)
Trabajo (a.k.a. Job)(2015)(May 2)
Las ovejas no pierden el tren (a.k.a. Sidetracked) (2014)(May 6)
Magallanes (May 13)(2015)
For more details on the best film and television available online, consult Vulture's What to Stream Now hub.