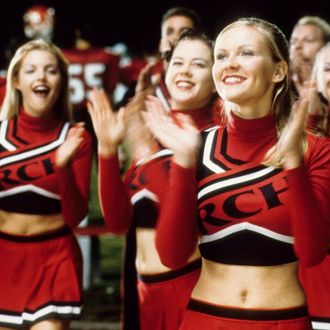 At the beginning of (and during) every month, Netflix adds new movies and TV shows to its library. We figure you might want to know about them. For more comprehensive coverage of the best titles available on Netflix and elsewhere, check out Vulture's What to Stream Now hub, which is updated throughout the month.
This is a cheerocracy: Bring It On (2000)
Kirsten Dunst leads a cohort of cutthroat cheerleaders who compete to clinch the title of cheer champions. The plot isn't really of much importance — Eliza Dushku is the new kid; Dunst discovers that her team's routines were stolen from Gabrielle Union's squad — compared the rate at which the movie throws out jokes, most of which live on as pop culture references. Watch for the nostalgia, or for the sake of being able to get the references and pretend you were nostalgic for them all along. Available May 1.
What the Dickens: Great Expectations (1998)
Ethan Hawke and Gwyneth Paltrow star in this gussied-up version of Charles Dickens's novel that tries to be very, very sexy and mostly feels like a relic of what the 1990s thought was sexy. Alfonso Cuarón directed the film before he worked on Y Tu Mamá También, Harry Potter, and Children of Men, but you can still see his strengths as a filmmaker in this early work. Available May 1.
Back to the past: Pleasantville (1998)
Reese Witherspoon and Tobey Maguire get stuck in an old-fashioned sitcom, which starts to turn to color as they introduce the inhabitants to real-world emotions. Looking back, the film's naïve positivity feels as dated as the 1950s values it critiques, but Maguire and Witherspoon give strong performances, while William H. Macy is excellent as a sitcom dad unable to deal with change. Available May 1.
Cat-and-mouse game: To Catch a Thief (1955)
A former jewel thief (Cary Grant) and wealthy socialite (Grace Kelly) romance each other in the French Riveria in Alfred Hitchcok's sumptuous lark of a movie. Bonus points for being Kelly's last Hitchcock film and for costuming from the legendary Edith Head. Available May 1.
Vive la Netflix: Marseille (Season 1)
Netflix's first French original series is like The Wire meets House of Cards meets Billions, but — brace yourselves — in France. Gerard Depardieu is the mayor of the city, who faces a political challenger in Benoît Magimel, and then things get complicated. Mon dieu! Available May 5.
They did a bad thing: Bloodline (Season 2)
Ben Mendelsohn's Danny has returned, somehow, in the next season of Bloodline. Alive or dead, he's still haunting the Rayburn family, which always seems to be mired in drama like a mangrove tree in Everglades. Expect more, and better phrased, Southernisms when season two premieres later in May. Available May 27.
TELEVISION
May 5
Marseille (Season 1)
May 6
Baby Daddy (Season 5)
Grace and Frankie (Season 2)
Young & Hungry (Season 3)
May 11
Chelsea (Season 1 Premiere)
May 17
American Dad! (Season 10)
Slasher (Season 1)
May 19
Benders (Season 1)
May 20
Lady Dynamite (Season 1)
May 26
Graceland (Season 3)
May 27
Bloodline (Season 2)
Chef's Table (Season 2, Part 1)
May 27
Mako Mermaids (Season 4)
May 28
Hell on Wheels (Season 5)
MOVIES
May 1
A Study in Sherlock (2016)
Admiral (2015)
Ava's Possessions (2015)
Bring It On (2000)
Bring It On: All or Nothing (2006)
El Crítico (2013)
FernGully 2: The Magical Rescue (1998)
Finger of God (2007)
Gary Gulman: It's About Time (2016)
Great Expectations (1998)
I Am Road Comic (2014)
Jesus Town, USA (2014)
Just Friends (2005)
Kevin Hart Presents Keith Robinson: Back of the Bus Funny (2015)
Kevin Hart Presents Lil Rel: RELevent (2015)
Kevin Hart Presents: Plastic Cup Boyz (2015)
My Last Day Without You (2011)
The Nutty Professor (1996)
Off the Map (2013)
Palm Trees in the Snow (2015)
Pleasantville (1998)
Shark Lake (2015)
She's Beautiful When She's Angry (2014)
Sixteen Candles (1984)
Sugar Coated (2015)
Terra (2015)
Things We Lost in the Fire (2007)
To Catch a Thief (1955)
Tom Petty and the Heartbreakers: Runnin' Down a Dream (2007)
Who's Driving Doug (2016)
May 2
The Replacements (2000)
May 3
Submerged (2015)
May 4
The Keeping Room (2015)
Shanghai Knights (2003)
May 5
Fourth Man Out (2015)
May 6
Ali Wong: Baby Cobra (2016)
May 8
The Chosen Ones (2015)
May 9
A Stand Up Guy (2015)
May 10
Eisenstein in Guanajuato (2015)
May 11
Goosebumps (2015)
They Look Like People (2015)
May 12
Bleeding Heart (2015)
May 15
We Are Still Here (2015)
Yo Soy la Salsa (2014)
May 17
Kindergarten Cop 2 (2016)
May 18
A Girl Like Her (2015)
May 22
David and Goliath (2015)
The Letters (2014)
The Ouija Experiment 2: Theatre of Death (2015)
May 23
Electricity (2014)
May 26
The Last Man on the Moon (2016)
May 27
The Do-Over (2016)
For more details on the best film and television available online, consult Vulture's What to Stream Now hub.