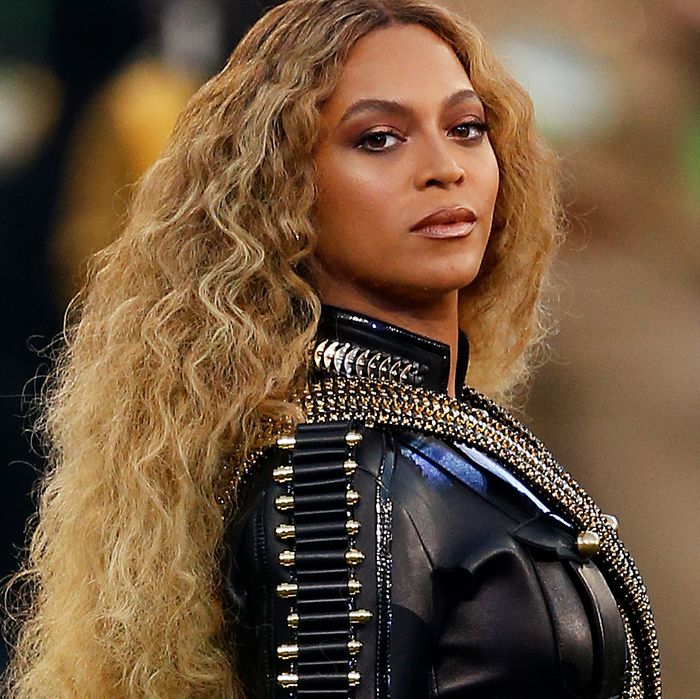 Beyoncé.
Photo: Ezra Shaw/Getty Images
On May 3, Beyoncé's Formation tour will arrive in Raleigh, amid growing national outrage over North Carolina's anti-LGBTQ "Bathroom Bill" (HB 2) and Mississippi's even worse "Religious Liberty" act (HB 152). Since both laws were passed, some music legends — Bruce Springsteen, Ringo Starr, Bryan Adams — have canceled scheduled shows in both states, sparking a boycott in the South that's growing by the day. The entertainment industry also turned out in force last month to protest Georgia's own anti-gay bill, eventually pressuring the state's governor into vetoing it.

So far, the turnout from Hollywood and beyond to protest the laws in N.C. and Miss. hasn't been as overwhelming. But with two of the year's biggest tours arriving there shortly — one in less than two weeks — it's worth wondering: Will Beyoncé and Justin Bieber perform in North Carolina? Beyoncé has announced that the charities United Way, Chime for Change, and Global Citizen will have a presence on her Formation tour — could she also be eyeing a boycott? And how has the rest of the industry reacted to these discriminatory laws?
Below, we break down who's boycotting, who's playing under protest, who's an ally, and all the major entertainers who've kept mum but are scheduled to perform in either North Carolina or Mississippi over the next three months.
BOYCOTTING
Bruce Springsteen, musician — canceled his April 10 concert, with the E Street Band, in Greensboro, becoming the first to outright boycott North Carolina
Bryan Adams, musician — canceled his April 14 show in Biloxi, becoming the first to boycott Mississippi
Ringo Starr, musician — canceled his June 18 show in Cary, N.C., quoting the Beatles' "All You Need Is Love" in his statement
Pearl Jam, band —  canceled its April 20 concert in Raleigh, calling HB2 "despicable"
Boston, band — canceled three dates in North Carolina, saying "human rights are more important"
Cirque Du Soleil, theater company — also canceled three dates in North Carolina, saying it is "opposed to discrimination of any kind"
Tracy Morgan, comedian — canceled his April 29 stand-up show in Robinsonville, Miss., saying he'll reschedule when HB 1523 is "either repealed or heavily amended"
Stephen Schwartz, musical-theater composer — denied North Carolina theaters and organizations the rights to produce any of his musicals (which include Wicked, Godspell, Pippin, and more)
Michael Moore, director — blocked his distributor from showing his documentaries in North Carolina theaters
Rob Reiner, actor/director — will not film in North Carolina until the law is repealed
Sharon Stone and James Cromwell, actress and director — moved production on their new cyberbullying short film, The Principal, out of Mississippi
Sherman Alexie, writer — canceled book-tour appearances in North Carolina
Demi Lovato and Nick Jonas, musicians — canceled their June 30 and July 2 tour dates in Charlotte and Raleigh, calling HB2 "extremely disappointing"
AGAINST BUT STILL PLAYING
Jimmy Buffet, musician/Margaritaville overlord — thinks HB2 is "stupid," but won't cancel because his N.C. shows were sold out before the bill was signed into law; he plays Raleigh on April 21 and Charlotte on April 23
Greg Allman, musician — calls both laws "infuriating," but played in N.C. on April 13 in hopes that "our music unites people in this challenging time"
Alabama Shakes, band — think HB2 is "wrong," but played their April 22 show in Charlotte saying, "We are going to play the show. We couldn't just say 'No, we're not showing up and I'm sorry your government is behaving this way.' That's not the right thing to do"; they're also scheduled to play Asheville on April 26

PLAYING UNDER PROTEST
Laura Jane Grace, musician — the transgender frontwoman of Against Me! will play with her band in Durham, N.C., on May 15 and plans to create an event around the show  "as a form of protest"
Brandi Carlile, musician — the openly gay country singer will play a college festival in Wilkesboro, N.C., on May 1, Greensboro on May 7, and Charlotte on May 27 to prevent "further oppress[ing] my fans"; she plans to donate proceeds from those shows to the ACLU Foundation of North Carolina and will invite "several grassroots organizations"
Cyndi Lauper, musician — will donate all proceeds from her June 4 concert in Raleigh to Equality North Carolina's efforts to help repeal HB2
Mumford & Sons, band — donated all proceeds from their April 14 show in Charlotte, N.C., to a local LGBTQ organization via their own self-started fund, and told the founders of North Carolina Needs You that they will personally contact Beyoncé on the movement's behalf
Father John Misty, musician — will donate all proceeds from his April 27 show in Charlotte to to Time Out Youth, a local LGBTQ support center; he calls HB2 "obviously bullshit"
Joel McHale, comedian/actor — donated proceeds from his April 8 comedy show in Durham to the LGBTQ Center of Durham and wore a makeshift pro-LGBTQ shirt during the show, during which he called the law "fucking crazy"
Christina Baker Kline, writer — wrote an op-ed for Fortune explaining that, while she strongly opposes HB2, she'll continue to make appearances in North Carolina to "stand in solidarity" with others against it
Tate Taylor, director — the openly gay The Help director from Mississippi calls HB 1523 "ludicrous Saturday Night Live fodder," but will still shoot his next four films in his home state to support the local film community
Duran Duran, band — turned their April 16 show in Charlotte into an anti-HB2 rally, inviting members of Equality NC onstage to hand out petitions demanding the law be repealed (which the band signed), and also performing under a rainbow-colored American flag
Tacocat, band — donated some proceeds from its April 20 show in Durham to Equality NC, explaining that boycotting a queer-friendly venue like Pinhook would "only further punish those being marginalized"
Fox, TV network — will continue to film Shots Fired in North Carolina, but say they "join the growing coalition of businesses that hope to see this act repealed"
HGTV, TV network — will continue to film Home Town in Mississippi
History, TV network — will continue to film Six in North Carolina; however, A+E "will not consider North Carolina for any new productions"
Lifetime, TV network — will continue to film Bring It! in Mississippi
Lionsgate, studio — will continue to film its Dirty Dancing TV reboot in North Carolina, but has relocated another comedy to Canada
TNT, TV network — will continue to film Michelle Dockery's Good Behavior in North Carolina, but will "reevalute" filming future shows there
Moogfest, music festival — organizers plan to keep the May festival in Durham and make it "an inclusive environment where all people come together to explore big ideas for the future"; there has been no word on whether any festival performers (Grimes, Gary Numan, and Miike Snow are on the bill) will pull out
Peter Frampton, musician — will "uphold [his] commitment" to play shows in N.C. and Miss., but "will not play again until these laws are changed"; he is also making a donation "in support of the rights and protections of the LGBTQ community"
SPOKEN OUT
Melissa McCarthy, actress — shouted out Springsteen's boycott in her MTV Movie Awards speech
Ellen DeGeneres, The Ellen DeGeneres Show host — called Mississippi's HB 1523 "the definition of discrimination" on Ellen
Stephen Colbert, Late Show host — got Abe Lincoln and Robert E. Lee impersonators to make out, the unsubtle message being that finding "common ground" is the key to preventing more laws like HB2 
95 Mississippi writers — a group of Miss. writers, including The Help writer Kathryn Stockett and Pulitzer winner Natasha Trethewey, wrote a joint open-letter calling out "the rhetoric of hate" that has "once more poison[ed] our political discourse"
Neil Gaiman, writer — tweeted about the importance of appreciating to both those who boycott and those who protest from within N.C.
Miley Cyrus, musician/actress — posted on Instagram generally condemning all anti-LGBTQ legislation
Billy Ray Cyrus, musician — wrote on Facebook that he supports Bryan Adams's decision to boycott Miss., saying "We've come too far; we can't mess this up."
Live Nation, entertainment company — says it "supports our artists' efforts to take a stand against this exclusionary and unfair law"
Viacom/Country Music Television, TV network — considers HB2 "inconsistent with our values"
RIAA, recording-industry association — says that music's focus "should be supporting and celebrating diversity rather than advancing bills that sanction discrimination"
Country Music Association, country-music organization — says that while "CMA is not a lobbying organization," it is "working closely with the City of Nashville to offer all of our visitors and residents an inclusive environment where they feel welcome"
Miramax, studio — signed a letter along with 90 other industry members, saying "we stand united with our industry peers against any discriminatory law that threatens the civil and human rights of the LGBT community or any minority group" and will reconsider filming in North Carolina
Harvey Weinstein, studio exec — signed a letter with execs from 80 other major corporations demanding HB2 be repealed
MPAA, film association — announced on behalf all major film studios that they oppose "any law that legitimizes discrimination on the basis of sexual orientation, gender identity or gender expression"
Turner Broadcasting, studio — will "reevaluate" future filming in North Carolina
SILENT (FOR NOW) AND PERFORMING THERE SOON

Lauryn Hill and Gary Clark, Jr. — April 26, Greensboro, N.C., at White Oak Amphitheatre
Beyoncé — May 3, Raleigh, N.C., at Carter-Finley Stadium
Anthony Hamilton and Fantasia — May 5, Greensboro, N.C., at Greensboro Coliseum
Comedy Bang! Bang! — May 10, Durham, N.C., at Carolina Theatre
Pentatonix — May 11, Raleigh, N.C., at Red Hat Amphitheater
Chris Stapleton — May 13, Southaven, Miss., at BankPlus Amphitheater; May 19, Charlotte, N.C., at Uptown Amphitheatre; and May 20, Cary, N.C., at Koka Booth Amphitheatre
Def Leppard — May 13, Greensboro, N.C., at Greensboro Coliseum
Kenny Chesney — May 20, Charlotte, N.C., at PNC Music Pavilion
Willie Nelson — May 21, Cherokee, N.C., at Harrah's Cherokee and May 24, Wilmington, N.C. at Greenfield Lake Amphitheater
Luke Bryan — May 26, Southaven, Miss. at Bank Plus Amphitheater
Dolly Parton — June 3, Greensboro, N.C., at Greensboro Coliseum
Journey — June 4, Charlotte, N.C., at PNC Music Pavilion
Selena Gomez — June 7, Charlotte, N.C., at Time Warner Cable Arena
R. Kelly — June 9,  Charlotte, N.C. at Time Warner Cable Arena and June 10, Greensboro, N.C. at Greensboro Coliseum
Ellie Goulding — June 10, Raleigh, N.C., at Red Hat Amphitheater
Miranda Lambert — June 10, Raleigh, N.C., at Walnut Creek Amphitheatre and June 11, Charlotte, N.C., at PNC Music Pavilion
M83 — June 11, Raleigh, N.C., at Red Hat Amphitheater
The 1975 — June 17, Raleigh, N.C., at Red Hat Amphitheater
Rascal Flatts and Kelsea Ballerini — June 17, Charlotte, N.C. at PNC Music Pavilion
Weird Al — June 18, Greensboro, N.C., at White Oak Amphitheatre; July 10, Southaven, Miss., at BankPlus Amphitheater; and July 15 at Hard Rock Hotel & Casino Biloxi
Weezer and Panic! At the Disco — June 20, Charlotte, N.C., at PNC Music Pavilion
New Edition and Babyface — June 24, Greensboro, N.C. at Greensboro Coliseum
Twenty One Pilots — June 29, Raleigh, N.C. at Red Hat Amphitheater
Hunter Hayes — July 2, Biloxi, Miss., at Hard Rock Hotel and Casino
Vans Warped Tour — July 5, Charlotte, N.C., at PNC Music Pavilion
Justin Bieber — July 6, Greensboro, N.C., at Greensboro Coliseum
George Lopez — July 8, Robinsonville, Miss., at Horseshoe Tunica Hotel and Casino
Dierks Bentley — July 14, Charlotte, N.C. at PNC Music Pavilion
Flight of the Conchords — July 18, Cary, N.C. at Koka Booth Amphitheatre
G-Eazy, Logic, Yo Gotti, and YG — July 19, Charlotte, N.C., at PNC Music Pavilion
Josh Groban — July 19, Greensboro, N.C. ,at White Oak Amphitheatre
Gwen Stefani and Eve — July 23, Charlotte, N.C., at PNC Music Pavilion
Snoop Dogg, Wiz Khalifa, Kevin Gates, Jhené Aiko — July 24, Charlotte, N.C., at PNC Music Pavilion
Maxwell and Fantasia — July 29, Raleigh, N.C., at Red Hat Amphitheater
Phillip Phillips — July 31, Raleigh, N.C,  at Red Hat Amphitheater