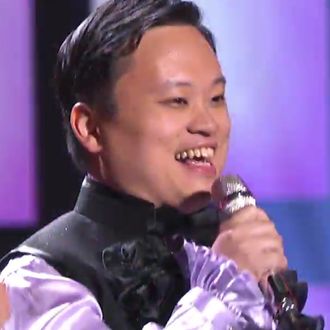 William Hung returned to the American Idol stage last night, dressed in a ruffled lilac shirt singing the cover that made him famous, Ricky Martin's "She Bangs." It was as if nothing had changed since he first performed the song as his American Idol audition in 2004. Back then he appeared on American Idol's reel of schadenfreude, the last performance punctuating a series of bad performances. Simon Cowell at least kept things straightforward: "You can't sing, you can't dance, so what do you want me to say?" But on the cusp before social media, Hung's audition became a viral sensation, and he made the rounds on talk shows and returned for a midseason special entitled Uncut, Uncensored and Untalented. Over a decade later, William Hung's reappearance makes it feel as though nothing has changed — that over a decade of race, gender, and sexuality 101 conversations on the Internet have done little to sway the indomitable middle of America. Remember William Hung? What a joke.
It's difficult to talk about William Hung, because of the way reality television inevitably flattens a three-dimensional person into a long-standing stereotype. For most of America, his appearance was a delightful reminder of 2004 when American Idol's moment in the zeitgeist was so powerful that even its rejects could score record deals. But for myself — and I suspect many Asian Americans — he makes me deeply sad. William Hung calls back to a not-so-distant past when it seemed that the only way for an Asian American male could be famous was through martial arts or buffoonery. He epitomized how we feared white America saw us: intrinsically foreign, deeply unsexy. Even our recapper Dave Holmes joked this season, "For reasons I don't fully comprehend, we also learn that William Hung is married now! There is a lid for every pot, folks, and don't you forget it."
It's important to clarify that it's not his accent, awkward dancing, or bad singing that is at fault here, but the larger machinery that repackages him and strips him of context. Even last night, Hung's performance was an interstitial blip in the broadcast, so much so that our host Ryan Seacrest doesn't even bother to get out of the way. He's there to belt a few lines before Seacrest announces there will be a commercial break, and the camera cuts, almost diabolically, to Sanjaya Malakar wearing a colonial-era wig in the audience. It almost would have been better if we had to sit through an entire performance of this drivel, because then at least, there might have been a reckoning. Rather, the show's producers made sure he was a footnote, the final judgment that a person like him could never be an American Idol.