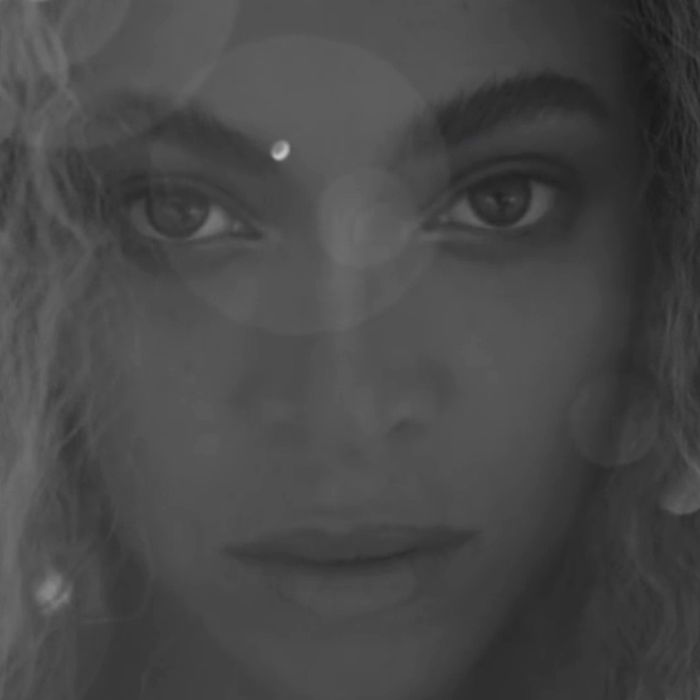 Ring the alarm: Beyoncé has done it again. As many (namely her BeyHive) expected, Beyoncé's Lemonade HBO special turned out to also be the premiere of her entire new visual album, which then dropped exclusively on Tidal — though it is now available on iTunes — during the broadcast. Twelve more polarizing songs, 12 more ambitious videos to feast your eyes and ears on. Like every Beyoncé event this decade, it's a smorgasbord of surprise cameos (Serena Williams!), inspiration (Warsan Shire!), and quotables (sorry Beckys of the world). As such, there's sure to be a lot of questions about the whole shebang. Below, we have a track-by-track breakdown of everything you need to know about Beyoncé's latest world-stopping digital drop. Carry on.
"Pray You Catch Me"
The stunning opening ballad was co-written by British electro-soul singer James Blake, Brooklyn singer-songwriter Kevin Garrett, and Beyoncé. (Bey and Garrett also co-produced it.) Beyoncé 's visual album begins with her on a stage and in the fields of New Orleans, the main setting for her 11-chapter opus. Each tells her personal version of the stages of grief — intuition, denial, anger, apathy, emptiness, accountability, reformation, forgiveness, resurrection, hope, redemption — and adapts the writing of the Somali-British poet extraordinaire Warsan Shire for all the spoken word interludes between songs. (Throughout the film, Beyoncé quotes from "warsan versus melancholy (the 7 stages of being lonely)," "For Women Who Are Difficult To Love," "The unbearable weight of staying (the end of the relationship)," and "Nail Technician As Palm Reader.")
It's not exactly clear just yet who directed which videos (save for Melina Matsoukas, who we know directed "Formation"), but Khalil Joseph and Beyoncé are listed as the main directors. Additional directors include: Todd Tourso (her creative director), Dikayl Rimmasch (Beyoncé and Jay Z's "Bang Bang" tour visuals), Jonas Åkerlund ("Haunted," "Superpower"), and Mark Romanek.
"Hold Up"
One of the most star-studded tracks on the album, this reggae-trap kiss-off was mainly co-produced and co-written by Diplo, Vampire Weekend's Ezra Koenig, and Beyoncé herself. It also has writing credits from living acid trip Father John Misty, Soulja Boy (yep, for interpolating "Turn My Swag On"), the Yeah Yeah Yeahs (for "containing elements," whatever that means, of "Maps"!), Doc Pomus and Mort Shuman (for also containing elements of Andy Williams's "Can't Get Used to Losing You"), producer/composer Emile Haynie, singer/producer MNEK (who you likely know from Zara Larsson's "Never Forget You"), producer Onye Anyanwu, and producer Melo-X.
In what will likely be the most talked-about of the 12 videos, Beyoncé wields a baseball bat on the streets of NoLa, smashing cars, police surveillance cameras, and just generally fucking up every bitch in sight — us viewers included — all while maniacally asking: "What's worse, looking jealous or crazy?" The entire visual draws heavily on Pipilotti Rist's 1997 "Ever is Over All" installation. In case her driving a monster truck over a row of cars didn't make it clear enough, this is first and foremost a tale of infidelity.  
"Don't Hurt Yourself"
No Tidal event of this magnitude would be complete without an appearance from the service's unofficial spokesperson and fellow co-owner, Jack White. That's him on background vocals and bass. The song was produced by both Bey and White, was co-written with singer-songwriter Wynter Gordon, and leans so far into White's rock influence that it samples Led Zeppelin's "When the Levee Breaks." Just as Bey raps "call me Malcolm X," the video samples Malcolm's "Who Taught You to Hate Yourself?" speech — in which he famously called the black woman the most neglected person in America — over clips of black women.
"Sorry"
One of the surefire club hits from Lemonade, "Sorry" was co-written by singer-songwriter Wynter Gordon, Melo-X, and Bey. Those three also produced the track, along with "Flawless" producer Hit-Boy. It includes the instant-quotable line: "You better call Becky with the good hair," which designer Rachel Roy has insinuated on her now-private Instagram is a reference to her allegedly being the cause for Solange and Jay Z's infamous elevator fight. (Bey has spoken about that incident only once, naturally in song, on her "Flawless" remix.) Its video stars none other than tennis legend Serena Williams who twerks while Beyoncé raps "suck on my balls" — your new favorite GIF.
"6 Inch"
Yep, that's the Weeknd you hear singing alongside Bey on this red-hued one. The song was co-produced by BEYONCÉ breakout Boots, The Weeknd producers Danny Boy Styles and Ben Billions, and Beyoncé. It has a writing credit from frequent Bey collaborator The-Dream, and samples Animal Collective's "My Girls" and Isaac Hayes' "Walk on By" (which means Burt Bacharach, who co-wrote "Walk on By," has a credit on a Beyoncé album; 2016 gets weirder by the minute). Wearing a white lace bodysuit similar to the wedding dresses she's worn in her On the Run trailer with Jay Z and in footage from their tour, she burns down a house — specifically, the bedroom.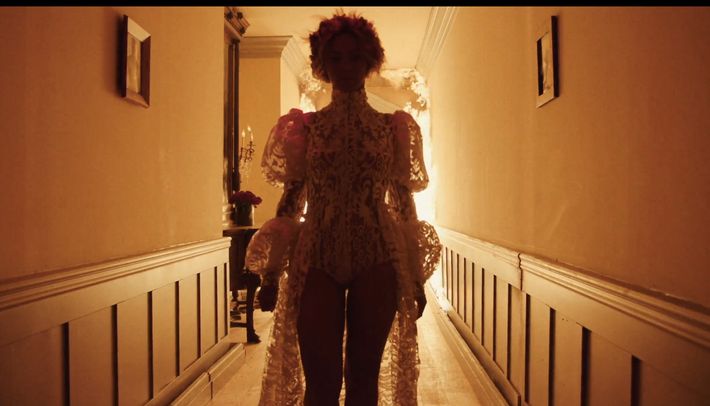 "Daddy Lessons"
Bey's foray into country was penned by Wynter Gordon, Kevin Cossum, Alex Delicata, and Bey. The video interjects home videos of a young Beyoncé with her father, Mathew Knowles, from whom she is now mostly estranged, with clips of her riding a horse and singing alongside a lone guitar player in a tunnel. (Knowles fathered at least two children outside of his marriage to Beyoncé and Solange's mother Tina Beyincé-Lawson, who has since remarried. In 2011, Beyoncé fired him as her manager.) There's also home footage of Mathew with his granddaughter, Blue Ivy. The mixed messages can't be missed. It leads into the next song and video with clips of Beyoncé lying on the field of the Superdome, where she was seen filming last December.
"Love Drought"
Longtime Kanye West collaborator Mike Dean co-produced and co-wrote the cleansing introduction to the album's somewhat more placid second half — along with Ingrid Burley and Beyoncé. Its accompany video includes some of the film's most visually breathtaking shots of Beyoncé and her dancers raising their arms in the bayou and of Beyoncé in Laolu Senbanjo–inspired afromysterics face markings (as also seen on dancers earlier during "Sorry"). It transitions to the next song with a Nina Simone record playing in the background on vinyl.
"Sandcastles"
Though its video suggests Beyoncé wrote and recorded this alone, it was another joint effort: Singer-songwriter Vincent Berry III co-wrote it with Chicago spoken word artist Malik Yusef, Midian Mathers, and Bey. Berry — who is also the one actually playing the piano — co-produced the ballad with Bey. As one of the most personal songs on the album, its video is also the first to feature Jay Z, whom many speculate is the source of her pain and anger on the album's first half. It's one of the most intimate windows into their marriage they've ever allowed. Here, she reaches "Forgiveness."
"Forward"
The shortest song on the album is also its most powerful. "Forward" is a somber duet with James Blake, who co-wrote and co-produced the song with Beyoncé. Its video features a deeply cathartic memorial to the black male lives lost throughout history, honored by the women who raised them, both literally and symbolically. The regal mothers of Michael Brown and Trayvon Martin are included, as are the actress Quvenzhané Wallis, the model Winnie Harlow, and civil rights activist and Queen of Creole Cuisine, Leah Chase. The memorial ends in haunting near-stillness, with the striking vision of a Mardi Gras Indian girl shaking her tambourine around an empty dining room, as she would before a traditional chant. "Magic," Beyoncé nods to the history.
"Freedom"
To soundtrack what will likely become the lasting image of Lemonade — a mass gathering of black women for Beyoncé's redemption song — she enlisted Kendrick Lamar and Just Blaze (as a co-producer) for the cause. The song also samples Kaleidoscope's "Let Me Try," Reverend R. C. Crenshaw's "Collection Speech / Unidentified Lining Hymn," and the famous Negro spiritual "Stewball" (credited here to Prisoner "22" at Mississippi State Penitentiary). The moving black-and-white video features Zendaya, Amandla Stenberg, Winnie Harlow, Quvenzhané Wallis, Blue Ivy, Chloe x Halle (who are signed to Beyoncé's label), Sybrina Fulton (Trayvon Martin's mom), Lesley McSpadden (Michael Brown's mom), ballet dancer Michaela DePrince, and dozens more — both at her sermon, sitting in poplar trees, and communing together at a large table amid the southern breeze.
It's in this segment that we learn the meaning behind the album's title. It was taken from a speech Jay Z's grandmother, Hattie White, gave at her 90th birthday party last year: "I've had my ups and downs, but I always find the inner strength to pull myself up. I was served lemons, but I made lemonade."
"All Night"
Once again, Diplo co-produced this reggae-tinged ballad with Beyoncé. Diplo also says his background vocals are featured, unbeknownst to him. The exact same horn section from Outkast's "Spottieottiedopaliscious" that Bey sampled on her "Flawless" remix with Nicki Minaj is also sampled here. Production duo Rock City, singer-songwriter Isley Juber, Akil King, and Jaramye Daniels also all have songwriting credits. The visual component leading into the song includes the album's signature shot: Beyoncé, Amandla Stenberg, Chloe x Halle, and sisters Lisa-Kaindé and Naomi Diaz (of the musical duo Ibeyi), joined together, now in vibrant color, on the front stairs of a house they and a hundred other black women built.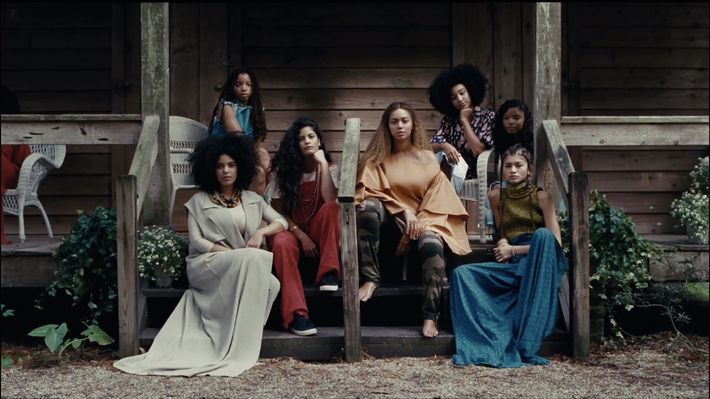 The visual album plays out with images of love, both personal — like Beyoncé pregnant with Blue Ivy, and her mother getting remarried — and universal. It's essentially a celebration of everlasting love, tested, damaged, but still growing at the roots. All the while, Beyoncé walks along the Fort Macombe ruins (which you may remember from True Detective season one).
"Formation"
The album proper ends with "Formation," but the visual album concludes with "All Night" — leaving "Formation" for the credits. Because, obviously, she already slayed that. (Though there is some bonus footage of her dancers getting down to "Formation" in the dark, and the original video plays after the credits.)