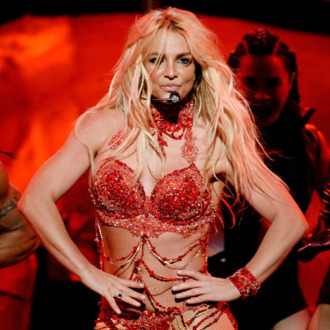 Photo: Kevin Winter/Getty Images
The Billboard Music Awards: not the show that celebrates the most critically acclaimed artists, but music's very own popularity contest, which awards artists who found Billboard chart love in a hopeless place, a.k.a. Vegas. Which, if you remember last summer, means The Weeknd cleaned up with nine! It was a night of tears and shade thrown left and right. No, that's not just something in your side-eye, you're ugly-crying over Britney's comeback. She was the first of many divas to own the Billboard stage, with her career-spanning show opener setting the bar for more slayage from the likes of Kesha, Céline Dion, Rihanna, Ariana Grande, hologram-ish Adele, and more. From Madonna's panned Prince tribute to Céline's heartwarming return, here are the highs and lows of the 2016 Billboard Music Awards.
HIGHS
Céline Dion's resilience
Following the devastating loss of both her husband and her brother to cancer just days apart in January, Céline made her first public appearance in months at the BBMAs, where she fittingly performed Queen's "The Show Must Go On." It doesn't get much more powerful than the Queen of Québec covering Queen, but somehow watching her apologize for getting choked up when her son surprised her with the ICON award proved to be even more moving. The show, like our hearts, will always go on for Céline.
Kesha's big return
Up until last Thursday, it wasn't clear if the show would go on for Kesha. Her comeback, like all the minutia of her career, remains in the hands of Dr. Luke, whose label canceled her BBMAs performance when they thought she'd go rogue. Having since come to their senses, Kesha was allowed to perform her Bob Dylan cover, sans any drama, and she left the room in awe. It makes you wonder where her career would be now if she no longer needed permission to work.
Britney's overdue comeback
Can you believe this is the same Britney who crashed and burned when she opened the 2007 VMAs? What a difference a near-decade makes. Britney's back, bitch, and she came here to work. Not only did she open last night's BBMAs, she shut it down with a career-spanning medley of hits and deep cuts that should make her promoters at Planet Hollywood (where her Vegas residency lives) very happy.
Rihanna's initiation into divadom
As a bad gal, we know Rihanna sets the standard. As a performer, though, she's always had to prove herself. But please allow her vocal-serving performance of "Love on the Brain" to finally silence the critics. She may not be able to go note-for-note with the Ariana Grandes of the world, but she's no slouch either. Also, someone get her vocal coach a Grammy.
Ariana Grande's red carpet save
We all fall, just ask Meghan Trainor. What we can't all do is trip live on E!'s red carpet and recover with the catlike reflexes of a woman who has previously had to dodge winged models on a Victoria's Secret runway. Oh, you thought those acrobatics were reserved for her vocals?
Demi Lovato's Bathroom Bill statement
Demi and Nick Jonas have already joined the boycott against North Carolina's discriminatory "Bathroom Bill," but Demi took her protest a step further last night. She broadcast it live on national TV, performing her bi-curious hit "Cool for the Summer" while wearing a shirt dress with the symbol for gender-neutral bathrooms on the front. Preach.
MIDS
BET throwing shade at Madonna
On the one hand, it's petty and slightly tasteless to try to one-up a Prince tribute seconds after it aired. On the other, it wasn't entirely undeserved. If BET thinks they have the all-star tribute to end all all-star tributes, who can blame them for striking while the iron's hot?


LOWS
Madonna's Prince tribute
Sorry, Questlove. There are ways to honor Prince, but a sedated "Nothing Compares 2 U" cover from his one-time frenemy into a "Purple Rain" sing-along with a crowd of musicians whose energy (see: Rihanna dabbing) made it clear they would've rather been onstage, ain't it. When it rains, it pours. BET, your move.

Ciara and Ludacris's hosting job
Between excessive flirting from Ludacris, try-hard efforts from Ciara, and their collective fail at pronouncing absolutely everyone's name, their turn as hosts was not the smoothest ride. And this was Ludacris's third time!
Blake Shelton and Gwen Stefani
If we wanted to watch two people on the rebound eye-fuck each other to a country song, there's always Hope Floats.
Justin Bieber lip-syncing
On a night filled with this many divas sanging (save for Britney, who gets the eternal free pass), it's a lazy look for the Biebs to let his backing track do all the work.

MTV bringing up Ciara and Rihanna's feud on Twitter
The feud between Ciara and Rihanna is an oldie but a goodie, which is probably why Ciara was none too thrilled when MTV attempted to reopen that wound on Twitter. "Luda, you know Ciara won't say Rihanna's name," the since-deleted tweet taunted Ciara, who promptly fired off a reminder to us all why you shouldn't give interns the company password.