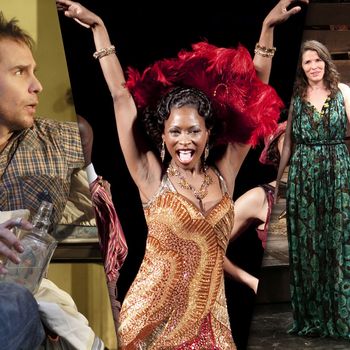 Photo: Joan Marcus, Nobby Clark, Getty Images
In any Tony season, the idea of snubs is a little ridiculous; there's never been a conspiracy to deny Sutton Foster her next award. Among the nominators, who are generally not affiliated with any current show, there's no horse-trading and no debate. It's all done by secret ballot, and the results are what the accountants say they are, WTFs included.
But this season in particular it's hard to speak of snubs, or even of surprises, with the Hamilton behemoth standing in the way of any shadowy theorizing. That the show received a record 16 nominations — at least one in every category available to it — is what everyone knew would happen, and probably what it deserved. So where's the room for shock?
That doesn't mean that all the excellent work being done in other musicals was rewarded; naturally, some was cut adrift in Hamilton's wake. And of course those 16 noms in the 14 musical categories had no effect on the ten play categories. So let's look at some of the non-snub choices and unshocking surprises that are now beginning to bubble up from the data.
MUSICALS
Don't You Want Me: Except for two design awards, American Psycho got skunked. I am not sorry — I didn't like the show — but I am a bit surprised. Benjamin Walker's performance as the only notionally psychopathic Patrick Bateman looked like Tony fodder, and both Duncan Sheik (the composer) and Rupert Goold (the director) are well thought of hereabouts. (Goold was in fact nominated for directing King Charles III.) But perhaps some nominators agreed with the scalding rather than the appreciative reviews; shows that are generally liked tend to do better than those that are extremely divisive.
Faint Praise: That effect may have helped Bright Star, the middling musical by Steve Martin and Edie Brickell. Despite mixed reviews, it received five Tony nominations, including one for Best Musical, probably at the expense of American Psycho or On Your Feet! Its nod for best book, by Martin, is particularly mystifying; Jessie Nelson's for Waitress was the likelier choice. But perhaps nominators felt that Waitress (like On Your Feet!, which ended up with only one nomination) didn't need it. They're both solid hits, while Bright Star seems to be fading already.
The Divas: No one, least of all Audra McDonald herself, is likely to feel very bad about her not being nominated for Shuffle Along; her record six Tonys have in some ways become a crown of thorns. But no Billy Porter? I guess it's to be expected that nominators would stuff the featured actor category with three nominees from Hamilton, and, for the fourth slot, Christopher Fitzgerald really does stop the show in Waitress. But it is hard to fathom the nomination of Porter's Shuffle castmate Brandon Victor Dixon in his place. Dixon is very good in a role of far less significance to the story, and he does not have a blow-the-roof-off moment like the one Porter gets with "Low Down Blues" near the end. Similarly unnominated: Jennifer Hudson, The Color Purple's Shug Avery, and Keala Settle, the snarkiest waitress in Waitress. With so many big belters in the leading actress category, perhaps nominators wanted something lighter for featured.
Wonder of Wonders: We are not, apparently, tired of Fiddler on the Roof; the current revival, its fifth on Broadway, is deservedly a hit. Still, it received only three nominations: for Best Revival, Best Leading Actor (Danny Burstein), and Best Choreography (Hofesh Shechter). Conspicuously absent were the rest of the cast, the designers, and the director, Bartlett Sher. Have nominators grown tired of using up precious award bandwidth on a show done so often? If so, maybe it's time to consider separating the new musical awards from the revival awards. Especially in directing, they are very different jobs.
PLAYS
Celebrity Shutouts: It isn't much of a surprise that Jim Parsons and Jesse Tyler Ferguson weren't nominated for their starring roles in An Act of God and Fully Committed; the Tonys almost always prefer heavy dramatic performances to light, comic ones. That neither Bruce Willis nor Al Pacino nor Forest Whitaker were nominated for Misery, China Doll, and Hughie is also unsurprising; all three productions were roundly panned, China Doll viciously so. (Learning lines seems to be a prerequisite for Tony notice.) The only "name" actors not nominated as Leading Actor in a Play despite doing Tony-worthy work were Ben Whishaw in The Crucible and Sam Rockwell in Fool for Love. But, as always, the question is whom to remove from the list to make room? All the nominated men deserve to be there too.
No Love for Fool for Love: Manhattan Theatre Club's revival of the Sam Shepard play was just about perfect, with Rockwell starring opposite Nina Arianda in her juiciest role to date, and excellent support from Tom Pelphrey and Gordon Joseph Weiss. Daniel Aukin's direction and all of the design elements were unparalleled. But perhaps the production suffered from the recency effect, having opened in September.
Too Much Good: The decision by the Administrative Committee to consider the entire cast of The Humans for featured-role Tonys had the advantage of garnering well-deserved nominations for Reed Birney and Jayne Houdyshell as the parents squeezed by every possible life dilemma. But it also had the disadvantage of pushing their four castmates — Sarah Steele, Arian Moayed, Cassie Beck, and Lauren Klein — out of the running. A similar situation affected the two Arthur Miller revivals on Broadway this season: A View From the Bridge and The Crucible, each with deep benches of featured players. (From those two shows only Bill Camp, in The Crucible, was nominated, though Russell Tovey, Michael Gould, Nicola Walker, Phoebe Fox, Jim Norton, and Ciarán Hinds, among others, might just as easily have been.) These weren't snubs, just inevitabilities; there are only five slots. On the other hand, I was delighted that the nominators remembered the all-ensemble cast of Noises Off, though it closed in March, by nominating David Furr, Andrea Martin, and Megan Hilty as hilarious representatives.
Design Flaws: Though the adaptation was iffy, the Roundabout's production of Thérèse Raquin was physically gorgeous, an achievement noted by the nomination of Beowulf Borritt for his set design. I would have added Jane Greenwood's costumes to the honor roll, but perhaps she will comfort herself with the nomination she did receive, for Long Day's Journey Into Night. In general, the level of design on Broadway is so high that the Tony nominations in those categories are always filled with what seem like random choices. What of Brian MacDevitt's headachy lighting for Blackbird? Or the semi-modern, semi-ancient Salem stylings of Wojciech Dziedzic for The Crucible?