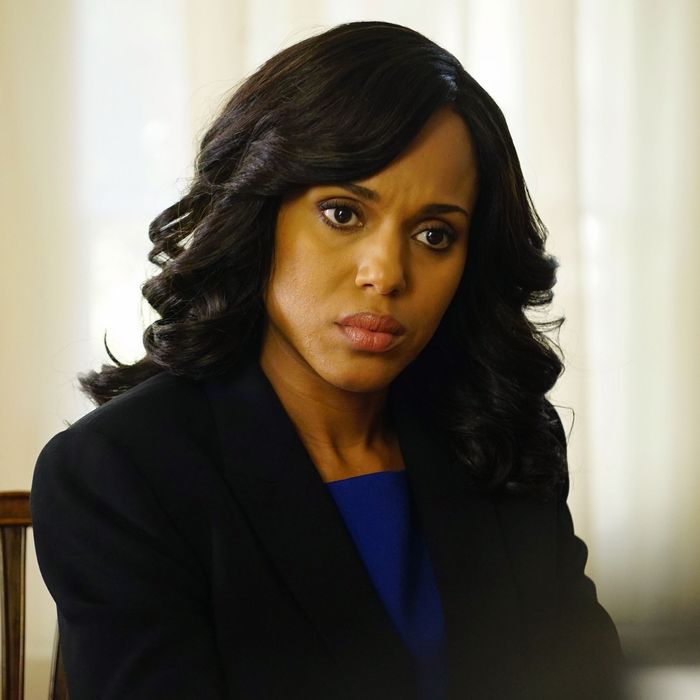 SCANDAL - "Thwack!" - The election is in full swing, which means everyone is doing their best to take down their opponents, but when a potential leak threatens several candidates, they have to work together to keep their secrets safe. Boundaries are pushed and lines are crossed as we find out just how far some people are willing to go to protect themselves, on a shocking-new "Scandal," THURSDAY APRIL 7 (9:00-10:00 p.m. EDT) on the ABC Television Network. (ABC/Richard Cartwright) KERRY WASHINGTON
Photo: Richard Cartwright/ABC
There's something funny about ABC's new fall schedule, quite literally: The network today unveiled a lineup with ten half-hour comedies on three different nights, giving it the biggest sitcom footprint of a major broadcast network in more than a decade. The Middle will relocate to Tuesdays as ABC expands to two hours of comedy on the night, while The Goldbergs will now lead off Wednesdays at 8. And in another, somewhat surprising decision, ABC will begin the fall without Thursday night anchor Scandal, pushing the signature Shonda Rhimes drama to a likely return in early 2017. (Update: ABC says Scandal is scheduled to return in "late January.") But rather than use the 9 p.m. vacancy to launch another Rhimes effort, new ABC boss Channing Dungey is hoping that Rhimes's still-mighty Grey's Anatomy will provide a strong lead-in for producer Josh Berman's Scandal-ish hour Notorious, starring Piper Perabo as a cable news producer. Overall, ABC will introduce three new dramas and two comedies in the fall, with at least four more shows planned for mid-season.
Despite some big moves, ABC's schedule is relatively stable, with Friday and Sunday nights returning intact, and just slight tweaks elsewhere. The network is mostly looking to shore up its weakest spots, replacing aging dramas Castle and Nashville with somewhat flashier fare. Mondays at 10 will now be home to legal drama Conviction, which stars Haley Atwell (Agent Carter) and will try to take advantage of the massive female audience for Dancing With the Stars. And on Wednesdays, ABC has recruited Keifer Sutherland for the conspiracy thriller (what else?) Designated Survivor.
As for the comedy changes, they're all incredibly logical. The Middle and The Goldbergs have both proven they can perform without benefit of a lead-in, so ABC's decision to (finally) separate them allows it to have strong comedy anchors on two nights. Both shows will be used to launch new half-hours: American Housewife, featuring Sarah Dunn as a less-than-perfect mother of three in a suburbia, and Speechless, about a mom with a special-needs kid.
ABC presents its schedule to advertisers Tuesday in New York. We'll have a complete analysis of its lineup later this afternoon. For now, here's the network's fall schedule:
ABC FALL 2016 SCHEDULE
MONDAY:                 8:00 p.m.         "Dancing with the Stars"
                                    10:00 p.m.       "Conviction"

TUESDAY:                8:00 p.m.         "The Middle" (new day/time)
                                    8:30 p.m.         "American Housewife"
                                    9:00 p.m.         "Fresh Off the Boat" (new time)
                                    9:30 p.m.         "The Real O'Neals" (new time)
                                    10:00 p.m.       "Marvel's Agents of S.H.I.E.L.D." (new time)

WEDNESDAY:        8:00 p.m.         "The Goldbergs" (new time)
                                    8:30 p.m.         "Speechless"
                                    9:00 p.m.         "Modern Family"
                                    9:30 p.m.         "black-ish"
                                    10:00 p.m.       "Designated Survivor"

THURSDAY:            8:00 p.m.         "Grey's Anatomy"
                                    9:00 p.m.         "Notorious"
                                    10:00 p.m.       "How to Get Away With Murder"

FRIDAY:                   8:00 p.m.         "Last Man Standing"
                                    8:30 p.m.         "Dr. Ken"
                                    9:00 p.m.         "Shark Tank"
                                    10:00 p.m.       "20/20"

SATURDAY:             8:00 p.m.         "Saturday Night Football"

SUNDAY:                  7:00 p.m.         "America's Funniest Home Videos"
                                    8:00 p.m.         "Once Upon a Time"
                                    9:00 p.m.         "Secrets and Lies"
                                    10:00 p.m.       "Quantico"