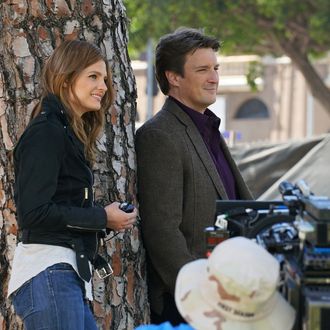 Caskett forever.
Photo: Byron Cohen/2016 American Broadcasting Companies, Inc.
Not even Nathan Fillion will stay on as king of Castle: Less than a month after cutting Stana Katic's and Tamala Jones's parts for budgetary reasons, ABC has decided to kill its veteran crime procedural altogether. Thursday's decision means May 16's season-eight finale, which TVLine reported would end in a "dynamic way which leaves open the possibility that maybe the show won't come back in the same form," will be permanent. Fortunately, an alternate ending was filmed in the event the episode would mark a series finale instead of a season finale. Unfortunately, this doesn't look like another Lazarus situation for Castle.
Fillion and Katic both took to Twitter to respond to the cancellation, with Katic opting for a hand-written letter:
Fillion, meanwhile, was a bit cheekier:
If his Guardians of the Galaxy 2 casting is any indication, we should be getting a whole lotta Fillion back in our lives soon enough.