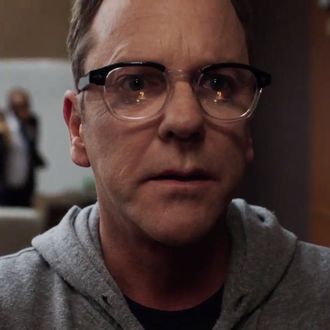 Are you ready for two-minute bursts of excitement followed by months of waiting? After announcing its fall lineup this morning, ABC has dropped all the trailers for its new shows for the upcoming 2016-17 television season. As usual, there's a lot to get through! Newly minted ABC programming president Channing Dungey took the stage to present the new pilots, which include a thrillingly paced trailer for the Kiefer Sutherland drama, Designated Survivor; Still Star-Crossed, a Shonda Rhimes–produced sequel to Romeo and Juliet; and Downward Dog, a comedy about a talking dog starring Fargo's Allison Tolman. Boy, the alphabet network's taste really runs the gamut from A to Z. So to help you out, here are some of the highlights from the show along with the rest of the trailers. Let's roll the clips!
Designated Survivor
ABC knows this is its strongest pilot: The network ordered the show straight to series and released a teaser ahead of the Upfront presentation. It's a gripping trailer and the top of our list.
Speechless
ABC is killing the family-sitcom game, and Speechless looks like another winner. This Minnie Driver vehicle (haha) is about a family whose eldest son is a special-needs child. Driver plays Maya DiMeo with her real accent and a lot of attitude, as she tries to find the right home for her family. We're already laughing in between our tears.
When We Rise
There isn't an embeddable trailer available yet for this eight-hour mini-series about the gay-rights movement, directed by Gus Van Sant and written by Dustin Lance Black. But the trailer screened at the Upfronts shows more promise than the woefully conceived Stonewall. The cast matches the prestige behind the camera, with Michael Kenneth Williams, Mary Louise Parker, Rachel Griffiths, Whoopi Goldberg, Rosie O' Donnell, Guy Pearce, Denis O'Hare, Ivory Aquino, and others.
Time After Time
Time after Time has an ill-conceived title and a zany conceit, but we're into it: Science-fiction author H.G. Wells, apparently reimagined as a thirst trap played by UnREAL bachelor Freddie Stroma, goes back in time to stop Jack the Ripper from killing people in the future, i.e. our present.
Still Star-Crossed
You might be asking: Do we need a race-bending, Shonda Rhimes–imagined sequel to Romeo and Juliet? Maybe not. But we will absolutely watch the hell out of this just so we can find out what happened to the beef between the Capulets and the Montagues.
We're still waiting to see how the rest of these shows pan out. Some of them seem potentially charming (Allison Tolman!), while others look a little bit like a half-baked Shonda Rhimes show (Conviction). In either case, here are the rest of the shows coming to ABC in the 2016-2017 season:
Downward Dog
Conviction
Notorious
Imaginary Mary
American Housewife