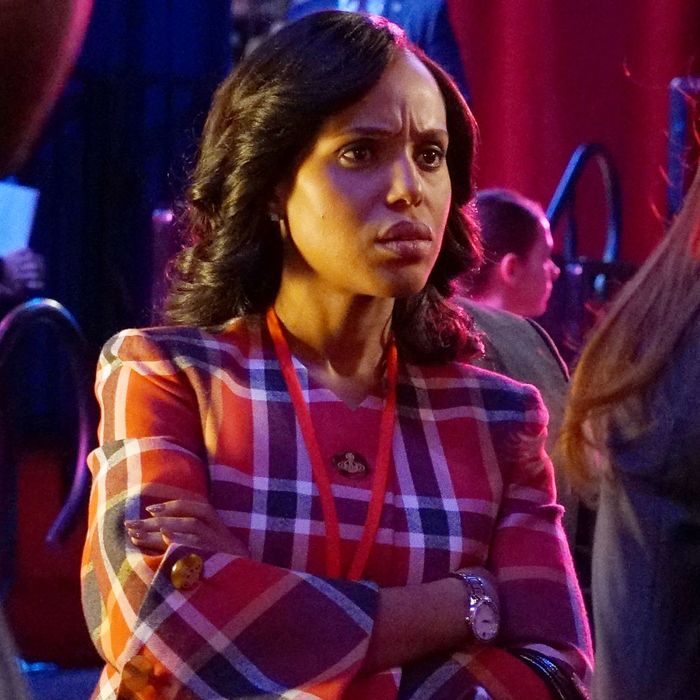 ABC needs to use Thursdays to develop as many new dramas as it can before Scandal signs off.
Photo: Byron Cohen/ABC
On paper, there's a case to be made that things look pretty bleak at ABC right now. The network has seen its Nielsen ratings drop nearly 20 percent versus year-ago levels among all viewers as well as those in its target demo group of adults under 50. Longtime tentpoles such as Scandal, Modern Family, and Once Upon a Time have had a particularly tough time holding on to viewers as they age. And a rushed, high-profile attempt to return the Disney-owned Muppets to prime-time failed spectacularly. But despite these real woes, new Alphabet Entertainment president Channing Dungey and her boss/silent partner Disney-ABC TV Group chair Ben Sherwood do not appear to be panicking. Quite the opposite: The new fall lineup revealed today is a study in cautious change, both in the shows picked up to series and how they've been scheduled.
Across the week, the same basic dynamics in play with ABC's current schedule — and many of the same shows — will return intact next fall, but with minor tweaks around the edges. Mondays are still about Dancing With the Stars and a drama; Tuesdays will lead off with family comedy; Wednesdays are for the network's biggest comedies and a 10 p.m. drama; Thursdays continue to be anchored by splashy, sexy soaps; and Friday through Sunday are almost exactly the same as they are now. The adjustments ABC is making are mostly about replacing dead-end shows past their prime (sorry, fans of Castle and Nashville) or leaning into what's already working. The latter explains what's easily the network's biggest play next fall: It's moving The Middle to Tuesdays and expanding from two comedies on the night to four. This is not without some risk, as older shows such as Middle often take a hit if they're moved from their long-time homes. But The Middle has long been a destination show with a very loyal audience; it seems likely it'll bring most of its audience with it. Plus, as other networks have struggled to launch new comedy hits, ABC has thrived in that area. Doubling down on laughs only underscores to viewers ABC's dominance of the genre. And shifting The Goldbergs to 8 p.m. Wednesday gives ABC another strong platform through which to (hopefully) build a new sitcom hit. Based on what ABC's shown so far, the first show to get that launching pad— Speechless, starring Minnie Driver as the fierce mom of a special-needs kid — looks like it's worthy of the time slot. As one of my colleagues put it during a Slack conversation earlier today, "This network kills it in depicting the world we live in."
On the drama front, Sherwood, per multiple reports, has been itching to get more procedural dramas into ABC's prime-time mix. That's a laudable goal, since the Alphabet already has a ton of serialized hours. And thankfully, Dungey and Sherwood haven't gone overboard in the pursuit, so far adding just one clear procedural (Monday's Conviction) and one that seems to have clear elements of the form (Thursday's Notorious). Based on early trailers, neither show looks like it's going to get critics raving or set Twitter on fire. But that's fine: Castle and Nashville weren't darlings of TV's buzz-making elite, either. The network is also banking on Keifer Sutherland, who's going back to his conspiracy-thriller roots with Wednesday's D.C.-based Designated Survivor, about a low-level cabinet member who ends up running the country. Sutherland dealing with a clear and present danger seems like a no-brainer, and the extended scene ABC showed off at its upfront was gripping television.
Less certain to work is the addition of Notorious, a non–Shonda Rhimes drama, to Thursdays. The show's auspices are great — exec producer Josh Berman is a CSI alum who's an expert in weaving juicy, compelling story lines — but Shondaland partisans might question the presence of an outside creative voice interrupting their TGIT party. Still, ABC didn't have much of a choice. Kerry Washington's pregnancy meant a reduction in the number of Scandal episodes next season, and it's smart of ABC to run all of those episodes at once. Plus, the reality is, Scandal cooled off quite a bit this season and will benefit from both fewer episodes and an uninterrupted run. We also remain convinced the show has no more than two seasons left in it (per Rhimes's long-stated belief that Scandal would not have the same longevity as Grey's Anatomy). ABC needs to use Thursdays to develop as many new dramas as it can before Scandal signs off.
Dungey and Sherwood's apparent calm may seem weird, given the very real issues their network is facing right now. But here's the thing: As the only Big Four broadcast network without the NFL as part of its prime-time or Sunday schedule, ABC has nowhere to hide when it has an off-development year, and nothing to cover up the erosion of linear viewership plaguing all networks right now, broadcast and cable. The lack of football doesn't explain away all of ABC's losses, of course, but when the NFL is factored out, the gap between fourth-place ABC and the other nets shrinks considerably. And while even Sherwood and his bosses wouldn't argue nothing is wrong at the network right now — there's a reason former ABC Entertainment chief Paul Lee is no longer running the joint — the same strengths that had industry insiders and TV reporters singing the network's praises just a couple years ago still hold true.
ABC does serialized dramas with passionate fan bases better than any broadcaster, this season successfully adding Quantico into that mix. It's the only network with an actual comedy brand, one strengthened this spring with the promising (though not-yet breakout) The Real O'Neals. And its unscripted roster, already solid with The Bachelor franchise and Dancing With the Stars, got a huge boost last summer with the addition of Celebrity Family Feud. Bottom line: ABC's got plenty of problems, but the struggle is just as real at all of its competitors. Sure, it would be great if the network had a hit the size of Empire (Fox) or The Big Bang Theory (CBS), or a procedural engine as potentially profitable as Dick Wolf's Chicago dramas (NBC). But with a comedy brand miles ahead of any broadcast network and the magic of Shonda Rhimes under its tent, ABC has as much reason to be optimistic about its future as anyone else in the linear TV business.