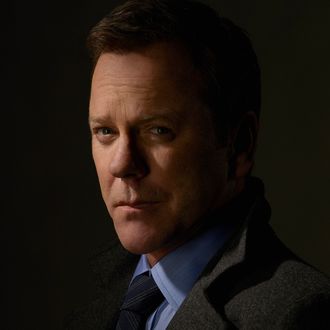 Kiefer Sutherland in Designated Survivor.
Photo: Bob D'Amico/ABC
The big broadcast networks aren't wasting any time ordering their new fall shows. Just ten days before the annual upfront presentations to advertisers kick off, ABC has made official last December's straight-to-series order for Designated Survivor, a political thriller starring 24 vet Kiefer Sutherland. The drama, from Safe House writer David Guggenheim, has TV's Jack Bauer playing a low-level cabinet official who ends up becoming president of the United States in the wake of a massive attack on the government. (In other words, it's a sequel to that season one West Wing episode in which President Bartlett's staff has to pick someone to not attend the State of the Union, just in case.) The Designated Survivor cast also includes Maggie Q, Adan Canto, Natascha McElhone and, semi-ironically, former Obama administration official Kal Penn. ABC seems to be pretty high on the show: The network is already releasing a 15-second teaser, embedded below. Welcome to Peak TV: The marketing of new shows begin the minute they're announced!