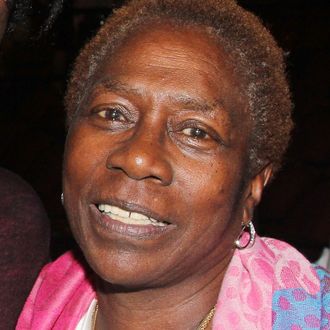 Afeni Shakur.
Photo: Bruce Glikas/Getty Images
Afeni Shakur Davis, longtime political activist and the mother of the late rap legend Tupac, died Monday night; she was 69. According to the Marin County Sheriff's Office in Sausalito, California, police responded to a report of cardiac arrest at Shakur's home on Monday night and transported her to a hospital, where she was pronounced dead less than an hour later. Police say the coroner will investigate the cause of death. Shakur, born Alice Faye Williams in North Carolina, was best known as the mother of rapper Tupac Shakur, who immortalized his mother in his 1995 acclaimed hit, "Dear Mama." Tupac was famously killed at 25 in 1996 in a drive-by shooting.
Following his death, Afeni Shakur took over Tupac's estate and founded the Tupac Amaru Shakur Foundation, which supports performing arts for kids through a center and global initiatives. She would later present an award with Voletta Wallace, the mother of the late rapper Biggie, at the 1999 MTV Video Music Awards as a show of unity against violence. She was also founder and CEO of Amaru Entertainment, Inc., through which Shakur held the rights to Tupac's music, helped create and co-produce the 2014 Tupac-inspired Broadway musical Holler If Ya Hear Me, and authorized and executive-produced the upcoming Tupac biopic All Eyez On Me.
Prior to her life as Tupac's mother and philanthropist, Shakur was a passionate political activist and former member of the Black Panther Party, having changed her name to Afeni Shakur upon joining the black nationalist group in 1968. In 1969, she and other Black Panthers were arrested for allegedly conspiring to bomb multiple New York City landmarks, including two police stations. She represented herself in the famous Panther 21 trial and was acquitted in 1971, just one month before she gave birth to Tupac. Earlier this year, Shakur reportedly filed for divorce from Gust Davis, her husband of 12 years. In 2003, prior to the release of the Tupac documentary Tupac: Resurrection, Shakur told CBS: "I'm not a filmmaker. I'm not a music producer by choice. Whatever it is I'm doing I do because my son was murdered, and he was not able to complete his work. So as his mother, my whole job and responsibility is to see to it that that happens for him, and I do that with love."