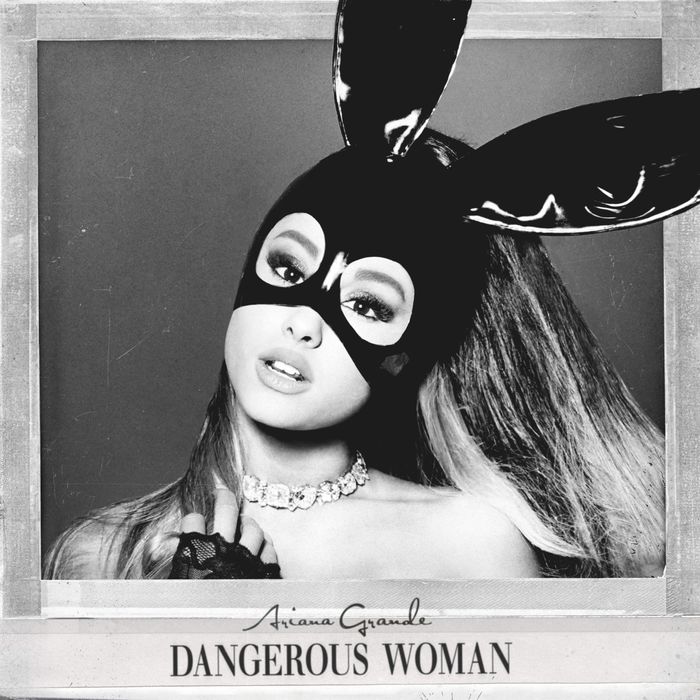 "I know what I came to do / And that ain't gonna change / So go ahead and talk your talk / Cause I won't take the bait / I'm over here doing what I like / I'm over here working day and night / And if my real ain't real enough / I'm sorry for you, bae."
That's the opening line of "Focus," the intended lead single — since abandoned — of Ariana Grande's recently released third album, Dangerous Woman. "Focus" was introduced to the world last October, back when Dangerous Woman had the working title Moonlight, by a curious silver-haired iteration of Grande. Though the song would debut (and peak) at No. 7 on the Hot 100, its rollout is hardly remembered as a success — it was calculated to a fault, too polished for a time when pop's biggest stars, particularly its women, are letting their flaws bleed into the music. And it was treated accordingly: "Focus" was relegated to non-album-single status, and in the ensuing months Grande worked on making the changes necessary to evolve Moonlight into Dangerous Woman.

Just four years and three records into her career, Ariana Grande has recognized that her increasing star power comes with a few paradoxical requirements: She must live a life of direct sunlit attention, catering to an audience that has come to expect everything her brunette half-up-do represents, while at the same time finding ways to grow and tinker, both as a person and a musician. You get the sense that Grande spends those days and nights she sings about on "Focus" not just at work on an album, but on considering her position in the ever-shifting popscape — and while there have, predictably, been personal and musical missteps, her willingness to experiment is what yielded the growth showcased on the impressive Dangerous Woman and has enabled her to continually exceed expectations for a 22-year-old diva-in-training.
When Grande first debuted with Yours Truly, in 2013, she couldn't escape Mariah Carey comparisons, compliments of her upper-whistle register, four-octave range, and overreliance on melismas to showcase what that voice can do. That album, though slightly unfocused in its blend of doo-wop, R&B, and teen pop, laid the groundwork for Grande to inevitably graduate from doe-eyed school girl to a semi-convincing Jessica Rabbit. On Dangerous Woman, she isn't abandoning the tweenaged tattooed hearts of her first album; she's just switched up their placement to somewhere more risqué.
You can hear the moment when Ariana fully embraced her sexuality. It came alongside one of the most sexually confident women of the decade, Nicki Minaj, on 2014's "Get on Your Knees." "Baby, just get on your knees / Say pretty please, say pretty please, say pretty please," she sang, assuming the role of dominatrix, later commanding her man "get on all fours" and "show me how you crawl." Just months earlier, she requested that the Weeknd "love me harder" on the song of the same name, off her 2014 sophomore album. With Nicki, that request became a command. By the time Ariana gets to her third Nicki collaboration, Dangerous Woman's reggae-pop misstep "Side to Side," we come away understanding that she's reached a can't-walk-straight level of sexual satisfaction.

The album opens with the divine blue-eyed soul ballad (and former title track) "Moonlight," and hit its stride with the Bond theme audition, "Leave Me Lonely," featuring Macy Gray in exquisite form. But both are deceptively schmaltzy inclusions on an album that, over 15 songs, unapologetically devotes itself to lust and sexual agency. Ariana makes her intentions plain on "Into You," the album's electronic headrush, with "A little less conversation, and a little more touch my body," while the album's title track is pure pop-rock ballad erotica replete with a Vocoder. Alongside Future — whom she's essentially reduced to a single-word feature on "Everyday" — she brags about getting "that good shit" at will. And on the unsubtle bonus track "Touch It," she's teetering off the edge of self-control if left unsatisfied for too long ("I'm tired of being patient, so let's pick up the pace.")
Yet however horny Ariana Grande may be, she's at her best when she harnesses that desire and frustration into something personal. As with any female pop star, the argument that Ariana functions as a vessel built for emoting other songwriters' ideas — evidently while a cyborg, unburdened of personality, hides behind the latex bunny mask — somehow continues to overshadow her. That pop mastermind Max Martin and his protégé Ilya Salmanzadeh wrote and produced half the album won't help to shake that perception. But beneath the make-cutes and all-nighters there are brief revelatory moments. The synth-pop split bonus track "Knew Better / Forever Boy" sees her owning up to an inability to commit in relationships, only to finally allow herself to accept "happy ever after." Then there's "I Don't Care," one of her strongest Mariah impressions to date, in which she sings, "I used to feel so obligated to be so much more / I used to let some people tell me how to live and what to be / But if I can't be me, then fuck's the point?" 
The irony of Ariana Grande calling herself dangerous and using nearly every variation of the word on the album isn't lost on anyone — not even Grande herself. ("If you think you're laughing at me, I promise I laughed first," she recently told Billboard.) To date, the most danger her career has incurred happened last summer, when the singer and her backup dancer turned boyfriend, Ricky Alvarez (to whom she's singing on most of the album), were caught on a security camera licking doughnuts on display at a California sweets shop. "What the fuck is that? I hate Americans. I hate America," the audio picked up Grande saying to a server, which her first public apology clumsily tried to spin as her taking a stand against America's obesity problem. Days later, Grande filmed a less rambling mea culpa.
"Some of the words she used in that shop were things she needed to address, and she did. But I also think — not about her, but just in general — we're getting a little ridiculous when it comes to doughnuts and eggs," Scooter Braun, Grande's ex-manager, told the New York Times last December, referencing the actual danger Justin Bieber once loosed on Calabasas. In February, Grande dropped Braun as her manager. The next month, she made her Saturday Night Live hosting debut, opening with an on-the-nose number about how she's right on schedule for pop's rite of passage: her first adult scandal. She was treating her behavior with a little less #whatevergate, and a little more danger.
But the very act of titling her album Dangerous Woman — and not, say, Intimidating Girl — doubles down on that demand to be treated as a mature, focused adult rather than the infantilized diva with a ponytail she's been characterized as since her red-haired Nickelodeon days and, before then, a starring role on Broadway at 14. "Ain't you ever seen a princess be a bad bitch?" she asks on "Bad Decisions," addressing those listeners who are stuck on an image she's since outgrown.

While it may take some child stars years to build a bridge from teen star to adulthood, Grande carefully avoided ever spending too long in one role — instead consistently adapting her persona to her age along the way. If it feels like she's still overexperimenting, then, it's because she is. But while we've watched young could-be divas like Meghan Trainor and Iggy Azalea stumble (literally) with genres and sounds that don't make sense for them, Grande tries them on like headpieces custom-fit for her ever-buoyant ponytail, making her experiments feel more like a broadening of her style than a departure from it. She knows what she came to do, and that ain't gonna change — even as she does.