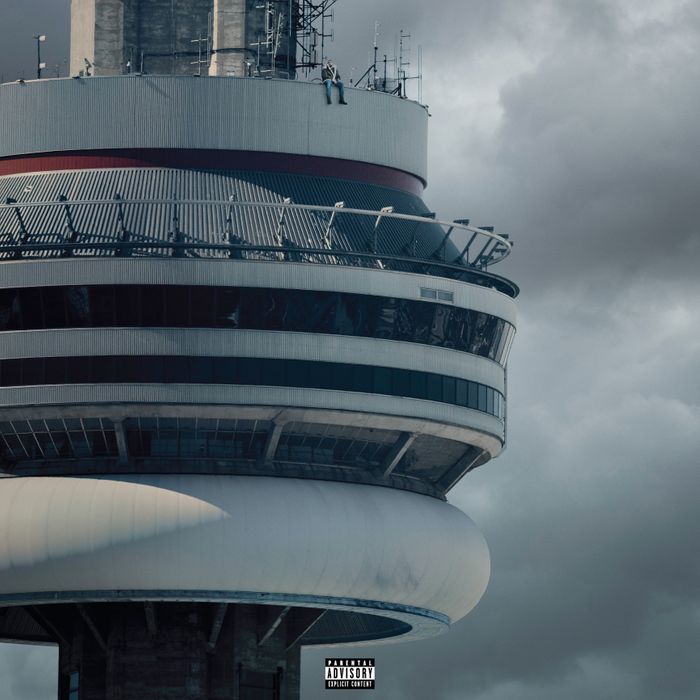 Last year, Drake made a power play for rap regency with two wildly successful surprise retail mixtapes, an Apple deal that gave him a bimonthly Beats 1 radio show, and a string of releases from his own OVO Sound imprint. When his mettle was tested by Philly rapper Meek Mill's charge that he used an uncredited writer for a verse, Drake responded with two surgically effective diss tracks — the smarmy "Charged Up" and the acerbic, Grammy-nominated "Back to Back" — and "Hotline Bling," a single that would earn him the best solo sales and chart placements of his career. His transformation from despondent sentimentalist to vengeful rap superpower even came with a beard and muscles.
The follow-up album Views was expected to be Drake's return to his native Toronto as conquering king, its cover art placing him atop the observation deck of the CN Tower, surveying the grounds. But the music tells another story. The gains from a year spent harassing detractors and trading gruff verses with Atlanta trap luminary Future on summer 2015's What a Time to Be Alive have subsided. In their place is Heartbreak Drake, jilted, ex-obsessed, a hopeless romantic who still manages to be surprised that his world of constant onlookers and paparazzi makes him a hard sell for a girlfriend. "All of my 'let's just be friends' are friends I don't have anymore," opener "Keep the Family Close" laments. He's lonely out in Calabasas, and yearning for the comfort of familiar faces.
Strained connections are the latticework of Views. "Numbers going unlisted just to create some distance," Drake raps on the title track, and on "9" he finds out who his friends are, as people who can't reach him slowly give up trying. These songs often envision the artist as a cog in the machine of his fame and wilting relationships, rather than a participant in them. He rattles off a list of breakups and betrayals on "Redemption" before despairing "Who's gonna save me when I need saving? / Since Take Care I've been caretaking." Views' regrets about acquaintances who turn out to be deserters and opportunists feels earnest and confessional, but the sentiment is notably regressive in the wake of the cunning, aloof suspicion that populated last winter's If You're Reading This It's Too Late.
Views revisits some of the rueful self-pity and lovelorn malaise of Take Care, and it also mirrors the structure. These albums vie for the longest entries in Drake's catalogue, both at over 80 minutes, and they showcase the range of the artist and his production team by way of unruly sprawl, with Views flitting through gobs of downcast, R&B-infused trap to arrive at the sunny dance-hall and afrobeat of "Controlla" and lead single "One Dance." (Between these excursions and its propensity for a singularly Torontonian flavor of Jamaican patois, Views might be the first hip-hop album of its size to be this conscious of diasporic blackness since Wyclef's Haitian Creole-flecked post-Fugees debut The Carnival.) Drake told Beats 1 host Zane Lowe that Views is a song cycle embodying the spirit of Toronto from winter to summer and back, and that's reflected in the track list, which begins and ends with chillier textures but makes way in the middle for the summer breeze of songs like "With You" and "Feel No Ways."
Ultimately, though, it's too long. Not everything pops, especially the rapping, which comes across as workmanlike and labored where it used to effortlessly dazzle. When the flows are tight, they're often borrowed: "Still Here" and "Pop Style" traffic in the choppy delivery of Chicago's drill-rap scene, and the vengeful "Hype" finds inspiration in Windy City rhymer G Herbo and Drake's pal Future. Elsewhere Views relies too heavily on wry puns and pat turns of phrase ("I knew you before you made ends meet but now we're meeting our end," "I want to turn you out like pitch black"), connecting on the underlying emotions instead of the intrigue of the words commuting them. Drake is the rare rap superstar who seems faintly disinterested in rapping.
Views foregrounds Drake's singing and flaunts a tighter control of his instrument, particularly on the bright "Hold On, We're Going Home" sequel "Feel No Ways," the glacial repose of deep cut "Fire & Desire," and the narcotic lilt of "Faithful." It's a natural reaction to the darkly lush productions longtime producer Noah "40" Shebib and his team of collaborators pulled together here. Views fishes loops and inspiration out of a grab bag of turn-of-the-century R&B: "U With Me?" echoes DMX and Sisqo's "What These Bitches Want"; "Weston Road Flows" stir fries Mary J. Blige; "Fire & Desire" goes for Brandy, and "Redemption," her brother Ray J. These samples are typically employed the way Kanye West used soul staples in the early 2000s, sped up and chirping pertinent lyrics in the background like some hushed Greek chorus.
In its finer moments, Views presents a global vision of black popular music informed by the American South and Midwest as well as Drake's hometown of Toronto and parts of Africa, the U.K., and Jamaica. It is a peculiar gesture for a rapper reaching the peak of his commercial potential and a possible disappointment for anyone expecting last summer's ghostwriting allegations to be rebutted with hardened rap prowess, or looking for Drake to distinguish himself from a growing array of commercially successful R&B simulacra pinching his sound on the radio. But Views is a realization that there are better jobs than Most Successful Rapper, and a step toward pop dominance. Less a handful of stray cuts and bad puns, this could've been his best album yet. As is, it's a noble try.