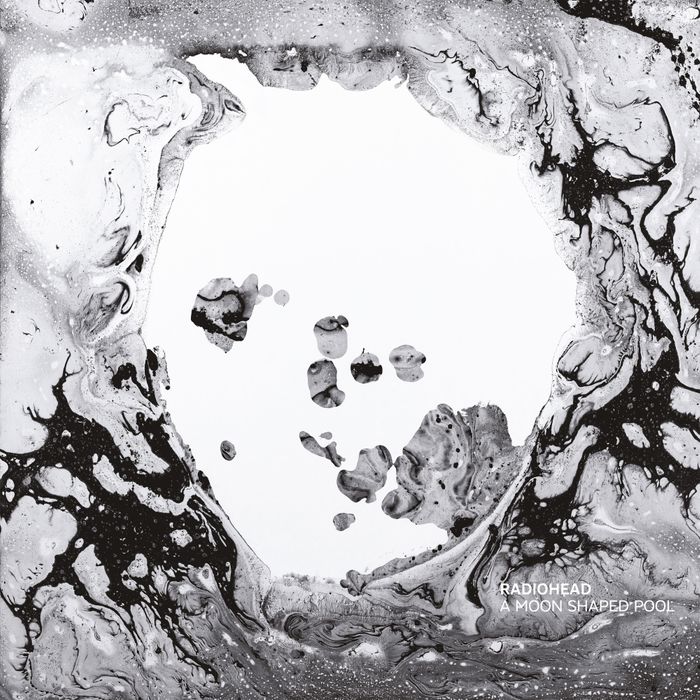 It was rarely spoken of in polite company, but Radiohead's position has been a bit precarious for more than a few years. It has been nearly a decade since the shocking release of In Rainbows — a classic, undeniable album — with only a lulling but wan placeholder, The King of Limbs, in between. There was a convincing tour behind that album, and Thom Yorke and the other members of the band kept busy, of course, with outside projects. But this fact remained: Radiohead may be the Last Great Rock Band. If Yorke and the Mssrs. Greenwood couldn't do the basics — which is to say, put out an album to remind us who they were every once in a while — well, what had music come to?
Now, with 48 hours notice, we have A Moon Shaped Pool, which is, leaving aside the annoying lack of a hyphen in the title, a capital-A album. Do you remember the opening passages of King of Limbs? The atonal beeps, like something out of a Terry Riley piece? A Moon Shaped Pool, by contrast, begins with a coursing and dramatic guitar line, as powerful an attack as we've heard from the band in more than 15 years, flecked first with some processed strings, and then a hysterical reedy bleat, like a bassoon about to undergo a tracheotomy.
That song, "Burn the Witch," was dropped in video form, without warning, a week ago; the video, a stop-motion masterpiece by director Chris Hopewell, uses the style of a kids' TV show to reinterpret the message of a British horror film from the mid-1970s, The Wicker Man. A cult film in the U.S., the movie has a great deal more cultural import in the U.K. As you can see from the video, it's about a guy who takes a visit to a nice little small town and finds out things aren't so nice. It's clear from the lyrics that "Burn the Witch" is about something similar: a world roiled by fear, looking for scapegoats. Wonder where they got that idea?
Two days later we got a second video with no warning, "Daydreaming." In contrast to the sharp dynamics of "Burn the Witch," this song routed us back into King of Limbs territory, its opening marked by little water droplets of electronic noise. But then a slow piano line emerges, and so does another song, highly melodic and dramatic, perhaps the band's best ballad since "How to Disappear Completely." By about the halfway point, the band spikes up the orchestration and volume, washes of sound and discordant blips marking a waltz into sorrow and anomie.
"Burn the Witch" and "Daydreaming" are the album's first two tracks; eight additional songs make up the rest. A Moon Shaped Pool doesn't rock all the way through, but each track is an actual good song; the band has upped its game across the board. Thematically, for the most part it's a typical Radiohead threnody. Things aren't looking up.
After the artistic and critical sensations that were OK Computer and Kid A, the band let itself evolve in public, not quite disappearing completely, but certainly turning its fame and attack inside out, exposing melodic and experimental inventions inside. The band began to explore drone sounds, sequencing and stasis, conjuring up miniature grooves and lulling soundscapes. But there's nothing EDM here; Radiohead is, in the end, a rock band, and their moves almost always are rockist — they dominate as music, and thrill with energy and power. The latter-day band's formula — there is a formula — is a simple one. The musicians concoct a riff, and then another one, no matter if it's discordant or rhythmically at odds with the first. Once these are established, they sluice in washes of noise either above or below. On its best songs, we find that those discordant riffs have become inseparable and implacable. Then, in the second half of the song, the band ratchets up the drama, tossing in some dramatic effects, even as the riffs, clanking below, seem to never end, and then finally, on top, bring in the sour, keening effects of Thom Yorke's voice. The result? A Clockwork Lemon.
In the "Daydreaming" video, directed by Paul Thomas Anderson (for whom guitarist Jonny Greenwood has contributed scores, starting with There Will Be Blood), we see short clips of Yorke walking through doorways, each time emerging into a new scene, indoors or out. Yorke, it's a shock to realize, is now nearly 50. His hair is grown out, hippy style, and he appears with no makeup, his damaged left eye as noticeable as it ever has been. Yorke's face is one of the great iconic cultural sights of our time, from wry amusement to deadened scowl to contorted pain, it's the corporeal embodiment of all the sounds the band makes. His look early on was something out of Bruegel; as he himself matured along with the band's music, finding textures of degradation and dislocation, it accordingly flattened, distorted, till it sometimes seemed to be the living embodiment of the most violent Francis Bacon portrait. And yet here, suddenly, we see him not arch or posturing, but without drama, a man of a certain age, going through doors, looking for … what?
While many songs start out with "King of Limbs"–like abstract sounds, nearly all of the tracks here quickly resolve themselves into powerful presences. "Decks Dark" is another indictment of mass hysteria. "You've got to be kidding me," Yorke expostulates at one point. The forces of the chord changeups that make the second half of the song are quite heavy.
Those musical loops get more adventurous, like the insistent acoustic one on "Desert Island Disk." You hate to be too literal with Radiohead lyrics, but it certainly sounds like a pretty straightforward hymn to sexual liberation: "totally alive, totally released," Yorke sings, and then, at the end, murmurs, over and over, "Different types of love are possible."
It's possible that in A Moon Shaped Pool, there's a deeper attempt by the band to tie itself to the rich tradition of rock it's built on and taken into unforeseen and expansive new directions in its uncanny career. (Besides Pink Floyd, I mean.) Is it a coincidence that you can hear, in the title of "True Love Waits," an echo of Buddy Holly's "True Love Ways," and in the song's bended, a-kilter arpeggios rough but undeniable echoes of Pete Townsend's thrilling synthesizer programming in "Baba O'Reilly"? In "Present Tense" Yorke sings, if I'm hearing correctly, "All this love could be in vain," which goes back to Robert Johnson by way of the Stones and "Layla." There's also Paul Buckmaster–like strings in "The Numbers," and even faint echoes of the screaming birds in "Tomorrow Never Knows" in "Ful [sic] Stop."
The band's shtick sometimes shows: create a riff, create another, add sonic textures, repeat. On the one hand, there's a transparency about it that's refreshing and grounding. It's what the band does. Still, it can get samey. "Present Tense" is the worse offender here; the guitar line is vaguely Flamenco-sounding, there's some wholly unneeded crooning, and the sonic admixtures are the sound of winds.
A Moon Shaped Pool ends spectacularly, with "True Love Waits," a final portrait of desperation and aimlessness set against a breathtakingly beautiful soundscape of piano tinkling. This is Radiohead's idea of a love song, and it's a fitting end to A Moon Shaped Pool. With it, Radiohead has firmly reestablished itself as a the purveyor of a soundtrack for our times, maybe the only major band whose art reverberates in the ether of compromise and complicity we live in. (If you're finding this available from Mumford & Sons, I can't help you.) There's overwhelming regret here, implacable menace, roars of dismay and emptiness, the ultimate accompaniment to a life that, for some, ends not with a whimper but a drone strike.
"The future's inside us," Yorke insists at his most optimistic. But that doesn't take away the menace. In "Burn the Witch," the band unerringly captures the signifiers of sadism, from references to bodily functions, to the rude gesture, the smell of desperation. I don't have the fears some do about the rise of Donald Trump. America's done much worse than anything he's proposed, without his pre-election candor. He's upfront about it, and we'll see how he fares in the election proper. But if nothing else, he's shown us how it doesn't take much to lead some portions of America back into the darkness. But if that's what ends up happening, A Moon Shaped Pool will bite even deeper.