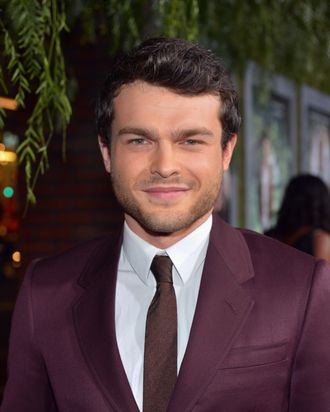 Not scruffy-looking.
Photo: Alberto E. Rodriguez/Getty Images
When I took Alden Ehrenreich out to lunch a few years ago, he was an up-and-comer whose time had still not come. At the time, he was promoting Beautiful Creatures, a YA-adapted supernatural drama that gave him a lead role but would fail to make much of a dent at the box office. A favorite of casting directors, Ehrenreich was best known then for what he wasn't in: A regular on the sort of high-profile leading-man short lists frequently leaked to the trades, Ehrenreich would often come tantalizingly close to landing a breakout role, only to lose parts in films like Kill Your Darlings and The Amazing Spider-Man 2 to the somewhat better-known Dane DeHaan. But, he confessed a secret to me over lunch, something that made those frustratingly close brushes with fame more tolerable: "Whenever I don't get a part I wanted," he said with a laugh, "I buy myself a present."
This week, Ehrenreich needn't bother self-gifting. It was announced Thursday night that the 26-year-old actor has won the iconic role of Han Solo in a Star Wars spin-off that will be set during the character's younger years. The movie, which will be directed by Phil Lord and Chris Miller, is slated for release in 2018, though it's rumored Ehrenreich will cameo as early as this winter's Rogue One: A Star Wars Story. This was the hottest role in town, and more than 2,500 actors auditioned for it. Filling Harrison Ford's vest is a tall order for any young thespian, but if you have to make a movie like this, Ehrenreich is just about the best possible pick for it.

Screenwriter Lawrence Kasdan is co-writing the Han Solo movie, and when I asked him last winter how he could possibly find a new actor with Ford's gruff gravitas — after all, if such a man existed, he likely would have been snapped up by the studios already — Kasdan suggested that they'd have to cast someone who was "23 and had just gotten to town." Suffice it to say, Ehrenreich isn't that. Born in Los Angeles, he was discovered by Steven Spielberg after acting in a bar mitzvah video as a lark; not long after, he was cast as the lead in Francis Ford Coppola's Tetro. It's fitting, then, that he would now play a character written by George Lucas, who along with Spielberg and Coppola constituted a formidable 1970s film trio.

But despite that dynamite imprimatur, Ehrenreich mostly showed up in small parts over the last few years, zipping through films like Blue Jasmine and Stoker while always providing good brood. He found some lightness to play aw-shucks cowboy Hobie Doyle in the Coen brothers' period comedy Hail, Caesar! earlier this year, and in a confident cast of comic A-listers, Ehrenreich proved to be the standout. Perhaps more important, he looked utterly at home as a retro-styled leading man, and in an era where our best under-30 actors now resemble dewy zygotes (Ansel Elgort's very name feels barely formed), Ehrenreich's casually masculine manner, which takes after Harrison Ford, is a valuable rarity. We usually have to import Australians for that sort of thing; now we have our very own homegrown Hemsworth.

I liked the guy — he was easy to have a conversation with, and notably curious about other people — and I wished him well. He had spent his last several years working with a small acting troupe, experimenting and putting on low-fi shows just to have the pleasure of performing even when Hollywood wouldn't return his call. "There have probably been ten to 15 movies that I was cast in that haven't gotten financed," Ehrenreich told me then, "so it's exciting, the prospect that I would have more power to get something made." If he pulls off Han Solo, that shouldn't be an issue anymore. May the force be with him.