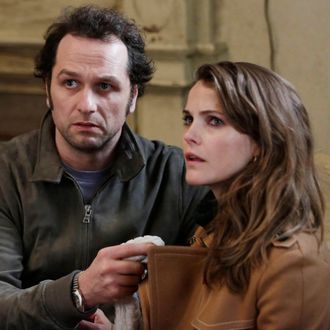 Keri Russell and Matthew Rhys in The Americans.
Photo: Patrick Harbron/FX
Get ready to say dasvidaniya to The Americans: The critically worshipped Cold War drama will be back for two more seasons and then come to a conclusion in 2018, FX announced Wednesday. The network has ordered 23 additional installments of the Keri Russell-Matthew Rhys spy drama and currently plans to divide those hours between a 13-episode season five to air in 2017, and a 10-episode season six set to run in 2018. Barring any future adjustments, today's decision means the show's run will have lasted 75 episodes when over, on par with FX's Justified but slightly longer than the run for AMC's Breaking Bad. Given the modest ratings for The Americans — it draws a decent-sized audience of around 2 million, but is hardly a smash — the two-season renewal by FX is a big victory for the show's fans and creators and showrunners Joe Weisberg and Joel Fields.
In a joint statement, the duo strongly indicated they're onboard with decision to wrap in 2018. "We're so grateful to know we'll be telling the story to its conclusion," the statement by Fields and Weisberg read. As long as said conclusion includes Martha (Alison Wright) returning home to the States, perhaps after the fall of the Berlin Wall in 1989, we'll be grateful, too.