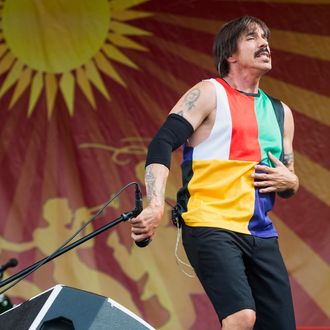 Photo: Erika Goldring/2016 Erika Goldring
Red Hot Chili Peppers was slated to perform at the KROQ Weenie Roast in Irvine, California, last weekend, but had to cancel at the last minute when front man Anthony Kiedis was hospitalized for "extreme stomach pain," according to Billboard. Flea told Saturday's crowd, "We live to rock, we live to fucking dig deep into the depths of our hearts and rock, but unfortunately there's a medical thing that happened and we needed to deal with it, so we're unable tonight. We will play for you very soon, we will play for you like the feral animals that we are, and we're so sorry." The band later revealed on its website that Kiedis was fighting a bout of intestinal flu, and that May 17's iHeart Radio stop would also have to be nixed:
Due to Anthony Kiedis' hospitalization from complications from the intestinal flu on Saturday evening, the Red Hot Chili Peppers regretfully must postpone their upcoming concert for iHeart Radio on May 17th. They would like to extend their gratitude to the fans for the outpouring of well wishes. Anthony is expected to make a full recovery soon.
Update: In an interview with ET Canada, Kiedis discussed the concerns that surrounded his hospitalization. "We don't really [cancel shows]. I'd rather play deathly ill than not play at all," he said. "But in this particular instance I was starting to go down, as in to the ground." Keidis described the cause as "an inflammation in my guts," and is now feeling "good, not great, but good" about his health. "I think I had to get sick to take a look at myself and get to the causes and conditions of my overall health," he said. "So it turned out to be a good thing, albeit painful."