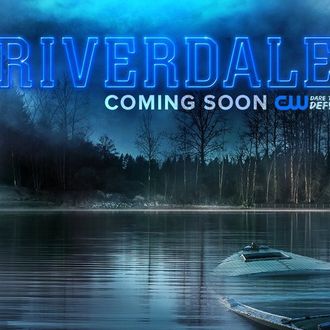 More Twin Peaks than Dawson's Creek.
In the past few years, Archie Comics has undergone a critically acclaimed re-branding effort in which they've rebooted their well-known but pretty straight-laced dramatis personae as sexy, contemporary, upbeat teens. When news came down that Greg Berlanti was helming Riverdale — a televised take on Archie, Jughead, Betty, Veronica, and the rest of the gang — it would've been reasonable to assume it would strike a similar tone. That is not the case, as it turns out. Archie is going dark.
As part of their upfront, the CW announced that Riverdale was going to series starting in midseason, and according to its official description, bad things are happening in the once-idyllic burg. "As a new school year begins, the town of Riverdale is reeling from the recent, tragic death of high school golden boy Jason Blossom — and nothing feels the same," it begins. Very Laura Palmer–ish, no? It gets weirder! Archie (KJ Apa) is apparently having an illicit affair with teacher Ms. Grundy (Sarah Habel), his friendship with Jughead (Cole Sprouse) is "fractured," Betty (Lili Reinhart) is dealing with an "overbearing mother," and we're supposed to wonder what Cheryl Blossom (Madelaine Petsch) is "hiding about the mysterious death of her twin brother." Overall, "Riverdale may look like a quiet, sleepy town, but there are dangers in the shadows."
Uh, wow! That will not be what people expect from the Archie brand! Vulture caught up with some cast members at the CW upfront and they backed up the news about the grim tone. "I think that it's definitely a lot darker and more subversive," Apa said. "We've been saying it's not the same as the comics that you've been reading. It's a lot darker. We can't really compare it to anything on TV."
"Betty's mother is giving her Adderall and things like that," said Reinhart. "They're dealing with very real-world problems."
"While it might look super risqué to the people who first started reading the Archie comics," Sprouse said, "it's going to be familiar and real and honest to people who are our age and the people who are going to be a little younger and dealing with these issues, and that's why it's important and fundamental that this stuff keeps it alive." Or, in the case of poor Jason, keeps it dead.
Additional reporting by Fawnia Soo Hoo