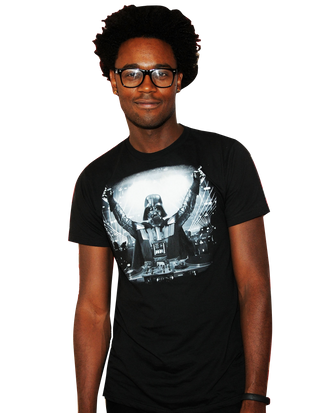 Photo: Desiree Navarro/WireImage
Things can get dark on Arrow pretty quickly — though some threats are more serious (nuclear destruction) than others (robotic bees). So it's no surprise that the addition of comedic actor Echo Kellum, as the good-humored and geeky scientist Curtis Holt, has been a welcomed bright spot in the perpetually doomed Star City. In tonight's season finale, Curtis's somewhat sunny worldview is challenged as big bad Damien Darhk goes nuclear on Team Arrow. But as Kellum notes, "Even in our darkest moments, some things tend to make us laugh."
Prior to Arrow, Kellum had stints on a number of comedy series (Ben and Kate; You're the Worst), and currently, he performs on three different house improv teams in Los Angeles. But one of the best places to get a sense of Kellum's playful humor is his Snapchat feed, which features reoccurring bits, like Kellum's search for an elusive pair of Nike Jordan sneakers. Vulture spoke with Kellum about the Arrow finale, sleeping on the job, and Curtis's expected transition to superhero Mr. Terrific.
At the end of "Beacon of Hope," Curtis seemed to hang up the idea of being a hero for good. But in last week's episode, he stumbles into helping save the world from nuclear destruction. Where's Curtis's head, in terms of joining Team Arrow?
Curtis is driven to help people, so when things get tough, Curtis's train of thought is "Do something."
Even if that means keeping secrets from his husband, Paul? Paul may not be so willing to heat up soup for Curtis if he's running around every night and Paul doesn't know why or with whom.
Every relationship has its ups and downs, and Curtis and Paul's is no different, but I believe Paul truly supports Curtis, and they would always find a way to get back to "heat up soup" mode.
When Curtis first helped out Team Arrow, Oliver wasn't too thrilled. Will we see more tension between those two characters?
There is definitely room for some of that tension to be delved deeper into in season five. As far as the finale goes, they do have some moments where they have to talk brass tacks to each other to help figure out the situation. At one point, Curtis and Oliver have a heart-to-heart while things around them are spiraling.
In season two of You're the Worst, you play a member of an improv troupe. How has your own improv experience helped you as an actor?
When I found improv, it changed my life. It was just one of those things that I tried and I was immediately like, "I want to do this for the rest of my life." For me, it's like, you go out and audition and all that, that's fine. But being on the stage in improv theater, creating it all on the fly, that's really the ground floor where the artistic creative energy comes from. When you're doing improv, you're acting, editing, directing, choreographing all instantaneously, and when you have time to pull back from it, it makes you sharper. Even with Ben and Kate, there were parts of the audition where I used improv to help make some lines hit better.
What about your audition for Arrow? What was that like?
The part had a code name, or at least a different character's name. But I thought the character was really cool and fun and smart and a lot like myself in the sense that I used to work at [Best Buy's] Geek Squad and am really into technology. So I really connected with the material. At the end of the audition [process], they let me know that the part was Mr. Terrific, and I was blown away because I was familiar with that character. Then I got a call a couple of days later that they wanted me to play him.
Do you remember the code name from the audition?
Oh God, I feel like it was Barry.
Barry, as in Barry Allen the Flash?
I feel like that's what it was, but I could be way off. [Laughs.]
You didn't think you were secretly auditioning to replace Grant Gustin?
I guess I could have been auditioning to be Barry from Earth 17 or something. I don't know. [Laughs.]
I loved that moment in "Beacon of Hope" where Curtis recognizes the Green Arrow and the Black Canary, but then had no idea who Diggle was. Was that improvised?
We really find out a lot of things on the fly. That wasn't originally that kind of moment, and it just happened that way. And there's been a couple of times where I've said something a little different and they're like, "Leave it in." The whole cast can just go with the flow. They're all very receptive and open. Obviously, the writing is phenomenal, but it's nice to know that here and there you can add your own piece of yourself to it.
Did they have you do a chemistry test with Emily Bett Rickards? Her character, Felicity, is an important person in Curtis's life and an entry point for him into Team Arrow.
When I went in to the audition room for the first time with [casting director] David [Rapaport], he was like "Oh my God, you and Emily would be perfect for each other." I think they just really trust their gut because they didn't have us test or chemistry read or anything. They can just feel different energies. I love working with Emily. We're similar in a lot of ways, and we both really respect each other and have the same sense of humor and sensibilities. It's amazing that David saw that from the jump.
Do you have any special memory of working with Emily from this past season?
So many special memories, but I want to say my first day working there. I was nervous to come onto a hit show. I just wanted to play a part to help in any way to maintain the quality of the show. It was so great how Emily was open and accepting and silly and professional. And what was really cool is that her best friend, Fanta [Sesay], who I'm now really good friends with, it was her first time working on the show. So we all kind of bonded and connected on that first day. That really stood out for me because that set the precedent for the rest of the season. That was definitely a big part of me wanting to come on as a series regular [for season five] — the people there. Everyone is so nice and down to earth and silly, but they get their work done. It's a special place to work. They really got something cooking there.
You and the cast and crew seem to have a lot of fun, at least from what I've seen on your Snapchat.
You know, I had downloaded Snapchat a while ago, and I just went to try it and I realized, "Oh man, this is just a really fun venue for dumb, silly ideas." You're not expecting me to set up a shot and having lighting. Even with so many Vine videos, there's so much that goes into it. With Snapchat, it's so simple. You got a camera. You got some filters. You got some weird ideas. Like, my friend Drew Tarver invented this series called "Southern Lady." He was down south visiting his family, and he wore a wig and went through this story for two days of her going to these concerts, getting drunk with friends, riding tractors, and then had her die at the end. It was so wonderful. I was like, "God, this is better than most Comedy Central TV right now." [Laughs.] I really love when people have fun with it. That's how I like to approach it.
Is it accurate to say that you were Snapchat patient zero for the Arrow cast?
Yeah, I guess everyone on the [Arrow] cast pretty much has it now. But I'm going to break the news to you guys: Emily Bett Rickards has Snapchat.
A secret Snapchat?
She does. [Laughs.] But it's up to her to share what [her username] is.
Arrow fans are sleuths. They might be able to figure out.
Oh yeah, they will. They find everything. She had it before I did, years ago. We always talk about what should be her first snap, like, "What should she choose?!?" [Laughs.] I feel like any day now she's going to do it.
Did you have a favorite scene or moment from filming this season?
There's a moment in the finale where we were shooting late — it's embarrassing to me, but whatever — and I'm laying down in the scene, and I went to sleep for real. I started snoring over people's dialogue in the middle of a scene. [Laughs.] So that was a fun moment. It was just so comfortable. I was like, "Oh my God, I want to just sleep." They got it on camera. I was like, "Please, let that get into the bloopers."
Has your Arrow role led to more public recognition?
It went up another notch. I always have people looking at me like, "Where do I know this guy?" I'm a tall black man with an Afro, and I stand out like a sore thumb. Everyone's like, "Hey, that's that dude." What's really cool to me is the type of people coming up to me. I was born in the projects in Chicago, but I have so many dudes coming up to me from the hood who are like, "I love your character, man." Arrow touches everywhere. All my homies and stuff, we're all from inner-city Chicago and we're all huge superhero fans. The "revenge of the black nerd" lifestyle is real.
It's expected that at some point in the series Curtis will adopt his superhero persona, Mr. Terrific. Have they done any preliminary costume tests for you?
I haven't had any fittings as of yet, but my only hope is for a dope "Fair Play" jacket.
Besides Mr. Terrific, is there any aspect of Curtis's story you'd like to see explored in season five? Maybe a Curtis flashback?
Hey, I'm down for that.
What about an Echo flashback? What would that look like?
I think you'd see a lot of cool hanging. A lot of video-game playing. A lot of basketballing. It would basically be He Got Game with video games.