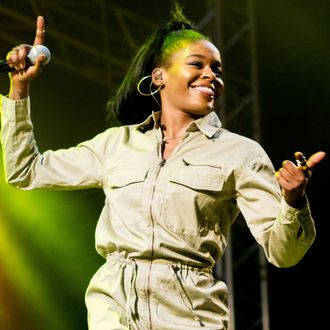 Bye.
Photo: Pedro Gomes/Getty Images
Many a celebrity should consider deleting their account, but today, Azealia Banks had no choice: Twitter has officially suspended the notorious cyberbully indefinitely. The move comes a day after Banks was dropped from a London music festival following her racist and homophobic Twitter tirade against Zayn Malik. She later apologized if her words offended anyone (but not actually for using offensive language), and then explained, via screenshots of texts to a blogger, that she was trying to hold Zayn accountable as a fellow person of color in the music industry.
In 2013, Banks — who has sporadically quit and rejoined Twitter over the years — tweeted that she was being forced to hand over her Twitter password, likely to her management or label, following a number of Twitter beefs that have consistently overshadowed her career. Last month, Twitter opted not to suspend Banks after she tweeted about wanting Sarah Palin to be gang-raped, saying then, "We reviewed the content and determined that it was not in violation of the Twitter Rules." One of those rules states: "You may not promote violence against or directly attack or threaten other people on the basis of race, ethnicity, national origin, sexual orientation, gender, gender identity, religious affiliation, age, disability, or disease. We also do not allow accounts whose primary purpose is inciting harm towards others on the basis of these categories." It appears, at last, Banks no longer meets Twitter's standards.
Update: Azealia briefly returned to Twitter under a new account, where she accused Twitter of suspending her because she supports Donald Trump and is a "black bitch speaking her mind." That account has since been suspended, too. She has now resorted to theorizing about her Twitter suspension over on Instagram, which hasn't been suspended … yet.