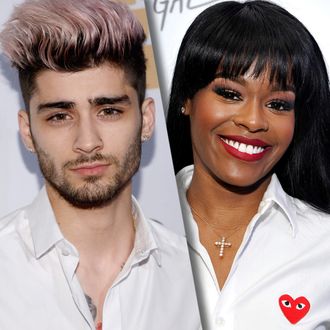 Has Azealia Banks finally, actually trolled her way out of a career? Well, she's at least down one gig following yet another tirade on Twitter. London's Born & Bred music festival has dropped Banks as its headliner following a racist beef she started with Zayn Malik Tuesday night. Her social media attack started out relatively innocuously, with Banks suggesting on Instagram that Zayn had copied her style for his clearly Tron-inspired "I Would" video. Later, Zayn appeared to subtweet her, saying "No lies … I see you reaching but I don't care" and "My @'s too good for you."
That's all it took to set Banks off on a terribly bigoted rant against Zayn, in which she referred to the former One Directioner (who is half-Pakistani and also a Muslim) with multiple apparent slurs, including "Punjabi," "sand nigga," "house nigger," "faggot," and, well, you get the idea. She also accused Zayn of giving her phone number to his fans so they could harass her — to which she responded by leaking his email and FaceTime contact — and went on to insult the U.K.'s entire music scene, and grime in particular.
When Zayn eventually acknowledged her, asking "Why you been saying nasty things about me ? I wasn't talking about you lol?",  she threatened that America would "obliterate" his "entire extended family." She also accused Zayn of "act[ing] like a white boy pretending to be black."
In the midst of all this, Disney Channel star Skai Jackson (you know her from all those memes) stepped into Azealia's mentions to call her out for lacking class. Briefly, Banks put her beef with Zayn on hold to start one with Jackson, of course. She responded by calling Skai "a little black girl who's going to be kicked off the disney conveyer belt" and a "little thot in training," and accused Skai's mother of pimping her daughter out, among other vile things. And here's where Azealia Banks, who is 24, got read her last rites by a 14-year-old:
Banks attempted to end her regrettable night by saying she had to appear in New York City criminal court Wednesday morning for one of her many assault cases, and that paparazzi should expect a "special surprise." Well, the U.K. has a surprise for this notorious Trump supporter: You're fired! Banks's June 5 headlining set at Born & Bred has been canceled, the festival has announced. "We celebrate inclusivity and equality," they explained.
Naturally, Banks is still trolling.